Griffin Benger Finds Day 1b Success in 2016 Unibet Open Malta Main Event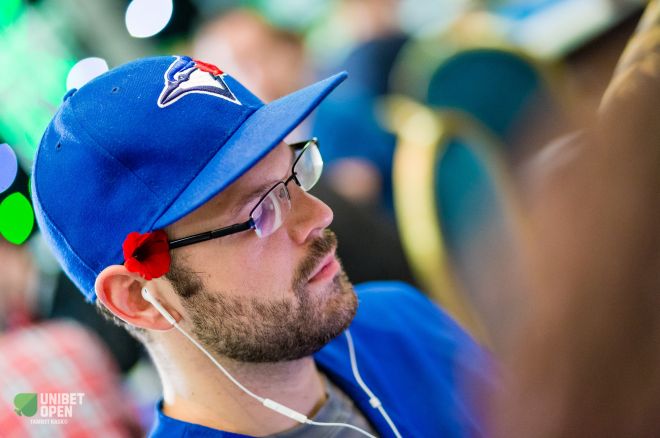 Day 1b of the 2016 Unibet Open Malta Main Event saw another 145 players flock to the brand new tournament room of Casino Malta in the InterContinental Hotel. Once again 10 levels of play were on the schedule.
Things got off to a quiet start, with most of the tables silently playing cards without much uproar or excitement. That was except for Table 2, where Rene Kuhlman and Hormiz Kamil blasted away at each other with friendly, but loud, banter. It was Team Holland versus Team Sweden, and for most of the day the two and their table mates battled it out with a lot of laughs.
Table 2 was the sole table with an above-average audio level, before Global Poker League commentators Griffin Benger and Sam Grafton entered the room. The two continued the fun and games they've showcased on the GPL live streams the past few weeks.
The rivalry started with Grafton declining Benger a swap, and the two took jabs at each other via twitter all day. Grafton big timing his pall Benger on the swap must have motivated the latter to do well. Benger played just about every other hand and won most of them. Benger gathered a sizable stack early on, while Grafton was diminished to the role of short stack. Grafton eventually busted in the last level of the day when he pushed his ace-nine into ace-jack and kings. Benger, in the meantime, lead the tournament with a stack of 180,000. He ended the day with 174,200, not quite leading anymore, but still one of the bigger stacks in the room.
The man leading the way when the dust had settled was Erik Scheidt with 292,200 in chips.
Both Kuhlman and Kamil busted in the tail end of the day, with Kuhlman losing kings to ace-jack and Kamil losing ace-queen to Benger's flush draw with five-three.
Day 1b Top 10 Chip Counts
| Rank | Player | Chips |
| --- | --- | --- |
| 1 | Erik Scheidt | 292,200 |
| 2 | Charlo Azzopardi | 244,200 |
| 3 | Mathias Christensen | 221,200 |
| 4 | Stefan Mattsson | 213,800 |
| 5 | Tomasz Kotlowski | 174,500 |
| 6 | Griffin Benger | 174,300 |
| 7 | Romain Nardin | 174,200 |
| 8 | Kwok Wing Tang | 162,900 |
| 9 | Christian Ostfelt | 151,400 |
| 10 | Ivan Neytchev | 147,200 |
Forty-three players survived Day 1b and will return on Saturday for Day 2 of the Unibet Open at 12 p.m. local time. Combined with the 50 players that survived Day 1a, a total of 93 return to battle it out for that first-place prize of €65,000. Thirty-six players will get into the money, a stage of the tournament that should be reached halfway through Day 2. In fact, the goal is to play to a final table on the penultimate day.
PokerNews.com will again be on site for coverage of all the action, so stay tuned.
Get all the latest PokerNews updates on your social media outlets. Follow us on Twitter and find us on both Facebook and Google+!