Main Event
Day 3 Completed

Level 26 : 40,000/80,000, 10,000 ante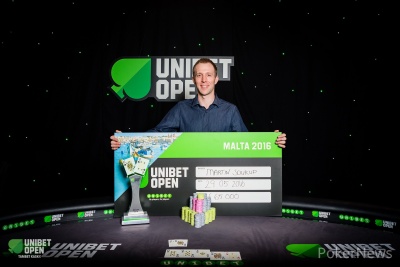 Martin Soukup topped a field of 292 entries to take down the 2016 Unibet Open Malta Main Event for €65,000, earning the first live score of his career in a big way.
The final day of the event started with 10 players still in contention, playing on two five-handed tables. The day started disastrous for chip leader Bas de Laat. He lost with ace-queen to ace-jack to double up Christian Ostfelt, and lost another chunk to Vitalii Belyaev when he missed his flush draw in a three-bet pot and doubled him up.
Mariusz Czarnojan had an even worse day after he busted in 10th place. It was Griffin Benger doing the dirty work by rivering a ten with nine-ten to crush Czarnojan's dreams. Czarnojan had an unimproved jack-seven.
Down to nine players, the finalists took center stage and the live stream made sure people at home could follow along. Those railbirds saw Emil Westerberg bust out first, after he couldn't get away from top pair and found out de Laat had aces.
Benger was next to go. For quite some time he was leading this tournament on Day 2, but not much went right on Day 3. He first doubled [Removed:158], and lost the rest of his chips when his ace-king was cracked by Piotr Marzejon's ace-ten.
De Laat was back in the game after he had busted Westerberg, but he would still be the next to go. He first lost the biggest pot of the tournament with ace-king against Belyaev's queens to drop to the short stack, and then the remainder of his chips went to that same Belyaev he had doubled twice already. He check-raised all in with an open-ended straight draw and got called by Belyaev who had paired up. No help for de Laat on the turn or river and he hit the rail in seventh place.
Next to go was Christian Ostfelt, and then Tim van Meene was eliminated after. Piotr Marzejon then busted in fourth and the field was left with three.
Belgian [Removed:158] showed some great skills with big bluffs, over bets, and good lay downs, but in the end it wasn't enough for the title. He got it in good with kings to Soukup's ace-jack, but an ace on the turn meant he had to settle for third place.
The heads-up portion took quite some time, with both Soukup and Belyaev not eager to play big pots. The final hand broke this tradition, though, as Belyaev check-called three streets with what was, by the time the river was out, third pair. Soukup had flopped the nut flush and value bet all the way. Just like that, he had won the Unibet Open Malta Main Event.
| Position | Name | Country | Prize |
| --- | --- | --- | --- |
| 1 | Martin Soukup | Czech Republic | €65,000 |
| 2 | Vitalii Belyaev | Ukraine | €45,000 |
| 3 | [Removed:158] | Belgium | €29,000 |
| 4 | Piotr Marzejon | Poland | €21,500 |
| 5 | Tim van Meene | Netherlands | €16,150 |
| 6 | Christian Ostfelt | Sweden | €12,900 |
| 7 | Bas de Laat | Netherlands | €10,700 |
| 8 | Griffin Benger | Canada | €8,550 |
| 9 | Emil Westerberg | Sweden | €6,400 |
Soukup became the first Unibet Open champion from the Czech Republic, taking home €65,000. The next Unibet Open will be the Danish capital of Copenhagen, August 25-28.

Level 26 : 40,000/80,000, 10,000 ante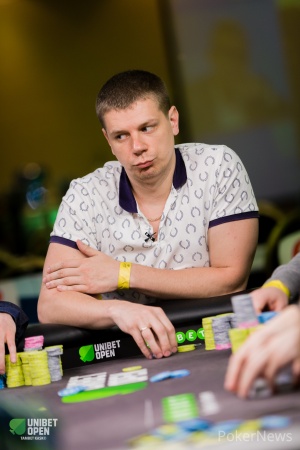 Martin Soukup made it 160,000 to go from the button holding
. Vitalii Belyaev called with
.
The flop came
and Belyaev checked. Soukup bet 200,000 and Belyaev made the call.
Once the
hit the turn, Belyaev checked again. Soukup fired 400,000 into the 720,000 pot and Belyaev called again.
The
completed the board and Belyaev checked for the third time. Soukup shoved all in and Belyaev went deep into the tank. He thought about it for a fair bit before eventually he called off his last 16 big blinds.
He was shown the nuts, and mucked his king-ten.

Level 26 : 40,000/80,000, 10,000 ante
The two heads up players are mostly playing small pots right now. No big clashes, no huge confrontations.

Level 26 : 40,000/80,000, 10,000 ante
Vitalii Belyaev made it 180,000 with
. Martin Soukup made the call holding
. The flop came
and Soukup and Belyaev both checked. The
on the turn had Soukup bet 200,000 into 360,000 and Belyaev called. The
completed the board and Soukup both checked.
Level: 26
Blinds: 40,000/80,000
Ante: 10,000

Level 25 : 30,000/60,000, 10,000 ante
Martin Soukup limped in with
and Vitalii Belyaev checked his
.
Both flopped a pair on
and Belyaev check called a continuation bet.
The
on the turn saw Belyaev check again. Soukup bet 200,000 and Belyaev folded.
Soukup now leads with 83 to 25 big blinds.

Level 25 : 30,000/60,000, 10,000 ante
On the button Martin Soukup made it 120,000 with
. Vitalii Belyaev called with
and they saw a flop.
Belyaev check raised Soukup's 200,000 bet to 525,000 on
. Soukup answered with a push all in and Belyaev folded.

Level 25 : 30,000/60,000, 10,000 ante
[Removed:158] found a monster with
and made it 125,000 to go. Small blind Martin Soukup three-bet to 350,000 holding
, big blind Vitalii Belyaev quickly folded.
Van Lancker checked his cards once more and took his time before four-betting to 800,000. Soukup asked for a count and eventually shoved all in after 2 minutes in the tank. Van Lancker called immediately.
The flop came
, still good for Van Lancker. The
on the turn was a disaster for the Belgian player though, and just like that he had only two outs left.
The
completed the board and the 4.1 million pot went to Martin Soukup.

Level 25 : 30,000/60,000, 10,000 ante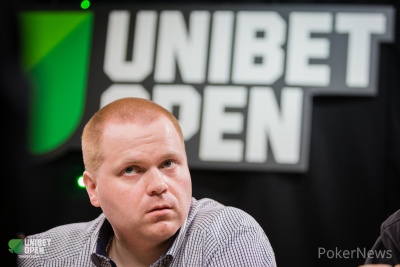 The first hand back from break saw Piotr Marzejon shove all in for 705,000. Martin Soukup looked him up with
, Marzejon had
.
The board ran out
and Marzejon said his goodbyes.
Marzejon takes home €21,500, the remaining three players are guaranteed €29,000 from here on out.