Life in the Fast Lane: 2004 WSOP Champ Greg Raymer Takes On Colossus II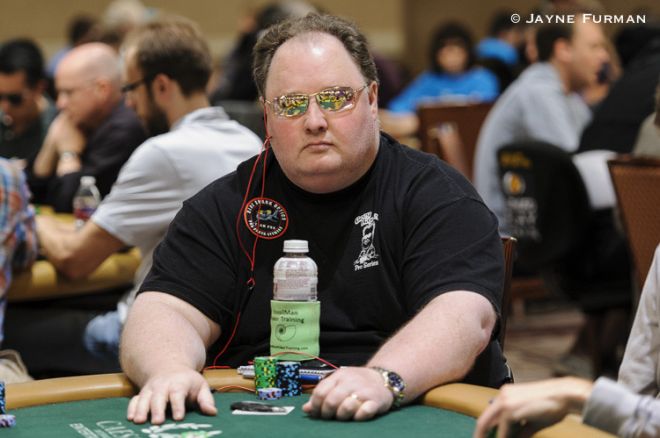 When 2004 World Series of Poker Main Event champ Greg Raymer fired his first bullet into the 2016 WSOP $565 Colossus II on Thursday, he played relatively tight for the first four levels.
But before he knew it, he was suddenly in shove-or-fold territory.
"I lost half my stack before the first break on my first flight and the most chips I lost in one hand was six blinds," he told PokerNews. "The next most I lost was two and a half blinds. Suddenly, I had half my stack at the break, and I won a couple of small pots as well.
"It wasn't like I was limping in every hand and losing at least one big blind every hand either. I was folding 80 percent of my hands, and lost a handful of pots, but suddenly I had half my stack. It was almost as if I had forgotten a big hand that I lost, but no. It just seemed a little strange that I could spend most of two hours folding and lose half my chips."
What Raymer had discovered, like many other players have, is that the revised structure for this second edition of Colossus, is rather fast on Day 1, and after he busted, he took to Twitter saying the structure is "way too fast" and asking the WSOP to consider giving entrants a little more play next time around.
"I suspect it is even faster than they meant it to be," Raymer said on a break after firing a second bullet in the event Friday. "They're paying 15 percent of the field and I think they designed the structure to make sure they get well below 15 percent on every flight. You can't not get to 15 percent on every flight, because that would obviously be a big mess. But I think they just went a little too far in making sure they got there. They got to like three or four percent in flights A and B.
"Even if play gets a little tighter at the end of the last flight because players don't have another chance, I'd be shocked if they don't get below 10 percent. So in hindsight, and hopefully what they will do for next year, is put a couple of levels back. There's at least one jump that more than doubles the blinds. Certainly they can give us a couple more levels at some point."
WSOP Vice President, Corporate Communications Seth Palansky said the new Colossus structure is exactly the same one used at the Oktoberfest event at WSOP Europe in Berlin, Germany last fall, and also at a WSOP Circuit event in Las Vegas. So they knew exactly what they were going to get from it.
In fact, Palansky said the three or four percent of the field remaining at the end of each flight was exactly the target they were after. He admits it's speedy on Day 1, but says it was designed that way for recreational players, who benefit from a faster structure because it reduces the skill edge of the pros. The faster structure is also in place because the WSOP doesn't want the tournament to go any longer, a move Palansky says would be prohibitive for recreational players taking time off work to play.
Palansky added the turbo-like structure also helps the WSOP avoid some of the logistical problems created when too many players return for Day 2, and too many hit the cage at once for payouts.
"We knew what we were going to get," Palansky said. "Yes, we will always take a look at it after the fact and adjust according to player feedback going into next year. But this time around we felt that the length of the tournament was the least malleable in terms of the things we could adjust."
Raymer said he understands there will be times when things will slow down deeper in the tournament, but still feels the structure could be slightly tweaked to include more play at the start, while allowing it to end in a timely fashion.
"I'd be shocked if at any time in this tournament, after the second or third break, that the average stack would be more than 20 or 25 big blinds," he said. "All the action will be all in preflop as a first action or three betting all in.
"By playing to a fixed percentage of the field in each flight, and starting at a fixed level on Day 2, you guarantee you're in the money on every flight and then have playability when you're in the money and it counts the most. Why not just play down to a certain percentage of the field remaining, and instead of just creating a structure that you hope will accomplish your goal, you just set your goal and play to it. Some players may not like the fact one flight plays more levels than the others to get there, but I think it's still fair.
"I understand they want to speed it up and make sure people can play the later flights that day, the deepstacks and the cash games, because the house can make more money, but you could just improve this structure a little bit and instead of nine hours of play to get to three percent, it would be 10 hours of play to get to 10 percent."
Raymer actually built up a decent stack by the second break Thursday, but it still amounted to less than 30 big blinds. In just the first few levels back, his stack dwindled down to 12 big blinds and he lost a 60-40 flip to go broke. He bought in again for the 4 p.m. flight.
Regardless of the Colossus structure, Raymer is a real fan of the WSOP and seems intent on playing as much poker as he can this summer. He has a staking package on YouStake.com for tournaments he plays throughout the year that includes many of his WSOP buy ins, and a separate deal for each of the $10,000 championship-level events he plans to play all summer. One can expect to see lots of Raymer at the Series this year.
"I intend to play as many events as possible this summer," he said. "I love it here. There's tons of action and everyone comes here from everywhere at this time of year, so you get a chance to see people you haven't seen and reconnect with old friends. But really the one thing that separates this from all the other events I travel to throughout the year is all the non-hold'em tournaments. No-limit hold'em is a great tournament game, maybe not so much a cash game, but I really prefer playing all these draw games and stud games, and really, throughout the rest of the year, you rarely go somewhere that has a tournament that isn't No-Limit Hold'em."
Get all the latest PokerNews updates on your social media outlets. Follow us on Twitter and find us on both Facebook and Google+!