PokerNews Book Review: "Life's a Gamble" by Mike Sexton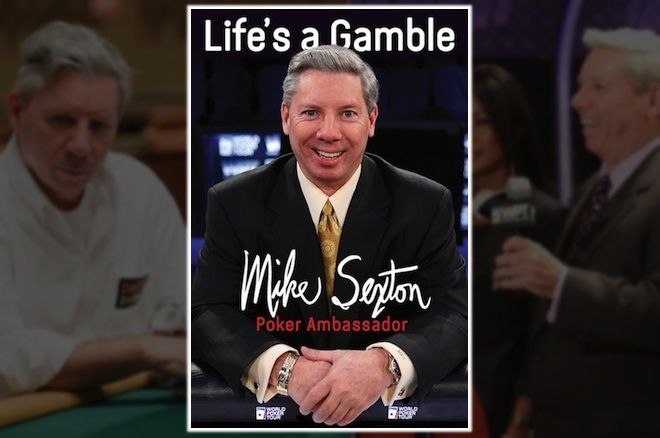 If you've spent any time at all around poker, you probably feel as though you know Mike Sexton.
In fact, if you're a player, you probably do know the friendly and gregarious Poker Hall of Famer, having met him at a World Poker Tour stop, at the World Series of Poker, or in some other poker room all around the world.
Even if you haven't met Sexton in person, you're no doubt familiar with him through his long-running position as a commentator on the WPT television shows, his columns for Card Player and other publications, his long-standing relationship with partypoker, or via other poker-related avenues. Through those many outlets, we've all gotten to know Sexton's personality and storytelling ability while no doubt appreciating the central role he's played in the game's growth, especially over the last couple of decades.
The arrival of Sexton's brand new autobiography Life's a Gamble from D&B Publishing gives us all a chance to get to know the "Ambassador of Poker" even better. The book compiles numerous stories and anecdotes from throughout Sexton's life, going back to his early teens when his neighbor and future poker legend Danny Robison first taught him the game and carrying all of the way through to the present day. Those wishing to find out more about Sexton's background and his various poker-related careers will discover much of interest, as will readers wanting to learn more about the recent history of poker and many of the game's most colorful characters.
As the title suggests, the book's central theme concerns how life can be much more rewarding when one is willing to take risks. "Nearly everything we do is a gamble," Sexton notes early on, and soon it becomes clear most of the decisions he made on his way — from career choices to relationships to becoming a professional poker player and getting involved in other entreprenurial ventures — all involved risk in one way or another.
Sexton's begins his story in chronological fashion, sharing details from his Indiana childhood, his experiences with his brother Tom being accomplished gymnasts in high school and college, his time as a paratrooper in the 82nd Airborne, and even his stints teaching ballroom dancing and being a sales represenative. Then after a brief summary of his early poker career playing home games in North Carolina, the scene shifts to Las Vegas where Sexton moved in early 1985, mostly remaining there for the rest of the book.
Sexton sets aside the chronology somewhat at that point, starting with a lengthy chapter of "Amazing Gambling Stories" that establishes the format followed for the book's latter half. It's long sequence of short, sometimes humorous and often engaging gambling stories featuring Sexton and several of poker's most famous characters, including Robison, Bob Stupak, Bobby Hoff, Jack Straus, Sam Grizzle, and Dave "Devilfish" Ulliott. Telly Savalas and Ben Affleck turn up as well to feature in tales.
From there comes Sexton's "Transition to the Business Side of Poker" and his move over into becoming a promoter of poker as well as a player, with his involvement with the first Tournament of Champions events from 1999-2001 an early highlight. A behind-the-scenes account of the launch of partypoker follows, including the story of the first partypoker Million staged aboard a cruise ship in early 2002.
The partypoker story involves a couple of big gambles for Sexton — one when he signed on to work for and represent the company as it was first being developed, then another when he chose to sell his shares for $15 million a year-and-a-half before the company went public. Sexton's timing when selling meant missing out on a potentially much bigger payday, but he expresses no regrets, comparing it to correctly folding a questionable hand then seeing it would have made the nuts.
Next comes the start of the World Poker Tour in 2002 and Sexton's involvement as a co-commentator from the first episode airing in March 2003. While giving online poker and the "Moneymaker effect" some due, Sexton is steadfast in his opinion that "the WPT is the primary reason for the 'poker explosion'" of the mid-2000s, a position he reiterates more than once in the book.
A lengthy history of the World Series of Poker comes next, functioning mostly as a large digression from Sexton's own story, at least until he finally makes it to his first WSOP in 1984. That's followed by another chapter compiling stories about various characters betting on golf, with Puggy Pearson, Doyle Brunson, Stu Ungar, and Phil Ivey among the cast of characters earning time on Sexton's stage.
It becomes clear during the second half of Life's a Gamble that Sexton has chosen to use his book as an opportunity not just to tell his own story, but to share with his audience the stories of the many interesting characters he's gotten to know along the way. He devotes a chapter each to five of them — David "Chip" Reese, Billy Baxter, Brunson, Pearson, and Ungar — then adds another long chapter of still more gambling stories including more golf bets, playing in Hollywood home games, his participating in The Big One for One Drop, and more.
Those familiar with Stu Ungar's story and especially One of a Kind in which authors Peter Alson and Nolan Dalla quote Sexton frequently about his gifted, troubled friend will already know most of the Ungar stories he shares here. Some readers might already have heard some of the other tales, too, especially if they've read Brunson's The Godfather of Poker or other nonfiction accounts of these well known figures in poker.
But many of the stories are relatively less well known, especially the ones concerning the big bets Sexton either made or witnessed others making. For example, Sexton tells of his having once bet Phil Ivey $10K, giving him 30-to-1 that Ivey would not win the first $50,000 H.O.R.S.E. event (later the Poker Players Championship) at the 2006 WSOP. Ivey went deep in that event, refusing a couple of attempts by Sexton to buy out of the bet along the way — a situation that resonates somewhat with stories of big bracelet bets from this summer's WSOP. Ultimately Ivey took third, saving Sexton from having to pay $300K.
Despite the severe sweat, Sexton would make the exact same bet with Ivey the following year, and win it again. "I just can't help myself," confesses Sexton.
Sexton's decision to tell as many or more stories about others in addition to ones involving himself ultimately makes him seem at times part of an ensemble cast rather than the star of his own autobiography. It's a narrative choice that somehow seems to suit his "ambassador" role, showing him to be as interested (or more so) in promoting others and their contributions to poker and gambling lore as he is in relating his own adventures.
Perhaps as a result, Sexton doesn't dwell too heavily on his own highs and lows, or the many times he found himself broke or "between bankrolls" (as he puts it). Neither does he shy away from sharing less flattering accounts of his big losses on the golf course or when betting on sports (the latter being an admitted leak). He does occasionally stop to offer advice along the way to readers — about poker, gambling, and life in general — noting near the end how he's shared his story "in hopes that someone may benefit from the mistakes I've made."
The book reads quickly, its many short chapters and brief anecdotes whizzing by like poker hands during a lengthy session. Some are more interesting than others, several are genuinely gripping and full of drama, and every now and then a huge one comes along that you'll probably want to talk about with friends afterwards.
Life may well be a gamble. But if you're looking for a fun, entertaining compilation of poker and gambling tales involving many of the game's most famous players, you won't be risking all that much by picking up Life's a Gamble.
This Saturday, July 2, a book launch for Life's a Gamble sponsored by the WPT and partypoker will take place at Julian Serrano's at the ARIA Resort and Casino. Hardcover copies of Life's a Gamble will be available on Amazon starting July 7.
Want to stay atop all the latest in the poker world? If so, make sure to get PokerNews updates on your social media outlets. Follow us on Twitter and find us on both Facebook and Google+!