Bryan Piccioli Leads Final 251 Into Day 5 of the 2016 WSOP Main Event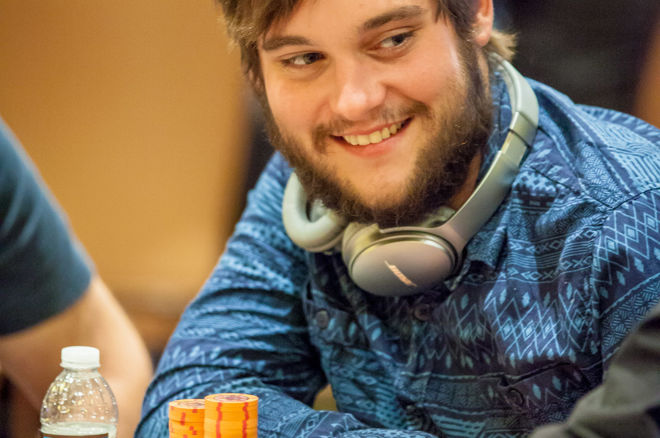 It was time to move up, or move out, on Day 4 of the 2016 World Series of Poker Main Event in Las Vegas Friday, as a field that came in 800 strong was culled to just 251.
After another 5.25 levels of play, finishing up with the end of the event's 21st level, Allegany, New York's Bryan Piccioli played the biggest role in the moving up department.
The 2013 WSOP bracelet winner, who has appeared at two World Poker Tour final tables this year, including a third-place finish in the WPT Bay 101 Shooting Star and sixth-place run in the $10,000 WPT Seminole Hard Rock Finale, shot up the counts in the last level of play on the night. He dragged at least one huge pot off Adam Friedman to move above the three-million mark, ending with 4,026,000 and the chip lead.
While a late run from 2014 Big One for One Drop winner Dan Colman allowed him to bag 3.7 million, no other player outside of Piccioli is above the four-million mark at this point.
Top 10 Chip Counts
| Player | Stack |
| --- | --- |
| Bryan Piccioli | 4,026,000 |
| Dan Colman | 3,711,000 |
| Thomas Miller | 3,684,000 |
| Pierre Merlin | 3,396,000 |
| Farhad Jamasi | 3,380,000 |
| Goran Mandic | 3,216,000 |
| Adi Abugazal | 3,180,000 |
| Daniel Zack | 3,085,000 |
| Melanie Weisner | 3,078,000 |
| Tom Middleton | 3,025,000 |
As hundreds of shorter stacks busted out, the first half of the day belonged to a pair of WSOP veterans. Maria Ho and Melanie Weisner took turns at the top of the counts after both turned pocket aces into big pots. But as the day wore on, Weisner went relatively card dead, treading water before a big finish, and Ho rode a roller coaster that saw her end the day in the middle of the pack.
Aussie James Obst was in the fray all day, becoming the first player past three-million in chips and taking the post dinner-break lead into the late levels.
"It was pretty hectic early on," he told PokerNews. "I played a lot of big pots and it all happened pretty quickly, but things have settled down after I moved tables. The pace has slowed down, certainly at the feature table. I'm pretty relaxed, and there's still 300 or so players left, so I'm not getting too ahead of myself."
A star in the online game for years, Obst has really picked it up live in 2016, posting a win at the 2016 Aussie Millions, a win and two runner-up finishes at the 2016 Perth Poker Championships, a runner-up finish in the 2016 WSOP $10,000 H.O.R.S.E. Championship, final table bubbles in two other WSOP events, and a total of seven cashes at the series this year.
"I feel like I've had a lot of experience live this year," he said. "I've been in some pretty high pressure situations in big tournaments, so I'm definitely going to draw on that [experience]. I'm definitely going to be thinking about hands I've played, mistakes I may have made in the past, and factors I haven't considered. That gives me a lot of confidence. I feel like I'm ready to play my best at this stage of the tournament."
This stage of the tournament includes ESPN TV coverage and Obst was among the first players to play at a feature table with the cameras rolling and a little added pressure after the dinner break on Day 4.
"I enjoy the pressure to be honest with you," he said. "It tends to be when I play my best. I just have to stay aware of how it effects other people, and try to be the most composed and level headed player at the table. It really shifts the dynamic at the table, and so long as I can stay ahead of that, it should work out OK."
Obst ended the day just outside the top ten. Weisner was at a secondary feature table and appeared to enjoy the experience as much as she has her entire Main Event so far.
"I was thrilled yesterday to end at 1.1 million after peaking at 1.3 million," she said. "I started today with a series of very unfortunate hands that led me to have 700,000 real quick, and I was at at a great table, which is really important for how you do in the Main Event, but it broke. Then I was moved to a much tougher table with a bunch of people I knew, and even people who I didn't know who were clearly playing well, but I shot up to 2.3 million after a series of pretty fortunate hands. I peaked at 2.6 million and just kind of chipped down since then, hovering at around 2.1 to 2.3 million for the rest of the day. My tables pretty good, and I've just been pretty card dead. There's not really too much happening, but it's the Main Event and there's super long levels, so there's a lot of time to wait for really good situations."
One of those situations came up late in the day, with Weisner picking up aces versus ace-king to collect another huge pot, move above the three-million mark and into the top ten heading into Day 5.
"It's really fun," she added. "It couldn't be more fun. I've never been in a situation like this, in an event like this. I've had over 100 big blinds the entire tournament and it's really fun to play that kind of poker. It's definitely a lot more pressure the further you go, but it's the Main Event, it's the event, so yeah, I'm enjoying every minute of it."
Top pros including Jan Suchanek, Alexander Keating, Jared Bleznick, Griffin Benger, Antoine Saout, Chris Hunichen, Ami Barer, Tom Marchese, and Tony Gregg also emerged as threats, bagging top 50 stacks.
The moving out department was headlined by players including 1983 WSOP Main Event winner Tom McEvoy, online legend and 2013 WSOP Main Event 8th-place finisher David Benefield, three-time WSOP bracelet winner Matt Matros, British venture capitalist and high roller Paul Newey, and 2010 WSOP Main Event 7th-place finisher Jason Senti, who all busted in the money in the first half of the day.
Players who busted later included European Poker Tour title holder David Vamplew, EPT all-time leading money winner Steve O'Dwyer, 2013 WSOP Main Event Champion Ryan Riess, 2011 WSOP Main Event sixth-place finisher Eoghan O'Dea, and Twitch stream superstar Jason Somerville.
Several 888poker qualifiers are still in the hunt including Benger, Ola Brandborn, Nicolas Cradyn, Gan Siong, Matthies Habering, Luciana Manolea, George Mcdonald, Josip Simunic, Elliot Smith, Jullian Stuer, Diego Ventura, Anton Wigg, and Vitalijs Zavorotnijs.
The 2016 WSOP Main Event will continue Saturday with Day 5 beginning at 12 p.m. local time in Las Vegas.
As the 2016 WSOP rolls on, be sure to stay tuned to PokerNews for continued coverage, brought to you by our sponsors, 888poker.
Want to stay atop all the latest in the poker world? If so, make sure to get PokerNews updates on your social media outlets. Follow us on Twitter and find us on both Facebook and Google+!