Courtroom to Poker Table: Kassouf Rides Verbal Skills to 17th Place in the Main Event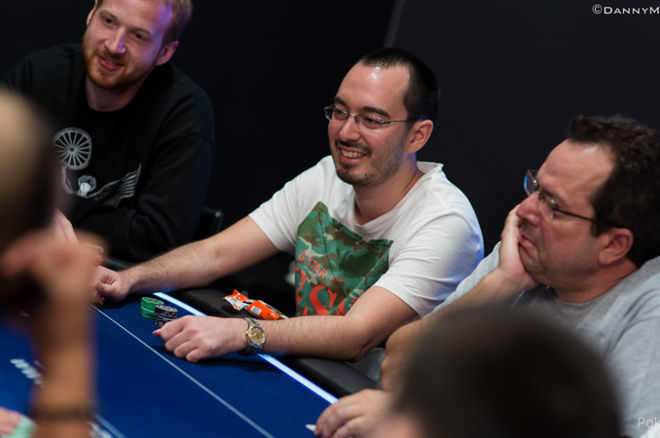 William Kassouf has been talking his way in and out of trouble the past few days at the 2016 World Series of Poker Main Event.
It's something he's comfortable doing, the linchpin of his strategy at both his former career as a lawyer, and his new career as a professional poker player.
"It's a big part of my game," he said. "I'm a friendly, outgoing, social kind of guy. I think it gets under the skin of a lot of poker players."
He was first introduced to the game at a home game with friends in the U.K. The game was a wild one, with lots of bluffing, discussions of holdings, and verbal warfare.
That's how Kassouf learned the game, so that's how he plays it, and it's served him well enough in the Main Event as he has advanced to the final two tables with a stack barely outside the top five.
"By speaking to [opponents] and engaging in conversation I'm picking up a lot more information than these so-called hooded zombies who just sit there for 12 hours a day and say nothing," Kassouf said.
Not everyone appreciates Kassouf's table talk, though, as he alluded to. In one notable pot on Day 5 of the tournament, he got himself into a pickle, using his mouth to help escape a jam, but simultaneously dig himself into a bit of a hole.
On a final board of
, Kassouf moved all in to put Stacy Matuson at risk. While Matuson tanked, Kassouf went into his table talk routine.
"You don't want to be eliminated in front of the whole camera crew, do you?" he asked. "Lay it down. Don't go broke this hand."
Matuson took exception, as did the tournament director, who threatened Kassouf with a penalty if he continued to talk. Kassouf, who contends this was out of line, nonetheless kept his mouth shut for the remainder of the hand.
When Matuson finally folded queens face-up, Kassouf proudly revealed
for a bluff and then was handed a one-round penalty by head tournament director Jack Effel. The two men had a discussion after the hand, which Kassouf said was perfectly civil, with the British player explaining that he's simply doing what he does best at the table.
It's a point-of-view held by many players, with Daniel Negreanu perhaps foremost among the crowd pushing for more table talk to be allowed in poker. Kassouf, of course, agrees.
"I'm not breaking the rules, I'm just bending them," he explained. "If that's breaking the rules, I think the rules should be changed."
Talking his way through things at the table reminds Kassouf of his days as a lawyer. He practiced for two years back home in the U.K.
"I like the psychological aspect, outwitting your opponent," he said. "There's a strong correlation between being a lawyer and being a poker player, outwitting your opponent to get the desired result. There's no intent as far as needling players or malice. I think poker should be fun. At the end of the day, it's a game and you should enjoy it."
Unfortunately for Kassouf, with 70 minutes left on the clock in Level 34 (200,000/400,000/50,000), he finally ran into a spot he couldn't talk his way out of. Dealt kings, he got his stack in the middle against Griffin Benger, who had the aces and held up to bust him.
Kassouf said that win or lose, he always walks away from poker with a smile on his face, and after finishing 17th in the most prestigious tournament in the world, he has $338,288 more reasons to be happy with this run.
As the 2016 WSOP rolls on, be sure to stay tuned to PokerNews for continued coverage, brought to you by our sponsors, 888poker.
Want to stay atop all the latest in the poker world? If so, make sure to get PokerNews updates on your social media outlets. Follow us on Twitter and find us on both Facebook and Google+!