Five Thoughts: From First Ballot Hall of Famers to Great Responsibility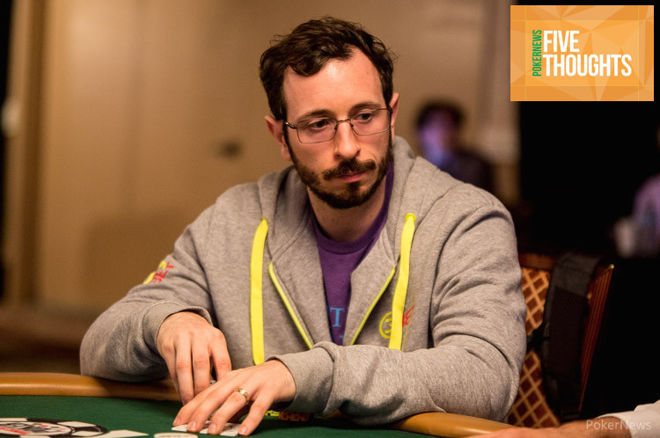 The 2016 World Series of Poker rolled on this week with several more players etching their name in the annals of poker history.
None was more deeply engraved than the man who hoisted the Chip Reese Memorial Trophy on Wednesday and his story kicks off this week's Five Thoughts from on and off the WSOP felt.
1. A First Ballot Hall of Famer
Brian Rast did more than just win the $50,000 Poker Players' Championship for a second time on Wednesday night at the World Series of Poker. He practically guaranteed himself first-ballot status for the Poker Hall of Fame.
Thanks to an unorthodox style some have deemed savant-like, many people have a tough time figuring out how Michael "The Grinder" Mizrachi managed to become the only other player to win two $50,000 Poker Players' Championship titles, and almost grab a third by finishing in fourth on Wednesday. And while the Grinder's vast array of accomplishments in poker will likely put him in the Hall as well, Rast's path seems a little easier to follow now.
After Wednesday's historic victory, he told the press he'll play any game, for any stakes, against all competition. That's a statement that practically reads like it was ripped right out the Poker Hall of Fame's induction criteria.
Rast also said he cares little for what the rest of the world thinks of him outside of his professional poker-playing peers, but at this point, one would have to think it's the same thing. Rast has spent his career proving he's one of the best all-around poker players in the world and can win on the biggest of stages. I think the world has come to know that much at least, and it's a sure bet the year he turns 40, the Poker Hall of Fame will make sure no one ever forgets it.
2. Poker's Politically Incorrect
Matt Glantz was pretty quick to throw PokerNews and I under the bus last week, referring to my thoughts suggesting that members of the poker community who fight for social justice turn down the volume of their message for fear of people tuning it out as an unfair and unwarranted attack that blew some of his own interactions out of proportion.
I'm not sure what Glantz's motivations were, but if he thought such gross mischaracterizations of the piece would help him curry favor with the group, it appears he was dead wrong.
On America's birthday, after bagging the overnight lead in the $50,000 Poker Players' Championship, Justin Bonomo took to social media, criticizing Glantz's Twitter game. I believe Bonomo's message was that Glantz's often comedic approach to serious issues facing the poker community can be dismissive and disparaging. It's a valid point. There is a fine line the court jesters of this world ride between being funny and burying a serious and valid message under a mountain of jokes, but I think Bonomo may be missing one thing.
Seeing the funny side of a serious issue can often allow people to take a step back from it, see both sides, and view the entire thing with a newfound objectivity. Rather than being dismissive, a joke can actually help bring the true nature of an issue into the light, get people thinking about it, discussing and debating it, and help the community work towards solutions.
Again, I don't know what Glantz's motivations are for trying to be poker's funny man when it comes to the community's most serious issues, but if they are anything akin to what I've described above, he and poker's most vocal advocates for social justice aren't actually as far apart as it may seem. All they really want is to get people talking about the community's most serious social issues and move towards change.
That's a side we can surely all get behind.
3. With Great Power Comes Great Responsibility
The long road to crowning poker's newest world champion begins this weekend when the 2016 WSOP Main Event kicks off.
Reading a press release from the WSOP regarding how big they expect this year's event to be, I was reminded of why more than 6,000 players turn up to contest the crown every year. Most already know that the poker boom, and with it the major uptick in Main Event entries, started with 2003 WSOP Main Event champion Chris Moneymaker. But it was more than just the dream-come-true style of his satellite-to-win story that had people coming to Las Vegas in droves with hopes of becoming the next champ.
It was his work as an ambassador for the game in the ensuing years that helped grow poker into what it is today. Moneymaker accepted the responsibility of being poker's world champion, playing the everyman hero in countless ads, posing for pictures and signing autographs with the fans at every stop on the live tournament circuit, and enjoying a friendly relationship with the poker community and the media that helped grow his legend, and the game itself, at the same time.
Poker's growth appears to have plateaued a little lately, but there is hope for the future. A vapid pro with sunglasses and a hoodie for a personality, or an extreme heel who works to hide from the spotlight winning the title this year will do little to help. Since Moneymaker's 2003 win there have been several Main Event winners also willing to embrace the responsibility of being an ambassador for poker, and here's hoping the path to crowning a 2016 world champion lands us on someone similar again, for the good of the game.
4. Anyone Can Win, Even Poker
Regular readers of this column will know I never get tired of banging the drum when it comes to the dream-come-true stories in poker. I continue to assert that the reason why thousands turn up for the low-end buy-in and gimmick events at the WSOP is that amateur players are constantly showing up on poker's biggest stage and proving that anyone can win. Millions of dollars get pumped into the poker economy every summer because of it, and the industry continues to thrive as a result.
Amateur Hung Le winning the 2016 WSOP Event #54: $888 Crazy Eights No-Limit Hold'em for $888,888 last week was yet another example. As a WSOP rookie, the 53-year-old nail salon owner was under no impression that his skill level was above the average amateur and he gambled his way to a life-changing sum of money when he got the opportunity.
Kudos to Le for helping keep the dream, and in turn the entire industry, alive.
5. PokerNews Cup Comes Stateside
I could probably write an entire op-ed piece on how great I think the exfoliating oatmeal soap bars are in the rooms at the Borgata Hotel Casino & Spa. Instead, I'll focus on how awesome it is that PokerNews is partnering with the property to bring its PokerNews Cup tournament to North America for the first time.
The two-day event will begin on Tuesday, Sept. 20, 2016 as part of the 14th annual Borgata Poker Open tournament series and it is sure to be a hit right out of the gate with PokerNews working closely with BorgataPoker.com to offer a full schedule of online satellites and promotions getting people in the door.
Borgata has become the center of the poker Universe on the East Coast and there really isn't a more suitable venue for the PokerNews Cup to make it's debut stateside.
*Please note that the thoughts and opinions expressed in this article reflect those of the author.
Want to stay atop all the latest in the poker world? If so, make sure to get PokerNews updates on your social media outlets. Follow us on Twitter and find us on both Facebook and Google+!