Phil Hellmuth Struggles: "If Poker Were Fair Then Maybe I'd Be A Lot Less Frustrated"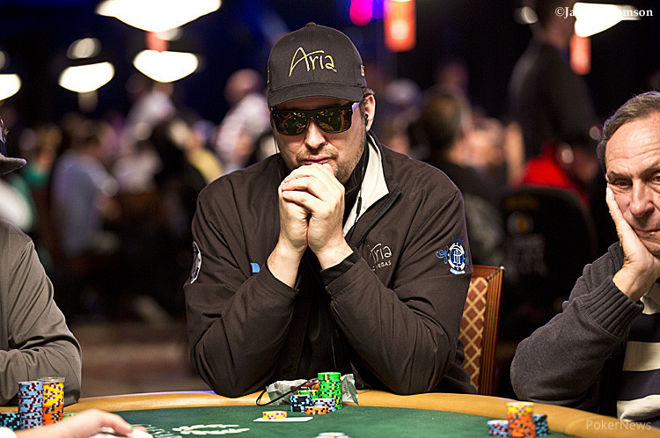 Short stacked and feeling a bit handcuffed by an onslaught of aggressive play around him, 1989 World Series of Poker Main Event champion and 14-time WSOP bracelet winner Phil Hellmuth was feeling rather frustrated on Day 3 of the 2016 WSOP Main Event.
"If poker were fair, then maybe I'd be a lot less frustrated, but do I really want it to be fair? Probably not," Hellmuth told PokerNews on the second break of the day after his stack had dwindled to around the 50,000-chip mark at 1,500/3,000 blinds.
"It's so hard to lose all the pots that I've lost, and sit here and fight, and fight, and fight, and play like nobody else plays.
"I've never been jammed on or three-bet and four-bet more over the last eight hours than probably any other time in my life. It's unbelievable. Either they're all reading me really great, which clearly they are not, or my timing has just been really bad. It has been extraordinarily frustrating to sit here through this in the Main Event. Even the hand before this interview somebody jammed in on me. Listen, the guy with 14 bracelets can't really complain that poker's not fair. It's just been frustrating."
In fact, it has been so frustrating for "The Poker Brat" that he tossed his phone across the room at one point.
"I hurled my iPhone across the room," Hellmuth said. "It was just a very frustrating blind against blind spot. The guy beat me every blind and finally I picked up ace-ten suited, the guy has ace-king, and I lost too much in that hand. The last 25,000 I shouldn't have lost. That's my fault. I take responsibility. Do I feel like it was a very unlucky spot? Yes, but it doesn't matter, I take responsibility for not saving that 25,000. I should have saved it, especially against [2011 WSOP Main Event runner-up] Martin Staszko. I should have just know that and maybe I could have saved 40,000."
The Hellmuth-Stazko table broke, and Hellmuth was moved again a short time later, making it hard to develop the live reads his game is so dependent on. But Hellmuth says his ability to develop those reads, what he calls "White Magic," may be a little off right now anyway.
"My reads have not been perfect these last two days," Hellmuth explained. "If my reads had been perfect I'd probably have 300,000 in chips. That's frustrating. I've been given a great gift to be able to read people and unfortunately it's not coming to fruition right now, and that's been frustrating.
"If my reads were on, if my White Magic were perfect all the time, I'd have eight more bracelets, maybe 10 more bracelets, but on days where it's not quite there you just have to adapt."
The one thing Hellmuth will not do, is give up.
"I will never quit, I just won't quit," he said. "My mind will not give one inch to these players, not one inch. I feel like I've had too many unlucky hands, but I'm still in there.
"The passion is there and then you know you're going to be super tired, so I am prepared for that. My mind is so strong that even if I'm up ten days straight, it's not going to fail me. That's the good side of it. My reads have not been where I want them to be and that's the bad side of it. The other good side is that I suppose I'm still in, I just don't have a lot of chips, but I will never give up, never."
Hellmuth did not give up, but the frustrations continued as he finally got it in for 37,000 with the
versus Sara Hall's
and failed to improve, exiting the Main Event before the Day 3 dinner break.
Want to stay atop all the latest in the poker world? If so, make sure to get PokerNews updates on your social media outlets. Follow us on Twitter and find us on both Facebook and Google+!