Three-Time NFL Super Bowl Champion Richard Seymour: "This Is the Super Bowl of Poker"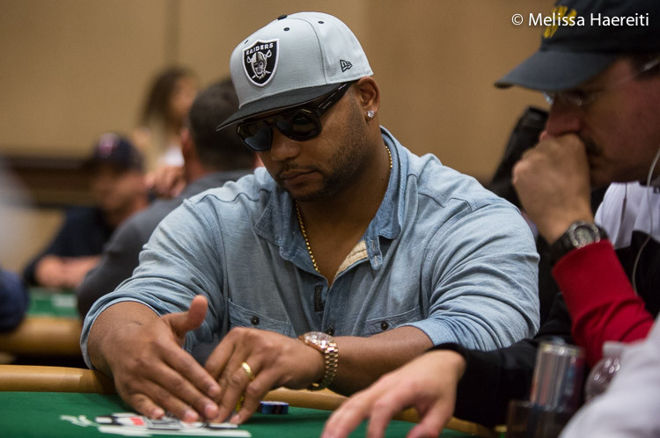 Three-time Super Bowl champion Richard Seymour is an avid poker enthusiast and plays some of the biggest tournaments every year. On Saturday, July 9, we spotted him on Day 1a of the 2016 World Series of Poker Main Event sitting on an above-average stack.
"You know, what, it's Day 1 and I'm taking my time," Seymour told PokerNews. "I'm not trying to make any big calls; I'm just trying to let my cards do the talking for me, not inflating pots, playing position, and play smart ball."
Seymour's no unknown to the WSOP, as he's played in prior years and even joined the commentary booth for some fun and analysis. At the 2016 World Poker Tour Bay 101 event, Seymour picked up the biggest cash of his poker career, finishing 44th for $21,580, and he told us he's learned a lot about the game in the last couple of months.
"When you get beat enough, you understand from previous tournaments when you should fold, when you should call, and I just think that I'm gaining more and more experience," he said. "Obviously I'm not playing nearly as much as a lot of the top pros out there, and I don't think anything beats playing.
"In my spare time, I'm always studying and thinking about hands, and I'm starting to understand the theory of poker more. I have a much better understanding of the game now, I don't turn down any information. I read, I watch videos, I met some really high-end players that I talk to about the game, and I try to take a little bit of all of it."
One of the things Seymour has learned is how to adjust to a table. Much like in his NFL playing days, sometimes you have to abandon a game plan and adjust on the fly.
"I don't really play like they play, per se, but I just try to play within my personality," Seymour said. "I'm not super aggressive, I'm not super loose, and I don't come into the tournament knowing how I'm going to play. If the table is tight, I'll loosen it up. If the table is loose, I'll tighten it up. Those are just little things that I've learned from getting beat up enough."
With seven Pro Bowl selections and being inducted in the 2000s All-Decade Team, Seymour is one of the most successful NFL players in recent history, and it wouldn't be a bad assumption to think that poker's just a fun hobby. But he takes the game seriously. Seymour has a lot of respect for poker, and he puts winning the WSOP Main Event up there with some of the most prestigious honors in all of sports.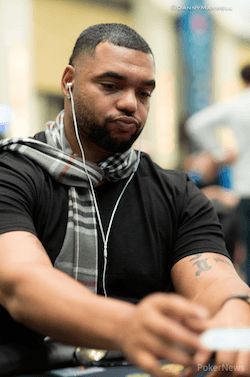 "If you ever get your banner, it's like getting it up in the rafters at the Boston Garden or the Staples Center," Seymour said, as he looked over at the large banners of all previous WSOP Main Event champions hanging in the Amazon Room. "Once you're inside the Rio, in the Amazon Room, I think that's one of the pinnacles of poker. I think this is the Super Bowl of poker, when you're playing in the Main Event. Everyone's coming from all around the world, and if I'm in a tournament and I can feel my nerves and my blood flowing, that's where I want to be. I enjoy that from being a competitor, and obviously I want to win, but I just want to compete against the best."
Seymour's making a strong connection between poker and his days as a professional athlete, and as he starts to build on his experience as a player we could be looking at a feared competitor on the felt in the near future.
"You have to prepare just like I had to prepare in football," he said. "I need to study, I need to know my opponents. I wanted to know their middle name and I called them that on the field, or if they had a nickname. It's the same thing at the poker table. I don't talk a lot, but I know who I'm sitting with and what they're capable off. I've done a lot of research, and I also want to know who I'm playing with the next day."
After a brief pause Seymour added, "The doors are starting to open mentally to get to another level."
While poker is a fun game to play in his down time, Seymour now spends most of his time with his wife raising their five kids and keeping up with the restaurants he owns in the Atlanta airport, plus numerous other investments.
"I'm also giving back through charities and different things, and I just try to be a better person every day and better myself," Seymour added about his life after football.
Seymour eventually made his way back to his table on Day 1a, and we hinted at potentially winning a WSOP bracelet. He quickly turned around, smiled, and said, "That's the pinnacle for me."
Want to stay atop all the latest in the poker world? If so, make sure to get PokerNews updates on your social media outlets. Follow us on Twitter and find us on both Facebook and Google+!