World Cup of Cards in Full Swing: Tommy Coulombe Wins All-Stars for Starlight Tournament, And More Winners
Brent Harrington
Anthony Charter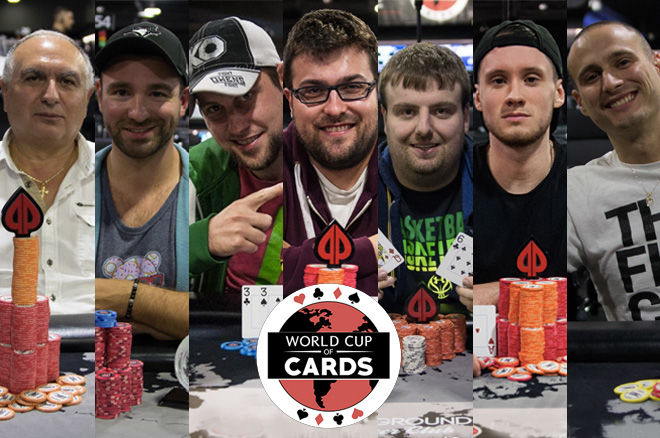 The World Cup of Cards (WCOC) is at its half-way point at Playground Poker Club in Kahnawake, Quebec. PokerNews is on site for live coverage and there's been plenty of action already with several champions crowned. A round-up of what's happened in recent weeks.
---
Event #4: Francesco Maltese Wins NL Hold'em Freeze (CAD $3,462)
Francesco Maltese topped a field of 146 to win event number 4; the NL Hold'em Freeze. The win netted him CAD $3,462.
Maltese defeated Andrej Markovinovic heads-up to claim the title. In the final hand, Markovinovic raised all-in preflop and was called by Maltese. Markovinovic had ace-king but was behind Maltese's pocket sevens. A classic race was underway with Maltese having a slight advantage. That edge proved to be enough as the board ran out queen-high. Markovinovic received $2,550 for his runner-up finish.
The hand of the tournament was one where Tanvir Ahmed fell victim to a cruel beat. Ahmed had turned a full house with king-jack on a
board and was all-in against Markovinovic's ace-king. The last deuce came on the river giving both players quads but Markovinovic's ace-kicker took the pot.
| Place | Name | Prize (CAD) |
| --- | --- | --- |
| 1 | Francesco Maltese | $3,462 |
| 2 | Andrej Markovinovic | $2,550 |
| 3 | Maxime Pitre-Pepin | $1,920 |
| 4 | Daniel Letarte | $1,450 |
| 5 | Tanvir Ahmed | $1,090 |
| 6 | Bart Sieminski | $820 |
| 7 | David Pare | $620 |
| 8 | Jason Conforti | $460 |
| 9 | Andre Pelletier | $350 |
| 10 | Jason Mottershead | $260 |
---
Event #5: Michael Malm Wins Omaha 8 Hi-Lo (CAD $2,870)
Michael Malm navigated a field of 57 to capture the title in event number 5: PL Omaha 8 Hi-Lo. He received the trophy, posed for a winner photo, and took home a top prize of CAD $2,870.
The final table played out wildly. With a fast-paced structure, chips flew across the table with players chopping and scooping pot after pot. Once three-handed, Malm, Ryan Fisher, and Sagar Shetye agreed to a relatively even chop and play loosened up even more.
Originally only the final six would make the money but once the field was on the money bubble, they all agreed to create a seventh prize. Here is how the payouts broke down:
| Place | Name | Prize (CAD) |
| --- | --- | --- |
| 1 | Michael Malm | $3,113 |
| 2 | Ryan Fisher | $2,840 |
| 3 | Sagar Shetye | $2,445 |
| 4 | Kurtis Ruhl | $1,180 |
| 5 | Arthur W | $790 |
| 6 | Olivier Courcelles | $460 |
| 7 | Elisabette Bertucci | $240 |
Malm is no stranger to the winner's circle. With numerous cashes throughout previous festivals held at Playground, Malm also has a World Series of Poker bracelet to his name, winning a $2,500 Eight-Game mix in 2013 for $225,104. With this latest cash, Malm now has over $620,000 in career live-recorded tournament earnings.
---
Event #6: Tommy Coulombe Wins All-Stars for Starlight Tournament (CAD $15,967)
Tommy Coulombe won the CAD $160 All-Stars for Starlight Tournament, besting a field of 850 players and finally beating Charles La Boissonniere in a heads-up battle.
The tournament raised more than CAD $20,000 for the Starlight Foundation Canada, which helps children and their families deal with illness while in the hospital and life outside the hospital as well.
Play on the final day started with ten players left and Samuel Chapot was ahead of them all. He would eventually finish in third place. The first player eliminated was David Bonneau (10th place $1,340). He was eliminated when he got all in preflop against Nick-Real Seide. Bonneau had jacks and three-bet Seide's button open. Seide four-bet shoved and Bonneau called. Seide rivered a queen with queen-four and that was the end of the day for Bonneau, who quickly entered Event #8: CAD $330 6-Max No-Limit.
Jacob Lafleur was next to go in ninth place earning $1,750. He came into the day second in chips and would have had a huge lead early in the day if Sagar Shetye didn't river a chop when he was at risk for a huge pot. Lafleur eventually busted to Chaput when the two were all in preflop. They both had an ace, but the ace-four of Lafleur was no help against the ace-nine of Chaput.
Denis Simard finished in eighth place for CAD $2,320. He had a relatively quiet day and was eliminated when he shoved under the gun with pocket nines and Coulombe called with ace-queen. Coulombe made two pair and that was all she wrote for Simard.
Then Seide was eliminated in seventh place. He took home CAD $3,280 when he shoved just under ten big blinds and Chaput called with eights. Seide was unable to connect with his ace-ten and hit the rail.
Charles-Eric Benoit was eliminated by the other Charles; Charles La Boissonniere. He finished in sixth for CAD $4,560. He doubled up eventual winner Tommy Coulombe and then was eliminated by La Boissonniere when he called off for about four big blinds in the big blind with eight-seven and didn't improve against king-queen.
Fifth place went to Felix Leclerc. Leclerc became the short stack and battled back, getting several preflop shoves through. Eventually, he got in behind to Sagar Shetye and couldn't catch up. He took home CAD $6,000.
Shetye would go out next when he got deuces in against ace-seven and Tommy Coulombe hit an ace on the flop. Shetye walked home with CAD $8,000.
Samuel Chaput would go out third, after making a deal three-handed. He doubled up Charles La Boissonniere with king-six against ace-nine and that brought the three players stacks to even. They made a deal that would see each player get at least CAD $14,465. Shortly after the deal, Chaput got king-high in again against La Boissonniere.
Boissonniere and Coulombe played out two more levels before Coulombe eventually earned the trophy and the leader board points, as well as the extra CAD $1,502. In total Coulombe took home CAD $15,967.
| Place | Name | Prize (CAD) |
| --- | --- | --- |
| 1 | Tommy Coulombe | $15,967 |
| 2 | Chales La Boissonniere | $14,465 |
| 3 | Samuel Chaput | $14,465 |
| 4 | Sagar Shetye | $8,000 |
| 5 | Felix Leclerc | $6,000 |
| 6 | Charles-Eric Benoit | $4,560 |
| 7 | Nick-Real Seide | $3,280 |
| 8 | Denis Simard | $2,320 |
| 9 | Jacob Lafleur | $1,750 |
---
Event #7: Blais of Glory; William Blais Crushes Crazy Pineapple Bounty (CAD $4,500)
The $220 NL Crazy Pineapple Bounty attracted a field of 130 players, pushing the $15,000 guarantee to almost $19,000. Igniting his competition for 16 bounties, William Blais dominated en route to victory and a top prize of $4,500.
Crazy Pineapple plays like no-limit hold'em with one slight variation. Players are dealt three cards but must discard one of them following the flop. From each buy-in, $150 went to the prize pool and $50 was awarded for each elimination. The 16 bounties Blais collected throughout the event, netted him a bonus prize of $800.
Blais steamrolled the final table, busting the final four players. On the first hand of heads-up play, Blais' opponent Martin Welch moved all-in and Blais snap-called. The flop came
and both released a card. Blais tabled ace-five, ahead of Welch's king-queen, needing to sweat just two cards to win it all. The turn was a six changing nothing. The dealer laid the 8 of hearts on the river, sealing Blais' victory.
| Place | Name | Prize (CAD) |
| --- | --- | --- |
| 1 | William Blais | $4,500 |
| 2 | Martin Welch | $3,400 |
| 3 | Mehdi M | $2,600 |
| 4 | Maurice Simard | $2,000 |
| 5 | Daniel Pepin | $1,500 |
| 6 | Vasilios Sklavounos | $1,115 |
| 7 | Keith Laflam | $850 |
| 8 | Steven Mavrigiannakis | $650 |
| 9 | Jason Conforti | $500 |
| 10 | Siamak S | $400 |
---
Event #8: New Brunswick's Shawn Daigle Wins Big Ante (CAD $2,111)
The 8th event of the World Cup of Cards hosted by Playground Poker Club drew 88 entries early Monday afternoon. The NL Hold'em Big Ante featured a buy-in of $110 and a guarantee of $4,000. After a little over eight hours of play, New Brunswick's Shawn Daigle captured the Champion's trophy and the first-place prize of $2,115.
With a prize pool of $8,536, just nine players would make the money. Once the 10-handed final table was created, the remaining players agreed to pay a percentage to the bubble.
Fortunately for Christopher Primeau, he busted in 10th place and instead of leaving empty-handed, walked away with $200. Dominic Jipos made a deep run in his first poker tournament ever according to a friend who works at Playground. Jipos busted in 9th and received $255 for his efforts.
Crippled on the hand just before, Michael Hunter found himself all-in on the big blind and after turning two pair, two of his opponents rivered a four-card straight and he exited in eighth. The bust-outs came hard and heavy after that.
Keith Laflam was a big story heading into the final table. Early Monday morning, he was at the final table of Event #6: NL Crazy Pineapple Bounty. Fast forward to Monday evening and he was back at it again. Unfortunately for Laflam, it would be deja-vu for him as he got it in good holding with fives against Asim Ismail's king-seven but Ismail hit trips with his king and for the second-straight event, Laflam busted in seventh.
Daniel Coleman became the 6th-place finisher. Finding himself all-in preflop and put at risk by Ryan Sgrignuoli, Coleman ran his shove right into Sgrignuoli's aces. Coleman was way behind with eight-three suited but did get some help from the flop that paired his three. The turn and river bricked out and Coleman was sent to the payout desk.
A pretty standard but nasty cooler for Maxim Foucault spelled the end of his ride. Foucault got all-in preflop with pocket jacks only to see Ismail table pocket aces. Foucault didn't get any help from the board and was eliminated in fifth place.
Ryan Sgrignuoli also got coolered by Ismail, but this time, Sgrignuoli had the pocket aces. Their cards were tabled on the flop with Ismail having hit middle pair with jack-seven. The river came a jack and Ismail's two pair were good knocking Sgrignuoli out in fourth.
Daigle began his rise to the top by busting Marcello Simonetti in third. In a blind versus blind confrontation, Simonetti shoved with ace-deuce and Daigle made the call with pocket fives. Daigle faded the board and after the dealer cut down both stacks, Daigle had Simonetti just barely covered to score the elimination.
After exchanging the chip lead a few times, Daigle was back in front and on the last hand he open-shoved all-in and Alim Ismail called all-in for less. Daigle tabled queen-six but was behind Ismail's ace-three. Ismail needed to hold to stay alive. Daigle made a straight on the river and with it, the tournament was over.
| Place | Name | Prize (CAD) |
| --- | --- | --- |
| 1 | Shawn Daigle | $2,111 |
| 2 | Alim Ismail | $1,630 |
| 3 | Marcello Simonetti | $1,250 |
| 4 | Ryan Sgrignuoli | $985 |
| 5 | Maxim Foucault | $755 |
| 6 | Daniel Coleman | $575 |
| 7 | Keith Laflam | $440 |
| 8 | Michael Hunter | $335 |
| 9 | Dominic Jipos | $255 |
| 10 | Christopher Primeau | $200 |
---
Event #9: Francois Goulet Wins World Cup of Cards 6-Max (CAD $7,050)
The 9th event of the World Cup of Cards featured a $330 NL Hold'em 6-Max tournament, boasting a guarantee of $30,000. As expected, the event attracted a strong field of 181 entries crushing the guarantee and boosting the prize pool to $52,671.
Among the leaders for the majority of the day, Francois Goulet entered six-handed play as one of the short stacks. When Michael Korovine busted in seventh place, the final six decided to look at the numbers, pausing the clock to discuss a deal. The short-stacked Goulet negotiated a bit of extra prize money and the remaining players agreed to the terms. Here is how the deal shaped up in order of position.
| Place | Name | Prize (CAD) |
| --- | --- | --- |
| 1 | Francois Goulet | $7,050 |
| 2 | Michael Levy | $7,520 |
| 3 | Yohann Wagner | $6,680 |
| 4 | Sebastien Morin | $6,420 |
| 5 | Michel Cloutier | $6,251 |
| 6 | Joey Boczek | $6,100 |
As an event rule, the tournament had to be played out to an eventual champion. The deal also had to leave 2% for the winner, leaving the final six $1,050 to play for.
On the final hand, Goulet had Levy all-in and at risk preflop holding ace-ten against the king-ten of Levy. The board ran out all blanks and Levy was eliminated in second place.
---
Event #10: Dave Jeanneau-Cyr Wins World Cup of Cards Dealer's Choice (CAD $2,038)
Early Tuesday afternoon, 64 players took a seat inside Playground Poker Club for the 10th event of the World Cup of Cards. The $110 Dealer's Choice 8-Max was on the agenda and there was $3,000 guaranteed.
Each hand the player on the button selected the game type for that hand. The choices were no-limit hold'em, pot limit hold'em, pot limit Omaha, 5-card PLO, no-limit pineapple, and no-limit crazy pineapple.
When registration closed a total of $6,208 was up for grabs and the top seven spots would get their slice. When the final table of eight was formed, however, they all agreed to ay the bubble $20 each. Dave Jeanneau-Cyr took the chip lead into the final table and did not relinquish it for a single hand on his way to capturing the champion's trophy and a top prize of $2,038.
On the final hand, Marcello Simonetti chose 5-card PLO and raised all-in preflop on the button. Jeanneau-Cyr called from the big blind. Simonetti tabled
while Jeanneau-Cyr's showed
. The dealer patted the table and delivered a
board. Jeanneau-Cyr's hand held up, eliminating Simonetti in second place.
| Place | Name | Prize (CAD) |
| --- | --- | --- |
| 1 | Dave Jeanneau-Cyr | $2,038 |
| 2 | Marcello Simonetti | $1,410 |
| 3 | Glen Hammers | $990 |
| 4 | Jennifer Brooks | $700 |
| 5 | Vasilios Sklavounos | $490 |
| 6 | Jason Conforti | $340 |
| 7 | Shijaudin Daud Sha | $240 |
| 8 | Patrick St-Onge | $160 |
---
The home of the WCOC is Playground Poker Club. It was established in 2010 and is recognized by poker players all over North America as Canada's Premier Poker Destination. The Club is located less than twenty minutes south of downtown Montreal within the Mohawk Territory of Kahnawake and is duly licensed by the Kahnawake Gaming Commission.
You can stay up to date with all the World Cup of Cards events right on PokerNews.com. The series concludes September 14th and we'll be on site for all of it, with live coverage and photos from all the events!
---