Event Info
| | |
| --- | --- |
| Prize Pool | 111,307 CAD |
| Players | 850 |
Level Info
| | |
| --- | --- |
| Level | 36 |
| Blinds | 200,000 / 400,000 |
| Ante | 50,000 |
All-Stars for Starlight
Day 3 Completed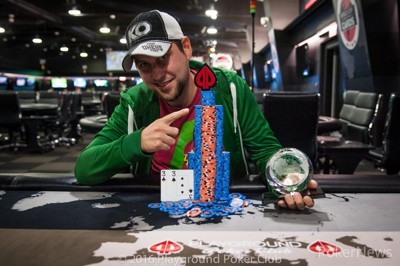 Tommy Coulombe won the CAD $160 All-Stars for Starlight Tournament, besting a field of 850 players and finally beating Charles La Boissonniere in a heads up battle. The All-Stars for Starlight was Event #6 at the World Cup of Cards. The WCC is a 28-day, 28-event Tournament series held at Playground Poker Club just outside of Montreal, QC.
The tournament raised more than CAD $20,000 for the Starlight Foundation Canada, which helps children and their families deal with illness while in the hospital and life outside the hospital as well.
When play began today, there were ten players left and Samuel Chapot was ahead of them all. He would eventually finish in third place. Here is how the final table went down and Tommy Coulombe became the eventual winner.
The first player eliminated was David Bonneau (10th place $1,340). He was eliminated when he got all in preflop against Nick-Real Seide. Bonneau had jacks and three-bet Seide's button open. Seide four-bet shoved and Bonneau called. Seide rivered a queen with
and that was the end of the day for Bonneau, who quickly entered Event #8: CADn$330 6-Max No-Limit.
Jacob Lafleur was next to go in ninth place earning $1,750. He came into the day second in chips and would have had a huge lead early in the day if Sagar Shetye didn't river a chop when he was at risk for a huge pot. Lafleur eventually busted to Samuel Chaput when the two were all in preflop. They both had aces, but the
of Lafleur was no help against the
of Chaput.
Denis Simard finished in eightth place for CAD $2,320. He had a relatively quiet day and was eliminated when he shoved under the gun with
and Coulombe called with
. Coulombe made two pair and that was all she wrote for Simard.
Then Nick-Real Seide was eliminated in seventh place. He took home CAD $3,280 when he shoved just under ten big blinds and Chaput called with
. Seide was unable to connect with his
and hit the rail.
Charles-Eric Benoit was eliminated by the other Charles, Charles La Boissonniere. He finished in sixth for CAD $4,560. He doubled up eventual winner Tommy Coulombe and then was eliminated by La Boissonniere when he called off for about four big blinds in the big blind with
.
Fifth place went to Felix Leclerc. Leclerc became the short stack and battled back, getting several preflop shoves through. Eventually, he got in behind to Sagar Shetye and couldn't catch up. He took home CAD $6,000.
Shetye would go out next when he got deuces in against
and Tommy Coulombe hit an ace on the flop. Shetye walked home with CAD $8,000.
Samuel Chaput would go out third, after making a deal three-handed. He doubled up Charles La Boissonniere with
against
and that brought the three players stacks to even. They made a deal that would see each player get at least CAD $14,465. Shortly after the deal Chaput got king-high in again against La Boissonniere.
Boissonniere and Coulombe played out two more levels before Coulombe eventually earned the trophy and the leader board points, as well as the extra CAD $1,502. In total Coulombe took home CAD $15,967.
This was just event #6 of 28 here at the World Cup of Cards. Pokernews will be here throughout the festival, bringing you all the news, updates, and photos. Follow @pokernews on Twitter for live-updates, Periscope broadcasts, and more. Also, follow Pokernews on Facebook.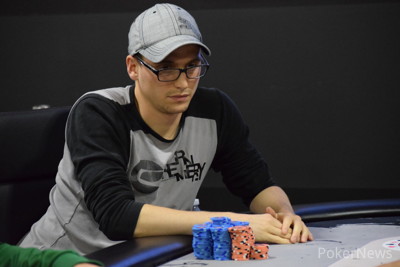 Charles La Boissonniere and Tommy Coulombe just got all in two times in the last few hands.
The first time the board read qh9h6s4sas] and La Boissonniere bet 2,000,000. Coulombe shoved all in for 5,500,000 and La Boissonniere called. Coulombe had the nut flush with
and La Boissonniere was left very low.
Shortly after he doubled up when he got all in with
and the board ran out two pair, making his ace-high the best hand.
Then, he got all in with
against the
of Coulombe. The board ran out
and Coulombe sealed the victory. La Boissonniere finished in second place and took home CAD $14,465.
Level:

36
Blinds:

200,000/400,000
Ante:

50,000
The players are headed to a 10-minute break. The play will resume at 200,000/400,000 with a 50,000 ante.
Tommy Coulombe limped to open the action and Charles La Boissonniere shoved all in. Coulombe called with
against the
of La Boissonniere.
The board ran out
, giving La Boissonniere a bit of a sweat, needing to dodge a spade on the river.
Charles La Boissonniere and Tommy Coulombe exchanged double ups and La Boissonniere holds the lead.
First La Boissonniere doubled up Coulombe when he got in
versus
. He hit a king on the flop and stayed ahead.
Then La Boissonniere doubled when he got
all in against the
of Coulombe. Neither player improved and La Boissonniere doubled with the better high card.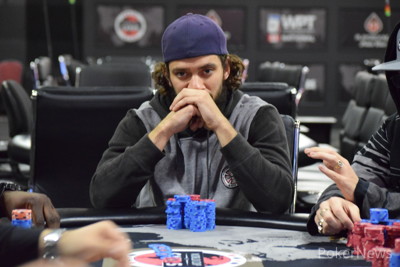 Samuel Chaput, who entered the day as the chip leader, has been eliminated. When play was three-handed the players made a deal and each took home at least $14,465. As per Playground Poker Club's rules, they had to leave $1,500 up top and play for that amount and the trophy.
Samuel Chaput got all in against Chalres La Boissonniere after he raised to 500,000 preflop and La Boissonniere shoved. Chaput called with
against the
of La Boissonniere.
The flop came
and La Boissonniere hit a set. The turn was the
and the river was the
, so Chaput was eliminated.
Level:

35
Blinds:

150,000/300,000
Ante:

50,000