Five Thoughts: Duel Brings the Cool, Obsession Equals Success and the Poker Pro Oxymoron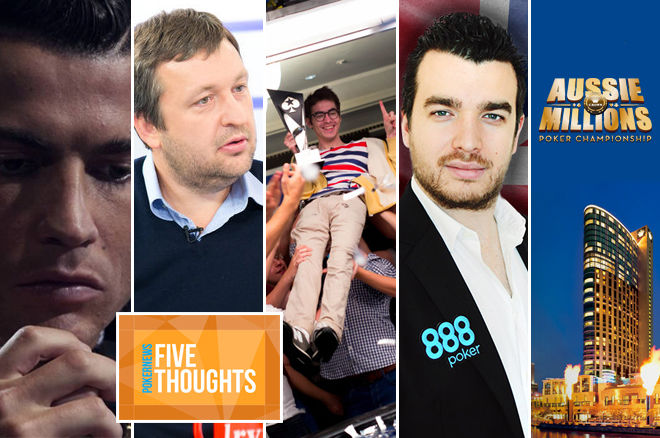 If predatory professionals fleece the last few remaining recreational poker players out of their money, and nobody new is attracted to the game, poker's got the shelf life of an organic banana. The game, and the industry surrounding it, will last another 15 minutes at best.
Something needs to be done to change all that, and anyone and everyone who wants to be a part of the industry has a responsibility to help make that happen, for the love of the game and all that's good for it.
It's with that in mind that we look to this week's Five Thoughts and hope for a brighter future for the game of poker and all the people who have been touched by it.
---
1. PokerStars' New Duel Brings Back the Cool

With online poker still against archaic laws in most of the United States, and the post-Moneymaker boom now more than a decade old, the growth of poker has certainly plateaued over the past few years. But the formula for sparking a new flame that could reignite poker's popularity is hardly rocket science. As an industry, we simply need to find a way to make poker cool again. It has to be fun, exciting and the "in" thing, like it once was. Remember what Rounders did for the game? Everyone wanted to be Matt Damon or Edward Norton. Heck, some even thought John Turturro's Knish character lived a life worth emulating. Everyone wanted to play.
PokerStars took a step toward making poker cool again this week, releasing a new Web Series featuring six super star celebrities playing in one-on-one matches for charity.
Make no mistake about it; watching two of the most popular athletes on the planet, Cristiano Ronaldo and Neymar Jr., take on red hot Hollywood actors like Breaking Bad's Aaron Paul and the new Star Wars film's John Boyega and top models like Sara Sampaio and Miss World Mireia Lalaguna Royo in a series of extremely tense heads-up battles has poker looking super cool.
These celebrities and this show aren't going to reignite the poker boom all by themselves, but there's little doubt this is a move in the right direction, and one the entire industry should get behind.
---
2. Is Poker a Profession?

I'd like to applaud PokerNews founder and EU Parliament member Antanas "Tony G" Guoga for saying what a lot of the rest of the world has been thinking for years on last week's episode of the PokerNews Podcast. In reacting to recent changes in the poker industry that appear to be lining up against the professional player, Guoga suggested playing poker isn't the kind of career young people should be aspiring to, but instead a game and a hobby that people who do something else with their lives should enjoy in their spare time with their disposable income.
Personally, I've always felt the term poker professional was a bit of an oxymoron. In my mind, and in many others' in the real world, professionals are doctors, lawyers, accountants, etc. who undergo specialized training and contribute something to society, practicing what they've learned professionally. They are not freedom seekers who wake up one day and realize they're good enough at a game to drop out of normal society and gamble for a living.
While it's certainly a fun game and mentally challenging pastime, poker - and the allure of big money that a high-stakes player can make - have always been a bit of a brain drain on society. People who would otherwise have the capacity to be doing something a little more meaningful with their lives are selfishly drawn to it.
Outside of a few select pros at the top of the food chain who make big money and promote the game to others as a recreational pursuit, very few players who call themselves professionals are doing anything positive for the game or the industry as a whole, never mind society; and the sooner more of them adopt Guoga's line of thinking, the better off we will all be, both in the poker industry, and beyond it.
---
3. A Question of Character

Polish qualifier Sebastian Malec put on quite a show, beating Uri Reichenstein heads up to win the European Poker Tour Barcelona Main Event title and €1,122,800 last week, after reportedly getting in the event through a €27 satellite.
He started ordering cocktails, openly talked his way through hands, and even stopped to pose for a selfie in the audience as what would be the final hand of the tournament played out. Several people, who apparently take poker and themselves way too seriously, have criticized Malec's speech play during the heads-up match, suggesting he crossed a line.
If this line does exist, it ought to be erased. Malec's performance was entertaining and injected a little personality into a game all too thirsty for it. He presented himself as a character, giving tournament poker what it really needs more of these days.
He even got Reichenstein to call off the last of his chips in the final hand despite himself, after correctly pointing out the fact all of Malec's talk could only come from a player holding the best of it. And when Reichenstein did call and he had finally secured the title, Malec even burst into tears, the weight of his accomplishment overwhelming him.
It all made for one of the most entertaining ends to a tournament in EPT broadcast history, and really looked like the kind of thing that might attract someone on the outside into the game of poker. In the end, Malec and characters like him shouldn't be chastised for injecting personality into a game increasingly devoid of it. They should be praised for it because these kind of performances can really help throw the spotlight on just how great this game can be, helping it grow and appeal to the masses.
---
4. Obsession Equals Success

Listening to Chris Moorman talk about his path towards becoming the most successful tournament player in online poker history, I found it particularly interesting how many times he referred to his relationship with the game as an obsession.
Moorman got hooked on the idea he could make money playing a game, became consumed by the emotions that winning provided and ultimately obsessed with climbing the PocketFives rankings on the way to becoming one of poker's best.
When we hear the word "obsession," there's a tendency to think it's unhealthy, and of course, Moorman himself wasn't truly happy until he found a little more balance in his life.
But when you look around at successful people in many different walks of life, obsession seems to be a common theme.
Perhaps it's time to start looking at obsession in a different light, and instead of the negative connotations it conjures up, start looking at it as a necessary evil, the kind of single-minded dedication that is a prerequisite for success in just about anything. Moorman's story is certainly a good example of that.
---
5. The Aussie Millions Stands Alone

With PokerStars folding all of its many regional tours into one of two new ones, PokerStars Championship and PokerStars Festival events, the Aussie Millions has decided to return to its roots as a stand-alone series.
Crown Melbourne's crown jewel since its inception in 1998, the Aussie Millions had been a part of the PokerStars' Asia Pacific Poker Tour the past few years, but hardly needed to be. In fact, truth be told, the Aussie Millions easily did more to prop up the APPT than vice versa.
The major tournament series runs enough live satellites year-round to bloat prize pools and attract poker players from across the globe in search of the biggest action. The series has long been a popular poker destination for those from Down Under and well beyond, and that's certainly likely to continue, with a sponsor or without.
The Aussie Millions also has a reputation for setting new standards in tournament poker. They were the first to introduce super high roller events and shot clocks and all indications are they will continue to set the bar in live events when the 2017 Aussie Millions kicks off January 11, and for years to come, even without the support of a major tour.
---
Be sure to complete your PokerNews experience by checking out an overview of our mobile and tablet apps here. Stay on top of the poker world from your phone with our mobile iOS and Android app, or fire up our iPad app on your tablet. You can also update your own chip counts from poker tournaments around the world with MyStack on both Android and iOS.
---