Five Thoughts: Picking on Polk, Fire MartyDerbyshire, and Make Poker Fun Again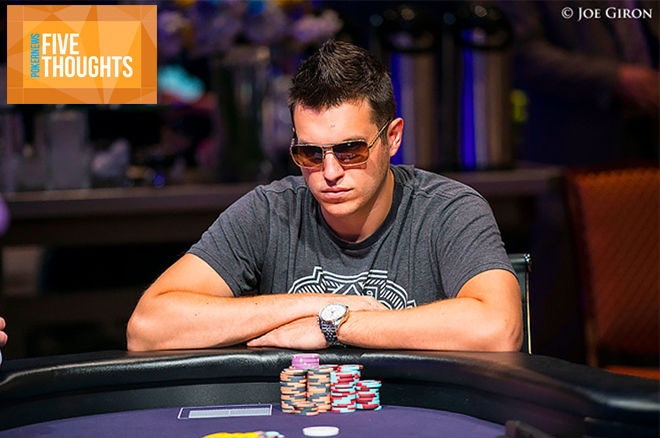 Poker can be serious business. It's an industry, but first and foremost, it's a game. Enjoyed recreationally by millions of people around the world, and played professionally by a few thousand who have elevated the skill aspects of the game to an artform, it's important we all remember that poker should be fun.
With that attitude in mind, please enjoy this week's Five Thoughts:
---
1. Picking On Polk

Get your Dongers up and your cookie jars out because the enigmatic Doug Polk has started a $100 to $10,000 bankroll challenge live on the Upswing Poker Twitch stream. Polk took it to the WSOP.com Nevada streets this week and kicked it all off with a frankly hilarious fake work-out YouTube video that's definitely worth watching. Admittedly, The "Polkernews" videos he's recently posted are pretty funny as well.
Despite Polk's connection to the rather acerbic Evil Empire, the videos, and the stream, all go to show he's a truly funny and entertaining character in his own right, which begs a question as to his overall brand building strategy.
Polk kicked off the summer of 2016 trying to build up both himself and the Upswing Poker brand by putting others down — A wholly ineffective tactic tossed in his face when at least one of the players he labeled a "bad reg" went on to win World Series of Poker Player of the Year honors (See Jason Mercier).
In response to recent criticism of his constant criticisms, Polk vowed to continue to be himself.
I'm all for keeping it real, but I have to think leaning towards the engaging and entertaining side of his personality, rather than the insulting an abrasive one, will do more to build those brands.
---
2. Fire MartyDerbyshire

The reigning World Champion Joe McKeehen has decided to turn his Twitter account into a campaign to get me fired. The very same person who has thumbed his nose at the media and poker fans requesting selfies and autographs has the strange idea that I am somehow bad for the game.
I suppose I could respond with some old adage about pots and kettles, or by recounting all the good I've done for poker in writing about the game for the past decade.
I'd rather just let my lengthy track record of work in this industry speak for itself, and instead, I will simply suggest the winner of the 2015 WSOP Main Event take a step back and think about what he's really doing here, and why. If assassinating my character and attempting in vain to derail my career in the name of what's good for poker are really how he wants to spend the last few months of his reign as World Champ, I can't stop him, but I have to think there are hundreds of things he could be doing instead that would be a whole lot better for "our" game.
---
3. Sportification Hits a Snag

I'm on record as to how much I enjoyed the Global Poker League's first matches in The Cube in Las Vegas this summer. Now I'm beginning to worry about the league's future.
GPL CEO Alex Dreyfus confirmed this week the plan to host the playoffs in San Diego as part of TwitchCon, and the finals in London at Wembley Stadium, have been scrapped. Instead, the season will wrap up at the very same Las Vegas makeshift studio that hosted the summer series.
Dreyfus can spin the move any way he likes, but the evidence is clear. The GPL has simply failed to gain the kind of audience that would justify the big spend a big splash at TwitchCon and Wembley Arena would require.
Dreyfus himself went on the record this week stating the league's goal is to endure, and "for that to happen, it's not about spending more, it is about making the right decisions and growing the league organically as much as we can."
I can agree with this idea, but unless they make major changes to the league's entire format, they are in trouble. The GPL needs to shorten the season to make each match more impactful, exciting and worth watching. It needs to focus on the great new and innovative poker product it has in The Cube and do away with the less than scintillating online portion of the schedule. Plus, whether Dreyfus wants to do it now, or later, the league will ultimately have to make a big marketing splash one way or another, because without it, the GPL is in great danger of spending a few years mired in mediocrity, and relative obscurity, before it ultimately dissolves.
---
4. Make Poker Fun Again

They were down to two tables in the 2016 WSOP Main Event, and on a break when I approached Cliff Josephy with a question. I remembered watching him enthusiastically sweat 2009 WSOP Main Event champion Joe Cada at the final table, and wondered which situation was more stressful for the longtime player and backer, standing on the rail watching a horse go through all the trials and tribulations on poker's biggest stage, or attempting to wade his own way through a similar minefield himself.
His answer said tons about the man, his attitude towards poker, and why no matter what happens in November, Josephy is a legend in this game.
"Stressful?" he asked with a smile. "Neither situation is stressful at all. Both are fun. That's what this is really about, isn't it? Let's make poker fun again."
You can root for whoever you like come November, but backing this idea sounds like a no-brainer to me. Let's hope all the November Niners have a good time and enjoy the ride. Let's hope they all follow Josephy's lead and have some fun. Let's all do our part to make poker fun again, and the entire industry will end up winners for it.
---
5. Going Back To Cali

The debut of taxed and regulated Online Poker in California must be closer than ever, considering some of the arguments against it trotted out by the Executive Director of the California Coalition Against Gambling Expansion Rev. James B. Butler on CNBC's Power Lunch this week.
Sure, the latest bill to legalize online poker in California was pulled off the Assembly floor this week, and may not get back on until 2017, but when Butler kicked off his appearance on the show with the same old effort to smear the casino industry with stats about an increase in crime, unemployment, welfare, and bankruptcies associated with gambling expansion that the opposition used to fight a losing battle against a boom in brick and mortar casino construction in the 1990s, it really felt like he was grasping at straws.
I don't think anybody's buying the idea that taxed and regulated online poker is going to start some kind of crime wave, and Butler's use of aging and inapplicable arguments simply comes off as desperate, suggesting even he knows he's fighting another losing battle, and taxed and regulated online poker is headed to California sooner rather than later.
---
Be sure to complete your PokerNews experience by checking out an overview of our mobile and tablet apps here. Stay on top of the poker world from your phone with our mobile iOS and Android app, or fire up our iPad app on your tablet. You can also update your own chip counts from poker tournaments around the world with MyStack on both Android and iOS.
---