Five Thoughts: McKeehen's Dominance, PokerStars Cutting Rewards, and Six-Plus Hold'em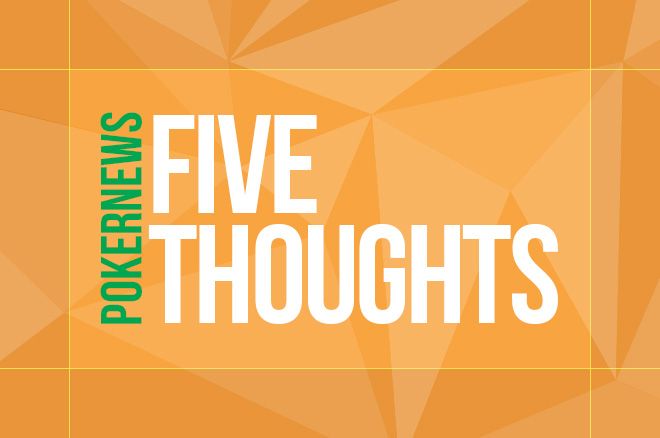 In 1970, the World Series of Poker crowned Johnny Moss its inaugural champion. Of course, the format was a little different back then as this was before the modern freezeouts, but nonetheless, history was made.
Every year since for 45 years, the WSOP has added to that history by crowning a new, or in some cases repeat, champion. That player gets his or her name etched into poker lore as a Main Event champ, complete with a banner that will adorn the Amazon Room, hanging alongside the images of their fellow winners. For one year, they and they alone may truthfully boast to be the poker world champion.
Some stick around the game ever after but never make another mark on poker. Some add more bracelets to their tally and become legends of the game. Some distance themselves from the game, popping up here and there for the occasional event. Some are rarely, if ever, heard from again.
Where Joe McKeehen goes from here is up to him, but he has joined one of the most elite clubs in poker as its 46th world champion.
1. Joe McKeehen Wins the 2015 Main Event
To become the newest champion, McKeehen topped a field of 6,420 runners and banked $7,683,346 in pre-tax winnings. Like Martin Jacobson, the man who passed McKeehen the crown, the Pennsylvania native hardly needed this massive victory to be known as one of the toughest tournament players out there. He had already amassed more than seven figures in tournament scores and was carving out a nice career for himself crushing tournaments mostly on the East Coast at places like Borgata and Parx.
Of course, given how the 2015 Main Event went down, McKeehen has etched his name in the poker history books not just for becoming the champ, but for doing so in one of the most dominant fashions we've ever seen.
McKeehen came into the November Nine with a monstrous chip lead of double the second-best stack, and by the time the first day was over and three eliminations were in the books, he had nearly triple the chips of his nearest competitor. After the second day of play, McKeehen had more than triple Neil Blumenfield's second-place stack after adding to his pile by another 40 percent. That dominating run continued when he knocked out his two remaining opponents before the first level of the final day could even expire.
Surely, McKeehen is a worthy champion. He ran blazing hot, to be sure — to say he picked up big pairs frequently would be understating things — but he also played impeccably. He accumulated a vast number of chips before the final table was even set, astutely playing off of the huge money jumps and November Nine bubble. He seemed to pick all of the right times to three-bet light, maintaining the delicate balance of controlling the table without getting out of line.
If his play was any indication, McKeehen will be around for awhile, and this won't be the last tournament he wins. At least someone clad in Philly gear is making it to the winner's circle.
2. WSOP Broadcasts Disappoint
There was another side to McKeehen's incredibly dominating performance, however. It made for arguably the dullest final table in the history of the modern televised Main Event. Hell, even some of the broadcasts without hole cards might have an argument over this one.
As PokerNews Editor-in-Chief Donnie Peters noted in his statistical recap of the final table, the 184 hands played in 2015 were the lowest since at least 2006. It seemed like almost everyone at the final table aside from Blumenfield was playing risk-averse poker, despite the fact that the money jumps were relatively small at the beginning.
Three-bets were respected to the point of timidity — there were just eight four-bets the entire time and very few calls of reraises. More than 140 hands in, there had yet to be one post-flop raise. That's mind-boggling.
And perhaps most important, nobody mounted any sort of serious challenge to McKeehen. No one even sniffed the idea of coming close. That sucked all of the drama right out of the proceedings as his victory was never really in doubt.
Granted, it's very difficult to play against a skilled player like McKeehen who is also running insanely hot, but regardless of the reasons, it all added up to a real snoozer, one that's unlikely to hold the attention of even dedicated poker fans.
3. Amaya Rolls Out New Rewards Program
On Nov. 1, PokerStars announced a massive overhaul to their rewards program, one that has set the online poker world abuzz. In the announced interest of a "move towards a more balanced long-term poker economy and to return the game back to one that rewards skill via winning at the tables rather than playing primarily for volume." PokerStars will be essentially lopping off the top level of their rakeback program.
No longer will players be able to grind out a living via breaking even at the tables and reaping the rewards of Supernova and Supernova Elite statuses, with the latter going bye-bye in 2017 and being capped at far below the usual value in 2016. Additionally, "high-stakes cash games" — defined as games with blinds of $5/$10 or higher for big-bet and $10/$15 or higher for limit — will no longer generate VPPs that turn into rakeback.
If the PokerStars press release is to be believed, this money being taken out of the poker economy and redistributed to "research and development" and "new consumer marketing campaigns featuring Cristiano Ronaldo and Neymar Jr." will benefit poker in the long haul.
That's going to be a tough story to swallow for all of the loyal grinders who generate countless millions for PokerStars each year and are having a big chunk of their income ripped away. And the statement that PokerStars wants to reward skill at the table rings a little hollow when they turn around and market Spin & Go tournaments.
If the money they are taking out of the economy is used in a way that demonstrably benefits the long-term growth of poker, then all will likely be forgiven. Until that's shown to be the case, it's hard to fault the players for being upset.
4. Pennsylvania iPoker Moving Forward
The long slog towards the return of online poker in the United States continued to inch forward with the news that B]Pennsylania's Gaming Oversight Committee[/B] passed an Internet gaming bill. There are still hurdles for the bill to pass, but this is an encouraging first step.
Unfortunately, there's small matter of the bill including an $8 million licensing fee that will apparently be required of online gambling operators. That's going to be a tough sell to operators who are already going to be investing plenty on setup and operation. Plus, they can point to New Jersey's fee of $400,000 and wonder why they're getting squeezed.
Even a small win for Internet poker is a win, though. It's one more step towards everyone nation-wide being able to play poker from the comfort of their own homes while governments ease straining budgets by scooping a portion of revenues. Common sense to you and I, but as they say, common sense isn't common.
5. Six-Plus Hold'em Spread at ARIA
Open-face Chinese poker was the latest game to take the poker world by storm. Is six-plus hold'em next?
Apparently spread regularly by action-hungry poker players in Macau, six-plus hold'em takes normal hold'em and puts a rather large twist on it: all of the cards between two and five are removed from the deck, creating a condensed deck of only cards above six. Aces still wrap around and function as low or high cards for straight-making purposes.
ARIA spread the first six-plus hold'em game in Las Vegas on Thursday night, with $2/$5 blinds and a $1,000 max. It will be interesting to see if it catches on.
To hear a couple of poker icons talk about the game, watch this video with Phil Ivey and Tom Dwan:
Want to stay atop all the latest in the poker world? If so, make sure to get PokerNews updates on your social media outlets. Follow us on Twitter and find us on both Facebook and Google+!