Five Thoughts: Tapping The Glass, Getting The Monkey Off Your Back and Becoming MasterChef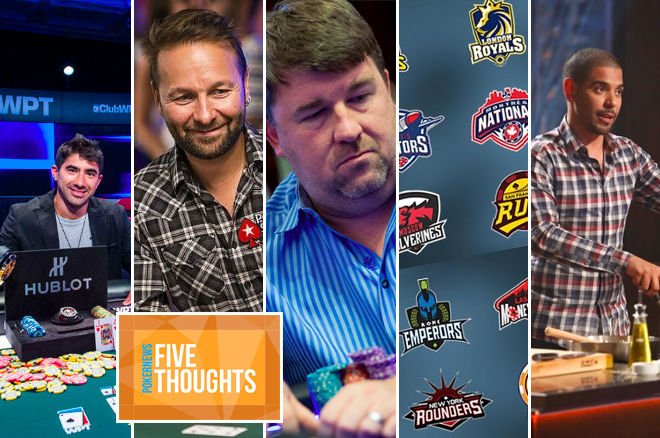 After footage of the incident appeared on ESPN's coverage of the 2016 World Series of Poker Main Event last week, the poker community spent a lot of time and energy debating if William Kassouf deserved a penalty or not.
The wheels of the poker world kept turning; however, and several other people, places and things made headlines this week.
A WSOP Main Event winner talked to PokerNews about the state of the game today, one WSOP Main Event runner-up finally won a major title and another WSOP Main Event runner-up ended a deep run on TV's MasterChef. In the meantime, live poker's all-time leading money winner became a World Champion online and the fledgling Global Poker League returned to online competition.
A healthy debate and discussion on on all these issues and more continues here in this week's Five Thoughts:
1. The Monkey Off Sylvia's Back
Those who remember the 2012 World Series of Poker Main Event will undoubtedly recall Greg Merson's emotional response to victory. But while the player who finishes second in any given year is often just a footnote, because of the graciousness and strength of character he displayed in finishing runner-up, Jesse Sylvia is hard to forget, coming in second in 2012.
Sylvia had $5,295,149, reasons to shrug off not winning the title. His nice-guy appeal also led to a successful start as a poker analyst and commentator with Poker PROductions, working on shows like this summer's 2016 Super High Roller Bowl. So it may have been hard to see the monkey growing on his back, but with two third-place finishes at the WSOP since his turn as Main Event runner-up, it was definitely there.
This weekend, however, Sylvia had it surgically removed, winning $821,811 and his first major title at the World Poker Tour Borgata Poker Open. To make it even more special, Sylvia was sixth of six coming into the final and he came back to win it, despite Colombian Pro and three-time WPT final table participant Farid Jattin holding a massive chip lead at the start.
After Sylvia claimed the crown, Poker Twitter even appeared to lay down its weapons for a minute and congratulations poured in for the well-deserved champion. Sometimes poker provides the opportunity for redemption. Sometimes nice guys don't finish last. This weekend at Borgata was one of those times and it apparently couldn't have happened to a nicer guy.
2. Repping The Old School
The PokerStars World Championship of Online Poker provided a little old school versus new school fun this weekend as the WCOOP-71 $2,100 H.O.R.S.E. Championship played out.
With 147 entries, including 34 reentries, a $294,000 prize pool was created that paid 18 spots. When they finally reached the heads-up match for the title, after two days of poker, live poker's all-time leading money winner and a swingy Swedish online high-stakes legend were the two left standing.
Coming out of a final table that also included well-known pros Mike "goleafsgoeh" Leah and Connor "blanconegro" Drinan were none other than Daniel "KidPoker" Negreanu and Viktor "Isildur1" Blom. In the end, playing in his first WCOOP event this year, Negreanu pulled through for the old school, claiming the title and $61,865.47 first-place prize.
Despite the nosebleed online games moving back toward more of a mixed-game format in recent years, Negreanu would have to be seen as the more experienced of the two in tournament H.O.R.S.E. coming into the match. By all accounts, that experience shined through. While Negreanu claimed a day earlier that recent losses in high-stakes mixed games online added up to a bigger number than he actually won in the tournament, at least he's a WCOOP title holder now, and remains, as always, a great representative for poker's old school.
3. Don't Tap Moneymaker's Glass
Having already argued that Chris Moneymaker should be inducted into the Poker Hall of Fame for all he's done to help grow the game, I'm obviously going to agree with similar sentiments he expressed in an interview I conducted with him for PokerNews this week. But there was something else he said that I think the entire poker world should get behind.
In talking about the state of the game today, Moneymaker expressed the idea that there are far too many professional players treating amateurs badly, and their often insulting and condescending attitude toward new players has stunted poker's growth as of late.
I couldn't agree more. Somehow, lessons about tapping the glass have been lost on so many in this latest generation of poker pros. A sense of entitlement has replaced common sense when it comes to effective strategies for drawing new players into the game.
It has to stop. If not for the growth of the game, then for the growth of this new generation of players themselves, because treating others as you would wanted to be treated yourself has always been a game theory optimal strategy for life, as well as poker.
4. The GPL's 15 Minutes
The Global Poker League returned this week and continued to prove Allen Kessler right. Earlier this year, the opinionated poker pro and life nit suggested very few people care about the fledgling league and the number of eyeballs on this week's matches did little to prove otherwise.
The one-on-one Cube used in the league's Las Vegas summer series was a big hit, but the GPL came back without it this week, returning to the online matches that failed to create a splash the first time around. They did rework the look of the virtual tables and bring in a new commentary team, but it all feels eerily similar to the same pre-Cube matches that clearly failed to resonate with poker fans or the wider audience the league had hoped for.
This week, the GPL is looking to draw a few more viewers when they broadcast an online match featuring the league's biggest and only true celebrity: Aaron Paul. Paul's personality is so magnetic, he may very well draw bigger numbers than any of the GPL's previous online matches.
However, unless he does something to trim down the too-long and too-confusing schedule, bring back the Cube sooner rather than later and bring some real excitement to the league, he's hardly going to be its savior and the GPL's 15 minutes will soon be up.
5. Game, Set, and MasterChef
Hats off to David Williams, who ended a long run on Fox's MasterChef reality TV show almost two weeks ago, making it all the way to the three-person final before finally falling short.
Of course, Williams' name will now be added the ever-growing list of current and former poker pros who have had success on the reality-style TV game show circuit, including Vanessa Rousso on Big Brother, Maria Ho and Tiffany Michelle on The Amazing Race, Annie Duke on Celebrity Apprentice, Fatima Moreira de Melo on the Dutch version of Survivor and Jean-Robert Bellande and Anna Khait on the actual Survivor.
It's no surprise to see people who play a game for a living finding success on these shows and Williams, a former Magic: The Gathering pro who famously finished second in the 2004 WSOP Main Event, even told Poker Life Podcast host Joe Ingram last week he employed a bit of tournament poker strategy on MasterChef, choosing to simply survive every day, rather than try to win it all or "bag chips" and advance, the same way he would in a long tournament like the Main Event.
Williams is said to be trying to parlay his appearance on the show into a spot on Survivor, or some other new and undefined project with Fox. No matter where he ends up, Williams will likely continue to represent himself and the poker-playing community in a good way and, win or lose, should be applauded for that.