Brian Yip Wins 2016 Boyaa Poker Tour Main Event

Boyaa Interactive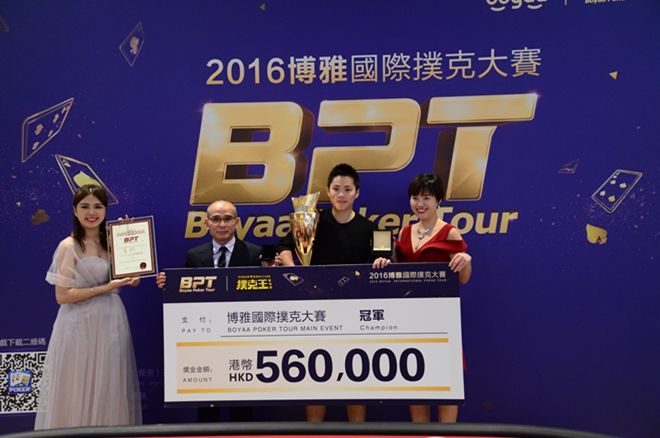 After three days of intensive competition, the 2016 Boyaa Poker Tour (BPT) came to the end Oct. 24 and the Hong Kong player Brian Yip topped a field of 300 players to become the global champion of the Main Event with a prize of 560,000 HKD.
This year, BPT successfully drew the attention of many overseas players. Nearly 70 percent of the players came from the U.S., Germany, Italy, Poland, Thailand, Vietnam, India, Indonesia, Malaysia, Singapore, Russia and Iraq.
Some of the players that attended this year's BPT also attended last year's BPT, due to their fond memories of the tournament and Boyaa Texas Hold'em Poker. Even so, most of the overseas players coming to this year's BPT were new.
The 2016 BPT was more like a poker carnival than a competition because its astonishing 50 percent prize pool rewarded half of its participants. In order to make the tournament more entertaining, a side event, the Turbo Deep Stack, and the global invitation event, the Worldwide Squad Tournament, were set to run together with the classic BPT Main Event.
The Turbo Deep Stack attracted 219 participates. Hong Kong player Steven Siu won the championship and The Mainland China team won the Worldwide Squad Tournament.
"It was a great honor to participate in this tournament by representing Mainland China division and it's very meaningful to lead this team to win this competition," said Yanda He, captain of the team.
On the opening ceremony of BPT, Hong Kong-based Boyaa Interactive announced its donation of 40,000 HKD to the Macau charity organization, Macau Bishop Hill Children's Centre, to help children and young people in need.
Boyaa Interactive is committed to creating a professional and international environment for all players. The 2016 BPT was no different; all participants could participate in a series of preliminary online trials and shortlisted players could receive tickets to the offline finals in Macau.
In addition, Boyaa Interactive invited a former WSOP Main Event floor person, Tom M. Chou, as the consultant for the competition.
Boyaa Interactive has once again staged a successful Boyaa Poker Tour with improved race design and enriched services for poker players worldwide. With the BPT officially joining the Global Poker Index and an increasing number of international players in the game, the next BPT has high expectations and will be presented with an even more professional, international attitude.
Everybody needs an account at one of these online poker rooms! They're the biggest, the best, and we get you the best poker bonuses. Check out our online poker section for details on all the online poker rooms around.