Five Thoughts: Trolling Bonomo, Bailing Out The GPL and Threatening The Future Of High Rollers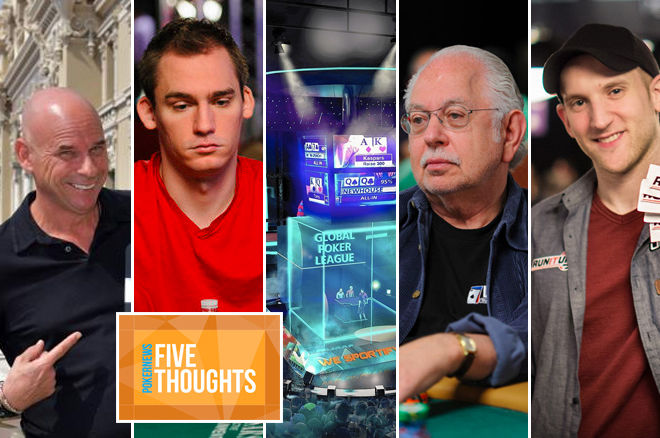 Things are really beginning to heat up in the world of poker, with the 2016 World Series of Poker November Nine less than a month away, and the biggest buy in event in poker history less than two weeks from kickoff.
They get a little warmer in this week's Five Thoughts as well, as we discuss how the success of the €1,000,000 One Drop could really threaten the future of other high roller events on the poker calendar and how mentioning indiscretions from a decade ago might not be the best way to troll Justin Bonomo.
Plus, there's honoring a member of the Poker Hall of Fame, PokerStars bailing out the Global Poker League and running it up again in Reno.
1. One Drop Success, Soft Play Accusations Threaten High Rollers

With less than two weeks to go before Guy Laliberté's Monte Carlo One Drop Extravaganza kicks off, a press release was dropped last week indicating 35 players are already confirmed to play in the historic €1,000,000 buy in recreational-player-only Main Event.
With that many already in, plus satellite and side events on the schedule prior to the Big One, interest, and ultimately the number of entries, should grow to a level well beyond what several shunned pros thought it would.
After seeing a drop in the percentage of recreational players in the 48-entry field from the inaugural 2012 $1 Million Big One for One Drop when they drew 42 total in 2014, Laliberte said several businessmen and philanthropists indicated to him they were tired of being bled out by professional players. As a result, he altered this year's €1,000,000 event, leaving the pros on the sidelines.
While most played nice publicly, not wanting to be seen criticizing an event with a charitable goal, several pros scoffed privately, claiming the One Drop would flop.
Now, with all signs pointing to the One Drop Extravaganza being a success, it's the other big buy in events on the poker calendar that may be in jeopardy.
While it is a well-known fact most pro players in events with buy-ins $100,000 and above are selling and swapping action, most of those who do so claim they are playing within the spirit of the game. They say they are upholding the integrity of the tournament and definitely not soft playing and colluding with each other as they wait for the handful of recreational players in the event to bust out and go home before they split up their money.
However, British pro Max Silver, who has played in a number of these nosebleed events, recently appeared on Joe Ingram's Poker Life Podcast, claiming there was some evidence of soft play and collusion at one recent high roller final table.
Silver didn't name any names, but he didn't need to.
Once the affluent recreational poker-playing community sees this is the case, and pro-player, soft-play and collusion-free events like One Drop prove themselves a viable option, the likelihood that any of them will continue to buy in to pro-heavy high roller tournaments around the world is slim.
Without the whales to feed on, the sharks will likely look to find friendlier waters as well, making the days of these much-hyped high roller events seemingly numbered.
2. The Pot and The Kettle

The poker community seems to be a rather unforgiving one.
Justin Bonomo fired off what he claimed was a "friendly reminder" on Twitter this week, alleging poker pro Will Givens is a "thief and a scammer." Bonomo says he and Isaac Haxton invested in Givens and a package of events he planned to play.
Apparently Givens didn't end up playing and allegedly refused to refund the money when Haxton was less than friendly in an exchange with him.
Bonomo's tweet was met with the usual barrage of trolling, with several uninvolved third parties calling Bonomo a scammer himself, referring to previous online multi-accounting scandals. Givens even referenced Bonomo's history in his own defense, claiming he might pay back any money owed when Bonomo did the same.
It's impossible to choose sides here, since only these three know what really went on.
I'm just wondering when the statute of limitations runs out on these things, and when a player like Bonomo can expect to be able to freely point out the allegedly unethical actions of another without having to hear about mistakes he made in what, by most accounts, was another lifetime.
Givens' package of events was reportedly from the 2010 World Series of Poker and Bonomo admitted to multi-accounting over a decade ago.
Of course, trolls are going to troll. I would just hope that 10 years on, they'd come up with some new way to try to get under Bonomo's skin. Maybe the trolls will go after his musings about microaggressions and attempts to play poker's white knight. These are points we can all agree are much more relevant in today's day and age.
3. Bailing Out The GPL

In what amounts to a bailout that will keep the fledgling Global Poker League afloat for now, PokerStars signed on as the league's lead sponsor last week.
In the midst of dwindling viewership numbers and a clear lack of interest in the league from anyone outside of poker industry insiders, on the surface, this looks to be exactly what the GPL needs to keep the lights on through the inaugural season.
The problem with a bailout like this is that it may prevent the GPL from taking a much-needed, long and hard look at itself — or make the changes to the product that are necessary to attract an audience and find sustained success. Sponsorship dollars might buy the league a little time, but it's what they do with that time that will be the key to its future.
4. Honoring a Legend

While much of the poker world has been gripped by heated debate over who was nominated and who should get in the Poker Hall of Fame this year, 2002's single inductee was quietly being honored again across town.
Congratulations go out to Lyle Berman — the first-ever inductee into his home state's Minnesota Poker Hall of Fame — after becoming one of six people inducted into the American Gaming Association's Gaming Hall of Fame at a ceremony in Las Vegas last week.
Berman, 75, is a three-time World Series of Poker bracelet winner and co-founder and former CEO of the World Poker Tour. His lengthy resume in the gaming industry also includes co-founding Grand Casinos Inc., a company credited with helping spur the boom in American casino construction outside of Las Vegas and Atlantic City in the 1990s.
Berman, who reportedly still plays high-stakes cash games, is a legend in poker, and deserves a lot of the credit for helping create the WPT, a TV product that is as much responsible for poker's boom as anyone or anything.
5. Run It Up Rolls On

A tournament series many previous attendees claim was the most fun they ever had playing the game is headed back to northern Nevada at the end of this month.
Twitch stream star and Team PokerStars Pro Jason Somerville is going back to Reno for the third installment of his Run It Up Reno series Oct. 24-31, 2016. The Peppermill Resort Spa Casino will once again play host to a fun-filled schedule that includes a number of parties, mini-seminars and uniquely structured poker tournaments.
The festival will wrap up with a $600 Main Event featuring unlimited reentry and a World Series of Poker Main Event November Nine viewing party.
The series has always been dedicated to bringing fun back to poker and has also been successful in bringing together Somerville's legions of online stream fans, known as Run It Up Warriors, in a live poker environment. More information and the full schedule of events can be found through the Peppermill Reno website.
Be sure to complete your PokerNews experience by checking out an overview of our mobile and tablet apps here. Stay on top of the poker world from your phone with our mobile iOS and Android app, or fire up our iPad app on your tablet. You can also update your own chip counts from poker tournaments around the world with MyStack on both Android and iOS.