The 2016 Presidential Election May Not Affect Online Poker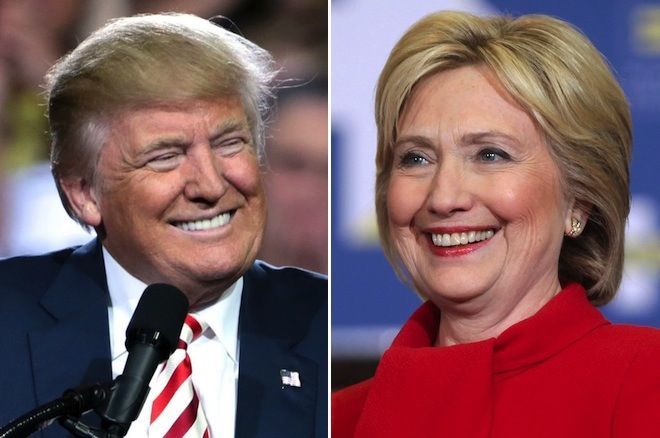 The 2016 Presidential Election will entertain, frustrate and alienate much of the population, but what this one-of-a-kind election is not likely to do is impact the future of online poker for US players.
Republican candidate Donald Trump is a bit of a wild card, with there being reasons for him to support or oppose a federal online gaming ban. He has an endorsement from Las Vegas Sands owner Sheldon Adelson, who has made it his life's work to seek an online gambling ban. However, the two reportedly aren't that chummy and are only aligned because of their common party. Trump's running mate, Indiana Gov. Mike Pence, wrote a letter to the state's congressional delegates last year urging them to support the Adelson-backed Restoration of America's Wire Act (RAWA) online gambling ban.
On the positive side, Trump has owned Atlantic City casinos, where he explored though never got involved in online gaming. He did speak out favorably for online gambling regulation five years ago to Forbes.
But an acting U.S. President has never taken a stance one way or another on internet poker and that isn't likely to change. The truth is that presidents have a lot of issues to address and online gaming isn't a big enough priority to register. Online gambling is far off the radar of Democratic candidate Hillary Clinton.
The Poker Players Alliance isn't endorsing either candidate. The only one who would truly make an impact for online poker is pipe-dream Libertarian candidate Gary Johnson, who spoke to PokerNews in support of online poker prior to the 2012 election.
"The reality is we don't see anybody coming into the White House and making this a priority," said John Pappas, executive director of the Poker Players Alliance. "Congress will be the real driver of any such legislation and our focus remains on having Congress continue to support the rights of states in this area."
The biggest concern is that after an election is when Adelson is at his most dangerous. He is the largest donor to candidates from the Republican Party, and when the election ends and the lame-duck Congressional session to end the year begins, you can be sure he will be trying to call in IOUs on those contributions.
Adelson already tipped his hand by getting Sen. Tom Cotton (R-Ark) to introduce this year's version of Restoration of America's Wire Act last month. The Washington Post reported that the bill's introduction came soon after Adelson made a $20 million donation to the Senate Leadership Fund.
The bill's text is short and vague, but Pappas indicated that this is a sneaky maneuver by design.
The bill appears to recognize the states' rights issues that plagued RAWA, making the language slight enough where it passing wouldn't seem to do much. However, Pappas is afraid it could scare banks away from processing online gaming transactions in states where the activity is licensed and regulated.
"The bill itself is odd and confusing," Pappas said. "What it does on the surface is a whole lot of nothing, but it is one of those things so silly that someone in the negotiation room might say, 'Sure, we'll throw this in if it buys us something.' It's our job to make sure lawmakers know this is not something innocuous and that all groups who opposed RAWA should also oppose this."
Adelson is expected to have less influence in Congress in 2017 as a result of Republican losses in the election. The Republicans currently hold both chambers of Congress. They are projected to maintain their grasp on the House of Representatives but, in the Senate, FiveThirtyEight.com gives the Democrats a 73-percent chance of taking over the majority.
"If the Democrats take control of the Senate, which seems likely at the moment, I think the appetite to push something like this is going to decrease considerably," Pappas said.
Adelson will also lose a possible ally with the retirement of Senate Minority Leader Harry Reid (D-Nev.). Once considered a champion for regulating online poker federally, reports leading up to the 2014 lame-duck session indicated that he was working with Adelson on a gambling ban.
There's fears that Reid will once again try to push Adelson's ban in the final lame-duck session before he leaves office, though Reid recently told Gambling Compliance that he didn't plan on doing anything related to gambling.
Pappas said that he doesn't believe there are any election scenarios that would make the gambling ban more or less likely to pass during the lame-duck. Educating members as to what the bill could do should be enough to defeat it, and yet the end-of-year session is the best chance for Adelson to sneak a bill through in a backroom deal without a public hearing.
"I think at the federal level, regardless of if there is a change in the Senate or the House, or in which party has the presidency, it's going to be very difficult for them to push a federal prohibition bill in 2017," Pappas said. "They are probably focusing any effort on the end of this year."
Lead Photos Courtesy of Gage Skidmore: "Donald Trump" (adapted), Gage Skidmore CC BY-SA 2.0; "Hillary Clinton (adapted), Gage Skidmore CC BY-SA 3.0.
Finding a trustworthy room to play online poker can be a monumental burden. That's all the more true if you're just looking for a place to play poker for free. We've listed five of the best play-money poker sites to enjoy and help hone your skills.