2016 WSOPC Caribbean: Ryan wins Back-to-Back Titles; Giovannone Leads Main Event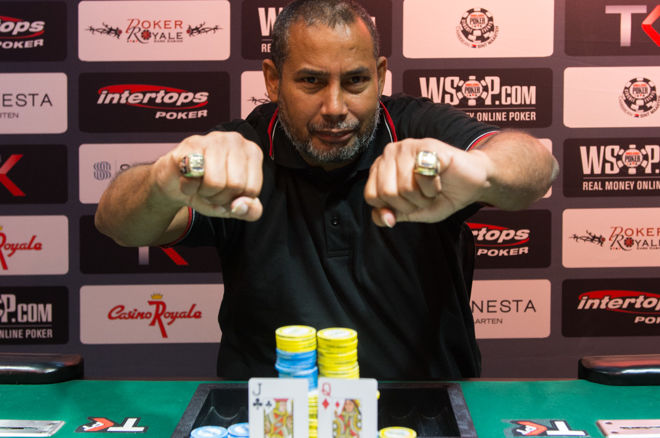 Day 2 of the $365 No-Limit Hold'em Event #22 of the 2016 World Series of Poker Circuit Caribbean festival saw 18 players out of a 121-entry strong field return to the tables of the Casino Royale. Only the top 12 spots were paid and ultimately it was Martin Ryan (photo) who emerged victorious after defeating George Griffith in heads up to claim the second WSOP Circuit ring in a row on back-to-back days.
| Place | Player | Country | Payout |
| --- | --- | --- | --- |
| 1 | Martin Ryan | Trinidad & Tobago | $10,900 |
| 2 | George Griffith | Barbados | $6,700 |
| 3 | Ramon Baumbach | Switzerland | $4,800 |
| 4 | Stevan Prager | USA | $3,480 |
| 5 | Gerald Mortensen | USA | $2,580 |
| 6 | Jacco van Limpt | Netherlands | $1,950 |
| 7 | Ian Gavlick | USA | $1,500 |
| 8 | Peter Lawson | USA | $1,160 |
| 9 | Olivier Robveille | Sint Maarten | $940 |
| 10 | Timothy Cavallin | Barbados | $760 |
| 11 | Russell Sullivan | USA | $760 |
| 12 | Jason Rivkin | USA | $760 |
Only 24 hours prior, Ryan steamrolled to victory in the PLO Event #19 and then posed for the winner shots again today, showcasing both rings. Mike Leah won two WSOP Circuit Events on the same day back in 2014, and Ryan's accomplishment reaches the same dimension after he jumped right into Event #22 and bagged up the third biggest stack for Day 2.
Griffith and Timothy Cavallin were leading the field into level 16 and the event had soon reached the bubble. Mohammed Elmazouni had his kings cracked twice and busted before the money, Santiago Hernandez and Hubert Rimbaud (flush over flush against Cavallin) shared the same fate. Jeffrey Colpitts had a kicker problem with ace-seven against the ace-queen of Cavallin and the elimination of Jean Luc Docquier, who lost a flip with fives against the queen-ten of Ryan, set up hand-for-hand mode.
Michel Pecot was crowned as the unfortunate bubble boy when his check-raise with middle pair in a limped pot was no good against the pocket nines of Stevan Prager. It wouldn't take long until the eight-handed final table was found. Jason Rivkin lost two big pots prior, then failed to improve in a flip with queen-jack versus pocket eights. Russell Sullivan called all in with king-jack suited out of the big blind and ran into the pocket tens of Olivier Robveille and the pocket queens of Gerald Mortensen.
Cavallin had to settle for 10th place when his king-high flushdraw failed to improve against Griffith's pair and inferior flushdraw. At the same time, Olivier Robveille lost a flip with jacks against the king-queen suited and the final table was set with eight instead of nine.
Lawson made a move with a pair of sixes on an ace-high board and Ramon Baumbach, who had started the day as one of the shortest stacks, was suddenly the chip leader with seven remaining after calling with ace-jack suited. In the same level still, Ian Gavlick lost a flip with jacks against the ace-queen of Griffith and had to settle for 6th place.
Jacco van Limpt had just lost a big pot and got the remainder in with queen-nine against the ace-jack suited of Griffith. More than an hour passed without any elimination before the pace picked up again violently. Mortensen's three-bet jam with ace-six suited found no help against the pocket nines of Ryan and Prager followed shortly after when his jack-ten suited lost a flip to pocket fives.
Down to the last three, Baumbach's pocket eights ran into the pocket aces of Griffith and the player from Barbados had a 2-1 lead at the start of heads up. ryan closed the gap quickly and left his opponent very short after turning a straight against top pair. Griffith doubled up four times, but the hopes of a magical comeback ended in the fifth all in showdown with pocket sevens versus queen-jack. A queen hit on the river and Ryan scooped the second victory in just 24 hours.
Main Event Action
The first of two starting days of the $1,675 World Series of Poker Circuit Caribbean Main Event gathered a field of 93 entries and put the flagstick hip tournament of the festival at the Casino Royale on Sint Maarten in great shape to eclipse the guaranteed prize pool of $250,000.
After 11 levels of 40 minutes each, Italy's Luca Giovannone bagged up 235,500, more chips than second-placed Gerard Henry (116,300) and third-placed Gerald Fuchs (116,200) combined. The Italian re-entered successfully and ran up his stack, busting Mohammed Elmazouni in the last level of the night with ace-seven against pocket queens.
Other big stacks and notables include Six-Handed champion Michael Lech (98,700), Tommie Janssen (86,700), Akash Mazumdar (84,000), Alessio Isaia (62,900), 2016 WSOP bracelet winner Peter Eichhardt (53,700), Charles Puglisi (53,400), Kevin Eyster (44,300), and Walter Treccarichi (25,800).
Among those to bust were Peter Hajszan, Aroon Maharaj, Jean-Luc and Cedric Adam, Jason Rivkin, and Joachim Lob. It was Lob who lost a big pot with ace-king against the kings of Fuchs, spiking an ace on the flop and losing most of his stack thanks to the case king on the river. The Swiss then got it in with pocket aces against pocket fives and the door card was instantly a five.
Top 10 Chip Counts for Day 1a:
| Position | Player | Country | Chip Count |
| --- | --- | --- | --- |
| 1 | Luca Giovannone | Italy | 235,500 |
| 2 | Gerard Henry | Martinique | 116,300 |
| 3 | Gerald Fuchs | Austria | 116,200 |
| 4 | Michael Lecrh | USA | 98,700 |
| 5 | Tommie Janssen | Netherlands | 86,700 |
| 6 | Akash Mazumda | USA | 84,000 |
| 7 | Chan Ping Hsiung | Austria | 76,500 |
| 8 | Joe Gowder | USA | 75,200 |
| 9 | Chad Walker | USA | 70,000 |
| 10 | Nicola Salas | France | 68,700 |
Tomorrow will provide the second starting day as of 6 p.m. local time and another 11 levels of 40 minutes each are scheduled. Many familiar faces from the festival thus far are expected at the tables and all participants that busted on Day 1a can re-join the competition.Furthermore, a single re-entry per starting
Furthermore, a single re-entry per starting day is possible and the overall registration for the Main Event remains open until the first card is dealt on Day 2, this upcoming Monday at 3.30 p.m. local time. A winner will then be crowned on Tuesday and can not just look forward to a juicy payday and the elusive WSOP Circuit ring, but also the entry to the WSOP Championship with $1 million added to the prize pool.