Calling the Clock with William Kassouf Sponsored by KO Watches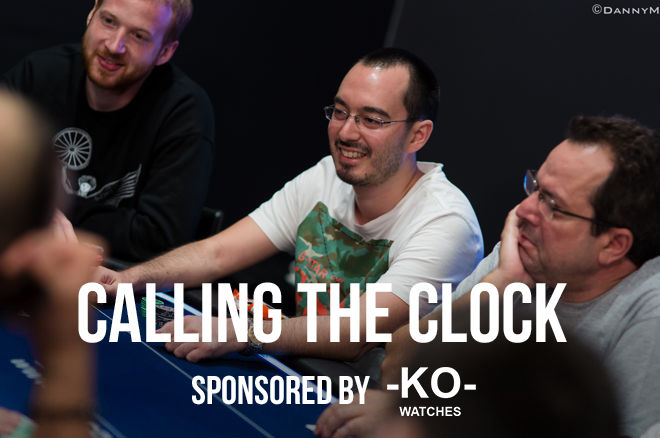 Beginning as a cutting-edge brand active in design, manufacturing and distribution of quality-finish watches from young Mexican entrepreneurs, KNOCK OUT -KO- Watches works to distinguish itself with its quality and clean design, allowing people to use time they have as they wish and without interruption. With our sponsor, KNOCK OUT -KO- Watches in mind, we're now going to "Call the Clock" on William Kassouf.
PokerNews' Sarah Herring called the clock on William Kassouf, giving him two minutes to answer as many questions as he can. This week's segment comes from a previous interview with Kassouf on the PokerNews Podcast.
What's the last thing you ate?
Chocolate.
What's your middle name?
Robin.
Would you rather have one wish today or three wishes in 10 years?
Three wishes in 10 years.
Do you have any siblings?
One brother.
If you could be someone else for a day, who would you be?
No one.
If I offered you £3 million right now, would you quit poker?
No.
Do you have any phobias?
Snakes.
Would you rather be a rock star or movie star?
Movie star.
Who's your favorite movie star?
That's a tricky one. I don't know.
Who's your celebrity crush?
None in particular. I don't think there's anyone out there that's that great.
What's your worst habit?
Worst habit? Thinking too much.
Beatles or the Stones?
Beatles.
Favorite season?
Summer.
Who would you most want to fight in poker?
Phil Hellmuth. Bring it.
What's your go-to karaoke song?
Robbie Williams' "Angels." I think there's a clip on YouTube, I'm doing that.
Sing it.
You want me to sing it? Alright.
[Singing] "Through it all, she offers me protection, a lot of love and affection, whether I'm right or wrong. And down the waterfall, wherever it may take me, I know that life won't break me when I come to call."
I'm a bit tipsy but there's a clip of it on YouTube in the MGM Grand Piano Bar.
When the clocks stops, time comes to life. Get your hands on a Knock Out -KO- watch right here.
Everybody needs an account at one of these online poker rooms! They're the biggest, the best, and we get you the best poker bonuses. Check out our online poker section for details on all the online poker rooms around.