Sebastian Proulx Leads Final 27 in The Wild $150 at the Playground Poker Fall Classic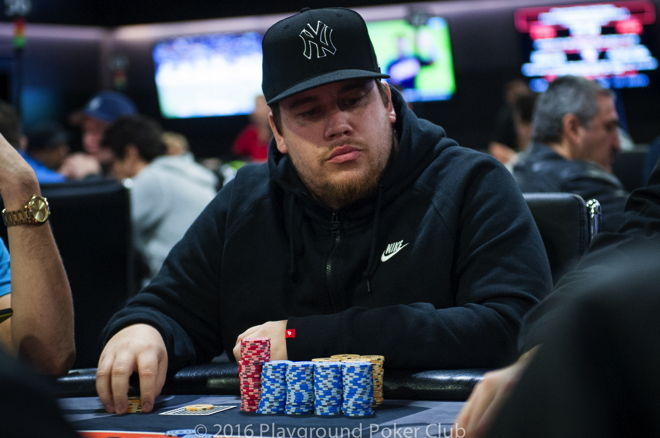 The field has been reduced to just three tables as 27 remain after Day 2 in Event #1: The Wild $150 at the 2016 Playground Poker Club Fall Classic. Local grinder Sebastien Proulx sits atop the field with Playground regulars Yan Nadeau, Jason Conforti and George Caragiorgas hot on his heels.
Proulx, who has just $15,808 in live-recorded tournament earnings, will carry the chip lead into Day 3 after building a monster 2,425,000 chip stack. Nadeau is not far behind with 1,910,000, but the two are leaps ahead of their competition. Francois Graton-Valiquette sits in third with 1,500,000 while Day 1b chip leader Jean Francois Jodoin (1,365,000) and George Kazarian (1,245,000) round out the top five.
Notables still in the mix include Jason Conforti (1,065,000), George Caragiorgas (995,000), Day 1c chip leader Pascal Monarque (900,000), Day 1d chip boss Fadi Haddad (780,000), John Palmer (750,000) and Glen Hammers (485,000).
There were 265 players who returned for action on Wednesday's Day 2, eagerly awaiting the bubble which would burst with the elimination of 118th place. Ian Tang would get the unfortunate title of 'bubble boy' when he called off his stack with queen-jack of spades but could not catch up against Karim-Olivier Kamal's king-six.
Some players who did not survive the day but would leave with some consolation were Linda Huard (38th - $620), Eric Ranger (60th - $500), Paul Mohorea (70th - $440), Isham Yamani (72nd - $440) and Adam Cader (107th - $300).
Day 3 is set to kick off at 7 p.m. on Nov. 3 inside Playground Poker Club. The event will play down to a winner with the eventual champion earning $28,000 and a sweet Playground Poker Fall Classic Champion's Trophy.
Check out PokerNews daily for a recap of all the action at the Playground Poker Club Fall Classic. Follow all of the action on the Fall Classic Event Blog.