'Survivor' Star Tyson Apostol Runs It Up at PokerStars Festival NJ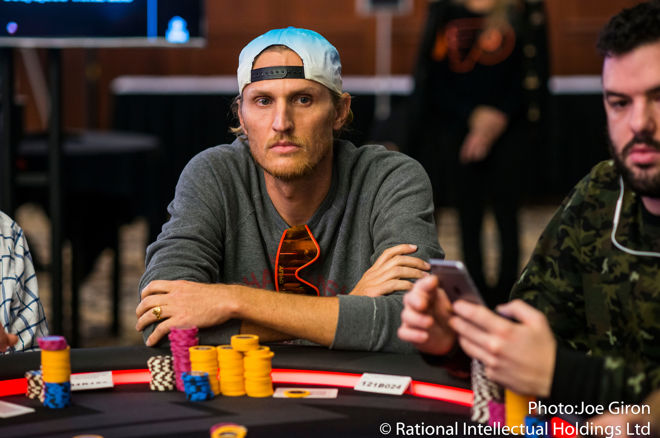 Having outwitted, outlasted and outplayed the competition in his third turn on the CBS reality TV show Survivor in 2013, it's easy to picture Tyson Apostol making a smooth transition into the game of poker.
However, it's the fact he doesn't take the game, or himself, too seriously, that seems to make him the perfect fit for the first-ever PokerStars Festival, currently being held at Resorts Casino Hotel on the famous boardwalk in Atlantic City, New Jersey, this week.
"It's fun," Apostol told PokerNews a few days into the festival. "I mean, the more people the merrier, so we could have had twice the fun, I think, but it's still pretty dope."
Apostol jumped in the PokerStars Festival New Jersey Main Event earlier this week and bagged a stack among the leaders in his opening flight. He fizzled out on Day 2, but still managed to make 35th for $1,576, and by all accounts, had a great time doing it.
"The rush of being ahead, the lights, the city, it's almost addicting; you just can't get away from it and you've got to just dump more and more into it...right?" he joked. "It was great though. I surprised even myself making a deep run and had a big stack going into Day 2. I got a little too greedy early on Day 2 and actually a couple of these guys who have big stacks at the final two tables now doubled through me, so, you're welcome to those guys."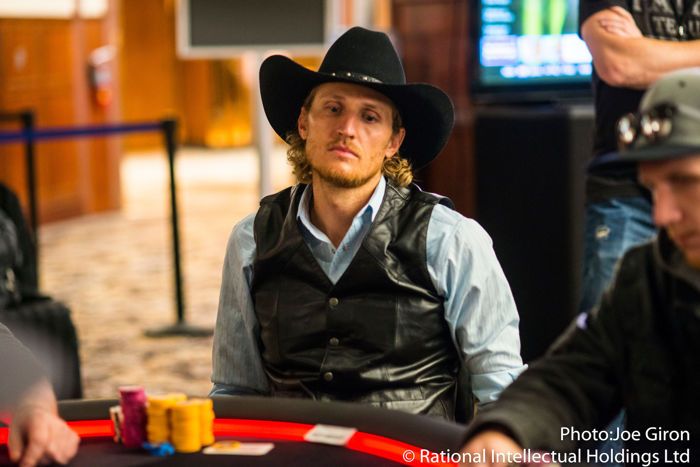 Apostol first appeared on Survivor: Tocantins in 2009, came back as a villain on Survivor: Heroes vs. Villains in 2010, and ultimately won Survivor: Blood vs. Water in 2013, collecting it's $1 million prize. The Utah native gravitated to poker after striking up a friendship with Team PokerStars Pro and admitted Survivor superfan Jason Somerville.
"I played casually with friends for years, then Jason Somerville, who is a good friend, invited me out to his Run It Up Reno event last year and it was great," he said. "I had a lot of fun and Jason was like, 'Dude, you play at like a level two, but with three hours of chit-chatting you could be at like a level six.' So I was like, 'Well, let's get to a level 14,' and he was like, 'No, it doesn't go that high, 10 is the max.' I was like, 'Well, can we get there?' But I don't really have the time to get there, so I'm still here."
An admitted amateur with more moxie than skill, Apostol says there are some similarities between the best strategies for poker and Survivor. He only wishes he would have started playing poker first.
"I would say a poker strategy correlates to Survivor more than the reverse," he explained. "Taking everything you know from Survivor and trying to play poker with it wouldn't be as beneficial as being a poker player first and then going into Survivor. The thing that helps me at the table is mostly being personable, which also helped on Survivor. Getting to know everybody and being chatty, sometimes that throws people off, or they have a hard time reading you."
Apostol had another career before reality TV came calling and he thinks that's helped even more.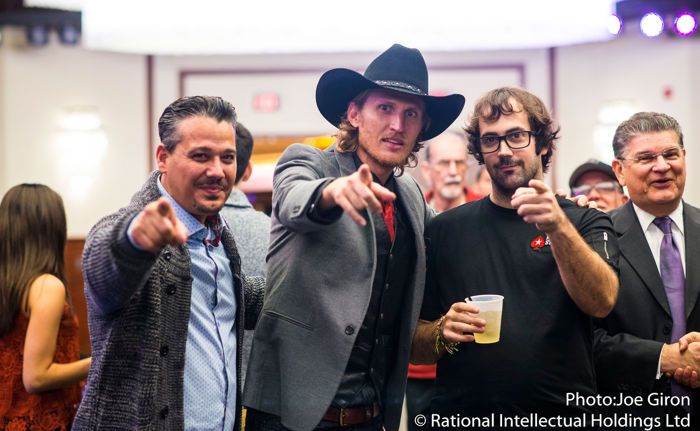 "I was a pro cyclist before I got on Survivor and I think that strategy correlates even more to poker," he said. "The classic cycling strategy is that if you're feeling good, you pretend like you're feeling bad, and if you're feeling bad, you pretend like you're feeling good. That way if you're feeling bad, no one is going to be aggressive towards you and vice versa. That's it in a nutshell, I mean, we could write a whole book on this and we could get Barry Greenstein to write the last chapter. That way if people didn't read the whole book, it wasn't my stuff that got skipped over, it would be Barry's and we could blame him."
Over the years, Apostol has become good friends with fellow Survivor contestant 'Boston' Rob Mariano, and while Mariano takes the game of poker a little more seriously (he appears to be competing at a higher level having won a side event here at PokerStars Festival New Jersey, and taken third in the 3rd Annual Chad Brown Memorial Tournament Wednesday), Apostol is definitely not intimidated by anyone on the felt.
"They don't know how to play against me as much as I may not know how to play," he said. "If you have better cards you're going to win the hand, right? I tried to play tight at first, then when I started playing looser, that's when I started getting beat up a little. But really, I don't know any of these pro players by names or faces, that's how detached I am from some of it, so I don't go in with the same respect for them some other amateurs might have. They might be intimidated by the pros they've seen on TV, but it doesn't faze me. They represent just another guy sitting across the table from me, although some are more handsome than others. I think I'm above average."
They don't know how to play against me as much as I may not know how to play.
Saturday, PokerStars is handing over the reigns of the festival to Somerville for a Run It Up Day that will include Run it Up-themed mixed game events and a Survivor tournament Apostol is certainly looking forward to.
"It should be fun," he said. "No, I guarantee it'll be fun. That's a better sell, right? I think it's a Survivor-style format and that works, it's fun. It's not as serious as some of these other events, and then once we all make the money, it's high fives for everybody, instead of being bummed you didn't make the next level. It's the classic millennial story where everybody wins a trophy."
After that, it will be back to Utah for Apostol, and a less-than-mapped-out future that will likely include a little more poker and maybe even some more reality TV.
"I'll just leave my phone on and somebody will call," he said. "I don't take it too seriously. If I did, I could move to L.A. and be a bartender, but that's not my dream really. I don't really have any plans as far as that goes. I'm contemplating writing a book, and I have written a rough draft on my computer, so it's pretty much set in stone and it will be out probably within the next couple of weeks. You know how writing books goes, right? You give me weeks, you think weeks for that, right? But no, really, these days I'm just raising my daughter, she's about a year-and-a-half old and I'm in a good situation right now where I can spend a lot of time with her, which is a luxury."