Florencio "Flo" Campomanes Wins PokerStars Red Dragon Manila for ₱13,815,070 ($270,183)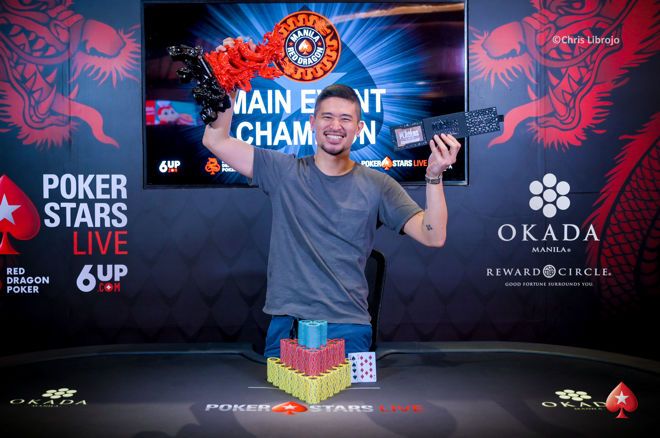 Table Of Contents
He's done it again! After taking down the 2019 APPT Manila Main Event, Florencio "Flo" Campomanes has won the inaugural PokerStars Red Dragon Manila Main Event for ₱13,815,070 ($270,183) and the stunning Red Dragon trophy. Campomanes overcame a 669-strong field, which created a prize pool of ₱64,244,070 ($1,256,428) crushing the ₱50,000,000 guarantee.
Campomanes only planned to play three events at the stunning Okada Manila: the Super High Roller, Main Event, and the two-day High Roller. He finished in second place in the first tournament behind Lester Edoc and reflected on that result: "Everything was going well for the Super High Roller and when I got to heads-up with Lester, we were even in chips. At one point he made a mistake and I got like a 15-to-1 chip lead… and then I lost every flip after that. And so, that was kind of bittersweet because I obviously want to win that."
"Winning the PSPC Platinum Pass definitely gave me confidence, it was like a stamp saying 'you are a lucky boy.'"
Campomanes finished in the top ten after Day 1b of the Main Event but started Day 2 by winning the first Platinum Pass awarded in 2020. This changed his mindset: "After winning the Platinum Pass I felt like 'F***! This is running unreal!' obviously, so I tried to use my 'luck' during that day and it was working out – I got really lucky that day and from feeling lucky, it somewhat turned to pressure."
"Winning the PSPC Platinum Pass definitely gave me confidence, it was like a stamp saying 'you are a lucky boy," Campomanes explained. "That sort of lessens any pressure, not that there's any pressure for me getting into the money or not, but like, it really puts me up there on the value of the pass, which is $30,000, that's like me already reaching the final table in terms of value. I think that was really significant, that changed the complexion of the tournament for me."

Final Table Results
| Place | Player | Country | Prize (PHP) | Prize (USD) |
| --- | --- | --- | --- | --- |
| 1 | Florencio Campomanes | Philippines | ₱13,815,070 | $270,183 |
| 2 | Tetsuro Tomita | Japan | ₱8,557,000 | $167,350 |
| 3 | Zejin Shen | China | ₱5,300,000 | $103,653 |
| 4 | Tao Chen | China | ₱4,015,000 | $78,522 |
| 5 | Gerardo Lubas | Philippines | ₱2,730,000 | $53,391 |
| 6 | Xijie Sun | China | ₱2,088,000 | $40,835 |
| 7 | Yufei Hui | China | ₱1,735,000 | $33,932 |
| 8 | Martin Stausholm | Denmark | ₱1,445,000 | $28,260 |
| 9 | Andres Korn | Argentina | ₱1,221,000 | $23,879 |
From Nine to Six Players
The most experienced player who has cashed the most according to The Hendon Mob was Andres Korn with over $2 million in cashes. Korn shoved his last 15 big blinds in with king-ten and got looked up by Day 3 chip leader Xijie Sun, who held pocket fours. No help came on the board for the German/Argentinian player to be the first elimination.
Three hands later, Martin Stausholm was next to go when he got his last 11 big blinds in with king-six. The only other Filipino player at the final table, Gerardo Lubas Jr, called in the blind-versus-blind situation with ace-five. Lubas' higher kicker held to send the Dane to the rail in eighth place.
Campomanes then claimed his first victim of the day when Yufei Hui pushed his 20 big blinds over the line with pocket tens. Unfortunately for him, Campomanes held aces to send the Chinese player away with ₱1,735,000 ($33,932) for finishing in seventh place.
Two Hours to Get to Three Players
Tetsuro Tomita was the shortest stack at that point but doubled up with aces through Sun. Several double-ups came in after that to go into the first break with Sun still in the chip lead trailed by Campomanes and Chen in third place while the rest had fewer than 20 big blinds left.
The turnaround for Campomanes came in a hand that lasted almost twenty minutes. In a three-way pot the flop read trey-nine-trey-six. Campomanes check-called the continuation-bet of Sun and so did Chen. The turn brought an off-suit six, Campomanes check-called another bet of Sun while Chen decided to let the hand go. The seven on the river gave Campomanes reason to check but Sun shoved with a slightly bigger stack worth just over 4 million by then. Campomanes contemplated for a while but decided he didn't believe Sun and saw he was right. Sun had bluffed with ace-eight while Campomanes had flopped trip treys to see his stack increase to hold over 60% of all the chips in play.
Sun then lost his last two big blinds to Tomita with the lower kicker that accompanied his ace. Lubas was shot down the hand after when his ace-five couldn't connect on the board against Shen's pocket queens. Half an hour later, Chen was chucked out with ace-five by Tomita who held pocket sevens.
Campomanes Crushes
Tomita and Shen hovered around the 3 or 4-million mark for the majority of time during three-handed play with Campomanes hoarding almost 85% of the chips on the table. This went on for about 40 minutes until Shen three-bet shoved 16 big blinds after Campomanes had raised his button and called with king-queen. Shen was ahead with the ace-nine suited but the king on the turn got all the Filipino railers hollering happily.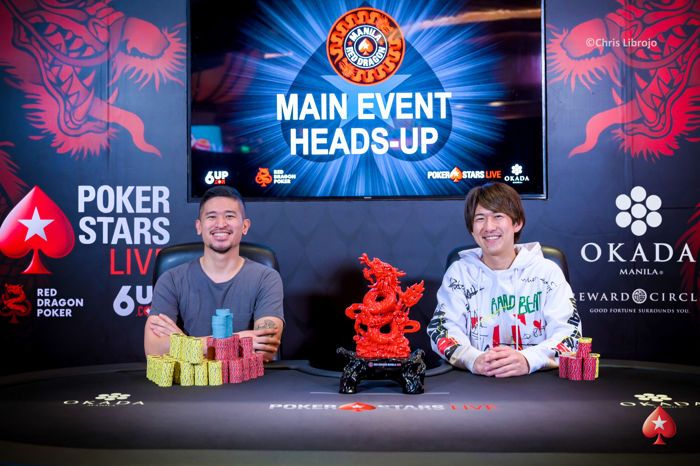 Campomanes went into heads-up play with an 8:1 chip lead but they still decided to discuss a deal. Two attempts to come to an agreement failed. Tomita doubled up twice with an ace in his hole cards but in the end, he put his tournament life at risk when he called off with queen-eight. Campomanes' pocket tens improved to a full house on the river to paint an even prettier picture for the well-loved Filipino.
After congratulating each other on their results, Campomanes made his way to his girlfriend first to receive hugs, then fist pumps and several high-fives from the rail. One of his close friends gave him the biggest hugs with tears in his eyes: "I am so happy for him. We have worked so hard for this over the past months!"
Campomanes indicated that he'd take a break for a bit before jumping into the two-day High Roller which PokerNews will also be covering from the final day onwards. Who knows what will happen, he might win that one too so keep following along from 1 p.m. local time on Saturday, January 11.