PokerNews Book Review: "Once a Gambler: The Drift" by Miikka Anttonen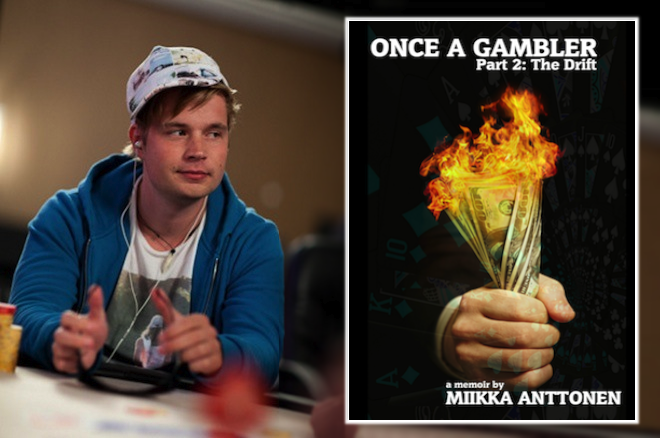 In 2011, when Miikka Anttonen was on a break at the European Poker Tour Barcelona Main Event, he spotted a fellow grinder and asked him how things were going. Anttonen received a disappointing, if predictable, response — a chip count.
"It's easy to get sucked into the world of poker," Anttonen writes, "and it's so hard to step out of it occasionally to gain some perspective when your whole life is an endless stream of flops, turns and rivers."
Once A Gambler, Anttonen's three-part memoir, is about the search for perspective in the poker world. In the first part, The Escape, he details his life as a teenager in Finland. In his newest installment, The Drift, Anttonen moves ahead, roughly covering the period from 2008 to 2010, a time when Anttonen found himself flirting with responsibility as a sponsored pro and a poker journalist.
At the same time, he gambled, partied and wrote in the shadow of his online alter ego "Interpol," whose infamous blog The Poker Diary Of A Gambling Addict garnered hundreds of thousands of views (and spawned legions of haters). As a grinder-gambler-writer, Anttonen's memoir offers a panoramic glimpse into the poker world — into the thrills and the dysfunction, into the moguls and the media and into the bluffs and the bad beats.
"Once a Gambler is obviously not a strategy book," Anttonen told me recently. "But for an autobiography it has quite a lot of poker content mixed in."
Much of this content appears in the form of hands from live tournaments with buy-ins of $5K and $10K and these hand histories will satisfy students of the game. But there's no question that the book stresses stories over strategy.
Some of these tales feature Patrik Antonius, Ville Wahlbeck, Jens Kyllönen, Ilari "Ziigmund" Sahamies and other high-stakes crushers. Some also include Anttonen's circle of family and friends. Almost all of these stories deliver. If you want to hear about decadent mansion parties or about eating a scorpion-sized cockroach or about lighting Ziigmund on fire, then look no further.
After a momentary pause, my friend takes a five-euro note out of his wallet and slowly sets it on fire with his cigarette lighter. He holds the burning note in the air against the silhouette of the mountains, barely visible in the darkness of the moonless night. We watch it burn silently, and when it's almost flamed out, my friend throws the remains of the bill down the balcony. It breaks into tiny, flaming pieces, and the pieces catch wind, dancing in the dark like fireflies.

~Miikka Anttonen, Once a Gambler: The Drift
However, these entertaining stories have a dark underside. Compulsive gambling — especially losing in order to feel good — threatens Anttonen's well-being. He plays roulette (and loses), flips for a two-thousand dollar watch (and loses), and flings money into slots (and loses).
After a breaking up with a gorgeous club hopper with a drinking problem, Anttonen stumbles home and resorts to the only thing that will make him feel good again: incinerating his bankroll. He opens a poker client and, without even trying to win, loses $5,000 in a PLO game. Then he dumps his account balance into casino games, carefully empties every e-wallet and scours every online poker room for emergency scraps.
"It takes nearly an hour to get rid of everything," he writes, "and the second everything is gone, I instantly feel better. A shade of euphoria in the middle of all the darkness, like a heroin shot injected straight into my bleeding heart."
Anttonen's devotion to writing allows him to re-enter — and perhaps learn from — these troubling experiences. It's worth mentioning, as some of us have the misfortune of knowing, that the gambler's relationship with action can sometimes resemble the writer's relationship with writing. When things are going well, everything is cheerful and bright. When things are going badly, life turns bleak in a heartbeat. But whether things are going well or badly, the absolute worst thing imaginable is to never again be "in action," to never write another word.
While it's tempting to read Once a Gambler as a cautionary tale of what not to do, there's also something to be admired in Anttonen's dogged willingness to risk everything over and over. Despite colossal mistakes, plenty of things go his way. He earns a pro sponsorship. He lands a journalism gig with no high school degree. He charms the pretty girl at the bar. Anttonen embodies a paradox at the heart of gambling, the one that Amir Vahedi once articulated when saying of of tournament poker, "In order to live, you have to be willing to die."
Anttonen's future is hazy at the end of Part 2, when he finds himself at a European Masters Of Poker Grand Final in Malta. Brooding near the cash game area, he watches teenage prodigies huddle around poker tables and measure their self-worth in piles of high-denomination chips. Feeling old and overmatched, he wonders: Is he already over the hill? A wasted talent? Are poker's glory days — the hype, the promotions, the laughably soft games — gone for good?
There are no answers. Instead, this second installment of Once a Gambler captures "the drift," that is, the hours, days and weeks of emotional and physical distress, the absence of direction and the longing to discover something — anything — that will bring fulfillment.
Perhaps Part 3, to be published in 2017, will offer resolution. In the meantime, readers can remember along with Anttonen poker as it was not that long ago and enjoy the ride.
Ben Saxton is a teacher and a writer from upstate New York who has played small-stakes poker, both live and online, since the early 2000s. Ben lives in New Orleans and covers poker on the Gulf Coast.