UK Gambling Commission Issues Warning Over Underage Gambling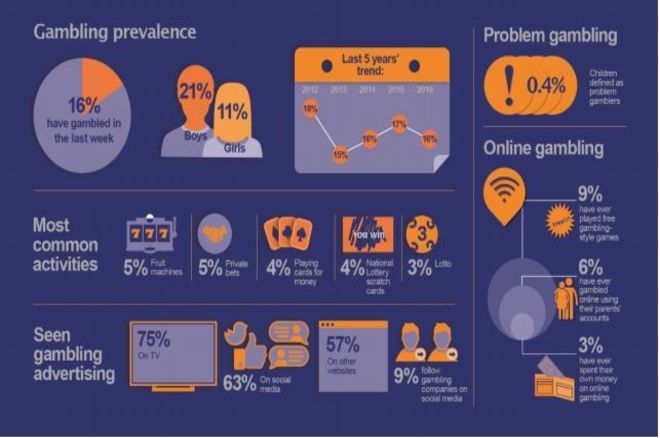 The UK Gambling Commission (UKGC) has issued a warning to parents and guardians following a report into young people and gambling which shows 450,000 children from England and Wales participate in gambling every week.
Findings of the Young People and Gambling 2016 report, indicate the overall gambling rate among 11-to-15-year-olds is approximately 16 percent. Studies suggest around 9,000 of the 450,000 underage gamblers are likely to develop a gambling problem.
The most popular form of gambling among 11-to-15-year-olds interviewed for the study is via fruit machines (five percent) with playing cards for money with friends (four percent) and National Lottery scratchcards (4 percent) also being popular methods of gambling. Internet poker was only played by one percent of the 2,411 children questioned.
Worryingly, eight percent of those 11-to-15-year-olds participating in the study had gambled on commercial premises in the past week, such as bingo halls, betting shops and arcades, despite the UKGC having strict codes of conduct and underage gambling prevention methods for gambling licence holders.
Some of the key facts from the study include:
Boys (21 percent) are almost twice as likely to gamble than girls (11 percent)
24 percent of the underage gamblers did so for the first time to try and make money with 23 percent stating they thought gambling would be fun or entertaining.
73 percent of those playing online gambling-style games (where no money can be won) did so via their smartphone or tablet.
40 percent of those studied had seen a gambling advertisement on TV more than once per week.
71 percent use social media but do not follow gambling companies.
One percent said seeing gambling adverts prompted them to gamble for the first time with one percent stating the adverts prompted them to increase the amount they gambled.
84 percent of those who bought National Lottery scratchcards were with a parent or guardian when making the purchase.
"We're often reminded to discuss the risks of drinking, drugs and smoking with our children. However our research shows that children are twice as likely to gamble than do any of those things," said Tim Miller, the gambling commission's executive director. "We want to reassure parents that our rules require gambling businesses to prevent and tackle underage gambling and we take firm action where young people are not properly protected."
Ultimately, the commission wishes to encourage parents to protect their children from risky gambling as adults.
"We recognize that there are some gambling activities in which young people are legally permitted to partake - such as using a crane machine to win a toy or betting between friends," Miller said. "But we would encourage parents to speak to their children about the risks associated with gambling, so that if they choose to gamble in adulthood, they will do so in a safe and responsible way."
Lead image courtesy of The UK Gambling Commission, as found in the Young People and Gambling 2016 report.
Everybody needs an account at one of these online poker rooms! They're the biggest, the best, and we get you the best poker bonuses. Check out our online poker section for details on all the online poker rooms around.