16 Questions with Aaron Paul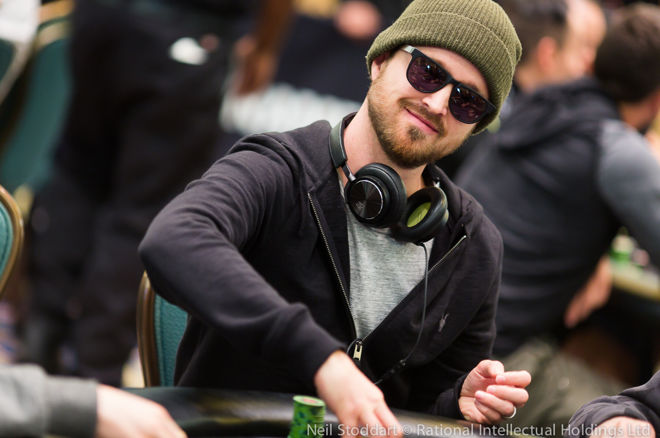 Actor Aaron Paul is competing in the PokerStars Championship Bahamas, making it through to Day 2, and he spent some time with PokerNews to answer the more serious questions of life, like ""
The actor is known for his films Breaking Bad, Need for Speed, Exodus: Gods and Kings and The Path, among others.
PokerNews' Sarah Herring puts Paul to the test in two minutes of questions.
Most used app on your phone?
My music app.
Just on your iPhone?
Yeah.
Do you use Twitter or Instagram?
I guess Instagram, yeah.
Who's the best follow?
Who's my best follow? Uhh, I don't even know. I don't have a favorite. I don't even have a computer. I don't really care.
He's going to be a hermit in five years.
Yeah, man.
Who's your celebrity crush?
Rihanna.
Good one. Who would you most want to fight in poker?
Daniel Negreanu].
What's the worst fashion trend ever?
Oh wow.
Beanies. No. Definitely not.
I'm very happy we decided to do these rapid fire questions. They're hilarious. Um, wow, I don't know. I have no idea.
He doesn't own a computer, he doesn't care about fashion trends. Let's get serious. If you were making a music festival, who would headline your festival?
Radiohead.
Good. What's a book that changed your life?
The Giving Tree.
Last movie you saw?
La La Land.
Mm, good?
Yeah.
Last show you binge watched?
Last show I binge watched...The OA.
What's your favorite word?
I don't have one. What's your favorite word?
Orangutan. Do you have any bad habits?
Orangutan is actually a great word.
It just rolls right off the tongue.
Orangutan. Orangutan!
Now the next time someone asks you, you've got one ready. Do you have any bad habits?
Maybe.
Like you bite your nails, you...?
No.
Gosh, it's just so easy.
Do you bite your nails?
No but I keep them short. You know what I mean? Just in case. What's your favorite karaoke song?
My favorite karaoke song, uh, "Don't Stop Believin.'"
See? That's everyone's and it's such a good one.
I mean it's just a crowd pleaser. It's true.