15 Questions with Kevin Hart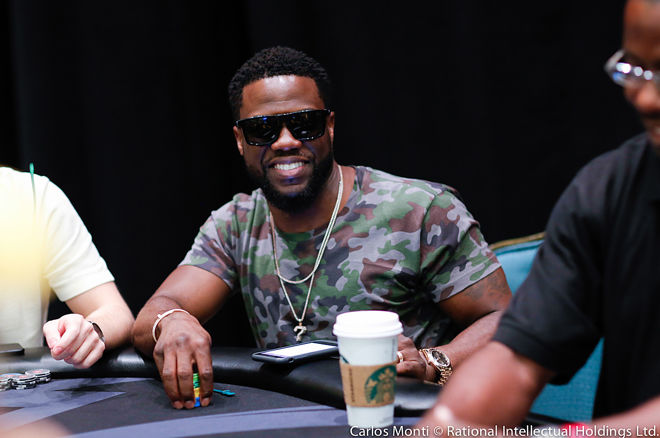 Stand-up Comedian and Actor Kevin Hart competed in the PokerStars Championship Bahamas, and though he fell on Day 2 to Dan Colman, he spent some time with PokerNews to answer the more serious questions of life, like "Beyoncé or Rihanna?"
The actor is known for his films Kevin Hart: Let Me Explain, Ride Along, The Wedding Ringer, Get Hard and Central Intelligence, among others.
PokerNews' Sarah Herring puts Hart to the test in two minutes of questions.
Who would you want to be your poker coach?
Jimmy Levine.
Who's your favorite comedian, past or present?
Dave Chappelle.
Who would you want to play you in the movie of your life?
Dudley [Johnson] from Diff'rent Strokes.
Denzel, come on, that was so obvious. Best thing about being a performer?
Having amazing casts.
Speaking of, who should be on the "Real Husbands of Hollywood" but isn't?
Dwayne "The Rock" Johnson.
If you could cameo on any TV show, what would it be?
Save the Bell.
What's the worst thing that's happened to you during a comedy show?
I fell asleep onstage for 20 seconds.
No you didn't.
Did. Nobody knew it though. I made it look like a long pause, like 'Man, [5 seconds later] stop playing with me.'
He just fell asleep right there. I saw it. What's the career accomplishment you're most proud of?
My career accomplishment I'm most proud of…that's a tough one because it's not career stuff. I would say the benefits of career stuff that put me in the position to provide for my family. That's what I'm most proud of.
Always have to go for the family, of course. The most important question, of course, is Beyoncé or Rihanna?
My wife.
So good. He's taken some media classes, for sure. What advice would you give to aspiring comedians?
Don't be a talker, be a doer.
Who's your favorite fighter?
Kevin Hart.
What advice would you give your 15-year-old self?
Wrong hole.
If you were putting on a Hollywood home game, who would you invite?
Hollywood home game? Uh, that's a good one. Alright, Eddy Murphy, I would invite Dave Chappelle, Jerry Seinfeld, Wanda Sykes, Louis C.K. I would invite Steve Harvey, and last but not least, Warren Buffett.
And also Sarah Herring and that would be a really awesome game.
Why is Sarah at my game? I don't –
No one invited her. Why is she outside looking in?
Why is Sarah at the game?
She's so awkward!
Why does she have so many snacks? Why is she – nobody told…Why does this woman just show up with all of these snacks?
This isn't a potluck, I don't know why.
She showed up with avocado. She has avocado.
What is your go-to workout song when you're just running in your sweet kicks?
My go-to workout song? Salt-N-Pepa, "Push It."