Dominik Panka Talks About Personal Ambitions and His Dream of a Quiet Life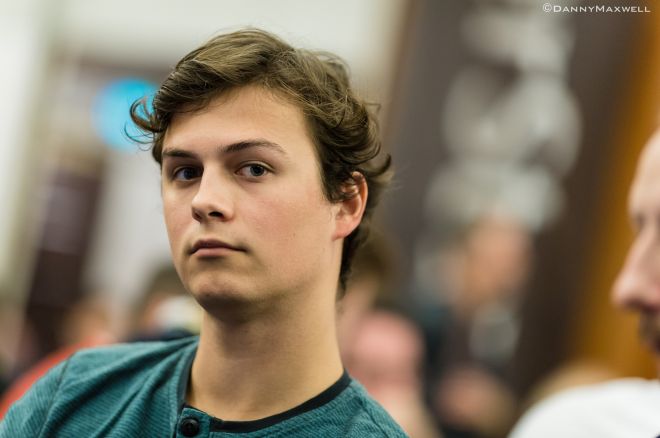 If it wouldn't have been for Dan Colman's astonishing results, 2014 would have probably been the year of Dominik Panka.
The quiet and reflective young poker player from Brześć Kujawski, Poland, started off by making his name known to the world during the 2014 Poker Caribbean Adventure. That's when he surprised everyone by beating an icon of the game in Mike "Timex" McDonald in the $10,000,000 guarantee PCA Main Event.
A few months after he managed to transform the $700 Sunday qualifier into the $1,493,026 top prize, Panka told PokerNews' own Chad Holloway that he had absolutely no intention to win that tournament.
"I did not have big plans for PCA," Panka said. "I just wanted to win some satellites and play regularly on the EPT on the continent. When I won the PCA qualifier, I thought I would have a nice holiday in the middle of the winter."
Then, not even a full month later, Panka did it again. He flew to Deauville for the French leg of the European Poker Tour, where he won the €10,300 High Roller event and walked home with €272,000 plus the confidence that winning a record-breaking event like that one can give you.
Almost one year after this incredible ride, we had the chance to sit down with Panka to discuss how the remarkable year changed his approach to the game and also to get to know something more about this atypical PokerStars sponsored player.
PokerNews: First and foremost, let's start from the two impressive results you put together from the PCA and in Deauville. Looking back almost one year later, how much did those change the way you play poker?
Dominik Panka: Definitely a lot. Before those wins I probably wasn't as confident about my play as I am today, and I guess I wasn't too confident about playing at live events either.
Yet, I think I have improved a lot during the months I have spent playing live, especially because the EPTs are pretty tough. Plus, now I am talking regularly to all the top guys in Poland, and I definitely feel that this helps me to improve my game a lot.
How about the way people play against you? Did something changed there, too?
I didn't pay too much attention to this, and I guess it probably depends on the player. Some are going to be intimidated by who you are and they will try not to play against you. For some others, it's the exact opposite. They want to play against you even more once they know who you are. However, to be completely honest with you, I don't think that many people recognize me at the table. But yes, some players do, and that feels actually some kind of nice.
Now that you are a PokerStars sponsored player and that you play wearing the room's patch, the visibility that you get is quite big. The media start to care a lot more about you, and so do the other players. How do you like this side of being a successful player?
I love it (laughs). It may not look like it, but I like to receive this kind of media attention. I like to do interviews, and I like to go on TV. The day I will start to be bad in poker, I think I would like to try to work in the media.
Good to know. Given the way things went for you in 2014, though, I have a feeling that you are not going to try to steal my job anytime soon.
Who knows, maybe in a few years I won't be that good anymore. In that case, I could try to do something like live commentary for Polish television. If they would start to stream events like the World Series of Poker, I assume they would need some experts able to take care of that. And I could do it.
To be honest with you, I think that a lot of the guys that are on TV today are not professional poker players and make a lot of mistakes. I could help them.
OK, let me get this straight — you love media attention and you think you can do commentary better those ones who are already doing it. Tell me, how ambitious are you?
If you are asking me if I have high ambitions, let me tell you that I don't. I actually enjoy having a quiet life, and I don't have too many expectations from life, either. I don't want to visit the whole world or accomplish anything huge. For me, my ambitions come in a different way.
I know I am pretty young, but for me, you know, I would like to get married, have a house, have a lot of kids and see them grow up. Even though I am young, those are my ambitions.
On your personal Facebook page, you have defined yourself as "a sportsman." Why is that? Is it because you consider poker to be a sport?
It's more that I don't really know if you can even use "poker player" as a title in there.
As for your question — well, there are some things about poker that make it similar to other sports. Its competitive nature, for example. Poker attracts players from different disciplines as well, just look at people such as Michael Phelps and a lot of other sports stars that have started to play poker lately. But at the same time, I find it hard to clearly state that poker is a sport. We don't have anything like poker's "world championship." True, we have the World Series of Poker Main Event, but you can't judge players based only on a few tournaments.
To be honest, I also try not to have a strict opinion on this. For me, poker is a game that I play and enjoy. Some people do it for the money, some people for entertainment.
And what does Dominik Panka do it for?
I got into poker because I liked the game, and that's why I started. I didn't start with the ambition that one day I would be able to make a living out of it.
Also, I enjoy a lot of games, not only poker. My favorite games ever are titles such as Settlers of Catan, Ticket to Ride, and Agricola. I actually have a small collection.
Do you collect board games?
Yes, why not? Some people like to collect stamps, I collect board games. Every now and then I try a new board game together with my girlfriend and some friends.
Let's talk about Poland. Poker is not a small game there, but it's definitely also not as big as it could be. Before you made a name for yourself in 2014, a non-Polish player would struggle to name a Polish poker pro besides Marcin Horecki or Jakub Michalak. Is there a perspective for growth of poker in Poland?
It's hard for a lot of players to compete because we don't have huge tournaments in Poland. We used to have the EPT in Warsaw, but right now the government doesn't help the game to develop. The Polish law doesn't strictly forbid to play poker, but it makes it almost impossible, especially if you want it to be profitable.
You can't organize big tournaments in Poland, and playing online it's prohibited. It's not impossible, because you still can connect to the rooms, but still, it's prohibited.
That's why the Polish guys who want to play poker need to travel a lot. Many go to the Czech Republic, and we also have a group of guys that regularly travel to almost all the the EPTs.
Now that you have mentioned it, how would you like the EPT to get back to Warsaw?
Oh, I would love that. You know, it would be so good — once the day ends — to go back to your own home and not just to a hotel room. I would like to try to see how that feels. Personally, I don't really enjoy travelling.
You'll agree that it's kind of funny to hear this from the guy who flew all the way to the Caribbean and came back with $1.4 million in his pockets.
(Laughs) Yeah, I guess I can do that from time to time. But it always goes in the same way: during the first few days, I don't mind to be in a new place for a tournament, but later, when the festival is getting to an end, I begin to enjoy things less and less.
Let's take the EPTs, as an example. The first tournaments are great because they come after I had a break from playing. But then, if I go deep, I start to get tired. Yet, this is obviously not the same for everyone. There are a lot of players who love traveling around the world, meet with new people, discover new food, make a lot of new experiences, and stuff like that.
While you...?
Me? No, I am not that kind. I just like one regular restaurant, and I spend my time with those few people I know. This is my style.
For news, updates, and more follow PokerNews on Twitter and Facebook.