New Kid On the Block: The Origin of Dominik Panka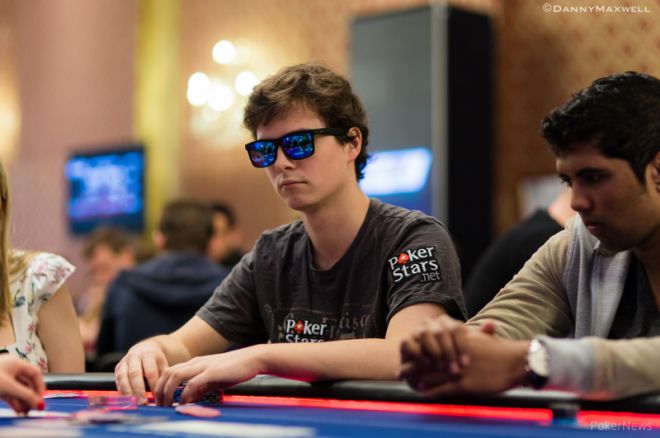 The European Poker Tour is about to complete its 10th season. In 98 stops, there has never been a two-time Main Event champion. It's a milestone that someone will surely achieve eventually. Fact is, it nearly happened at the 2014 PokerStars Caribbean Adventure in January when Mike "Timex" McDonald was heads-up for the title. The entire poker world was hoping to witness one of the game's best make history, but these hopes were dashed when a little known Polish player named Dominik Panka crashed the party.
To hear McDonald's humble vanquisher Panka describe his feat: "I did not have big plans for PCA. I just wanted to win some satellites and play regularly on the EPT on the continent. When I won the PCA qualifier, I thought I would have a nice holiday in the middle of the winter and enjoy a bit of poker. If I had failed in the Main Event, I may have played one more side event and spent most of the time on the beach."
Panka, who won his way into the PCA via a $700 Sunday qualifier on PokerStars, may not have planned for success, but he found it nonetheless as he navigated the 1,031-player field and found his way to the final table. In fact, he made it all the way to three-handed play, which is where he, McDonald, and Isaac Baron struck a deal. Panka, who was in the chip lead, secured $1,323,096, while his two more celebrated opponents locked up $1,064,865 and $1,207,599, respectively. That left the title and $100,000 on the line for the winner.
Baron was the first of the three to bow out, which set up a three-and-a-half-hour heads-up match between Panka and McDonald. It was a back-and-forth affair, but eventually Panka won a massive flip before going on to clinch victory.
"Winning the PCA did not change my life too much. Obviously, I have a lot of money on my account right now, which is great because I do not have to worry about my future," Panka says. "I can also focus on what I love — playing big live events, such as the EPT. Apart from that, not much has changed. I have not changed my flat nor bought a car or an expensive watch yet. Of course, I want to do so some day, but I am quite slow at doing things."
Indeed, prior to winning the PCA Panka lived a slow lifestyle. He hails from Brześć Kujawski, a small town in central Poland, where he grew up the youngest between two brothers and a sister.
"I was spoiled and could easily get out of any responsibilities. The only disadvantage was that my sibling sometimes did not want to play with me, but what could I do about it?" Panka jokes. "My dad has always been keen on logic and mind games. He even worked as a crossword designer for some time. He taught me to play chess and other games. I probably inherited from him my interest in games, including poker."
After he finished primary school, Panka attended a boarding school in Toruń geared towards talented young people. After that, it was off to Szkoła Główna Handlowa in Warsaw to study. While there, he obtained a Bachelor's Degree, but before he could earn his Master of Arts he left the university for the same reason so many others have — poker.
"I heard about poker when I was in high school. I only knew the rules, but did not play at all. It was during my second year at the University when my best friend started to play poker thanks to the free capital he had received from Full Tilt Poker," Panka says of his poker origins. "Thanks to the beginner's luck, he won more than 10 dollars and immediately considered himself the king of the game."
Encouraged by his friend, Panka decided to give online poker a shot. He lost his initial stake on partypoker, and so he decided to make another $20 deposit on PokerStars. Eventually, Panka caught on to the game, and slowly but surely he built up his bankroll playing the lowest stakes sit-n-gos available.
"I played with my friend during most of the time spent at the University. I was doing better and better and he was doing not so well," Panka laughs. "Finally, I became a professional player and he graduated. At the moment he has a regular, well-paid job."
Giving up on his studies was a tremendous risk, but one that paid off at the PCA. Even so, many were disappointed by Panka's victory as it denied a well-known player one of poker's most prestigious titles. Determined to prove he wasn't a Polish one-off, Panka returned to Europe and promptly proved he was no fluke.
Just over three weeks after winning the PCA, Panka topped a field of 96 at EPT Deauville to win the €10,000 High Roller for €272,000 ($371,498).
"It definitely gave me self-confidence. Of course, two such successes are usually the result of a very good run, but I definitely feel I played quite well and am quite a good player," Panka says of his follow-up win. "I do not know what other players think about me, but I hope they respect me. Right now, I only hope I manage to succeed again and keep creating my poker reputation, although I know it will not be easy."
One way Panka has been able to build upon his poker reputation is by hooking up with PokerStars, which offered to sponsor him throughout Season 10 of the EPT. It was an opportunity that Panka was happy to accept, and one for which he is grateful.
"I think they care about investing in a player that does well in tourneys and may be considered a very good poker player some day," says Panka. "Plus, I am quite a popular person among Polish players. I think that the company wanted to thank me this way for my contribution in the popularization of poker in Poland."
Such a rapid ascent would no doubt go to a lot of players' heads, but not Panka. He just wants to continue doing what he's been doing, and that's to win.
"I do not have big plans or expectations. Of course, I would like to make it to as many final tables as possible and win a few tournaments, but I basically want to improve my skills. Naturally, it would be great to achieve the triple crown or become the first player who has won an EPT twice, but it is not something I particularly focus on. I simply try to keep playing better and progress as a poker player and as a person. If I manage to achieve anything by the way, then it will be fantastic."
Panka has continued to travel the EPT, which included the Vienna stop in March. After placing eighth in the €2,000 Eureka High Roller for €20,150 and fifth in the €2,000 No-Limit Hold'em 8-Handed Deepstack for €13,400, Panka, who was born on March 27, 1991, decided to treat himself to another high roller.
"The EPT €10,000 High Roller in Vienna launched on my birthday. You can say I made myself a birthday gift, buying into that tournament," Panka explains. "I would probably have played it anyway, but since it was my birthday I thought why not make myself a present and play?"
Unfortunately, he was unable to get anything going in that tournament. Even with his continuing success, Panka is unsure if he'll play his first World Series of Poker in Las Vegas this summer. He cites the distance and tax laws as deterrents. "It is better to concentrate on tournaments in Europe," he says.
The WSOP is largely considered the biggest stage for the best players, but Panka's humbleness prevents him from considering himself a part of that group. "In order to be the best you really have to be exquisite in this game and I am still far from the level of players playing super high rollers regularly," Panka says matter of factly. "I think that my most important advantage is a good mindset. Fortunately, I am still young and can learn a lot."
Get all the latest PokerNews updates on your social media outlets. Follow us on Twitter and find us on both Facebook and Google+!