Calling the Clock with Matt Broughton Sponsored by KO Watches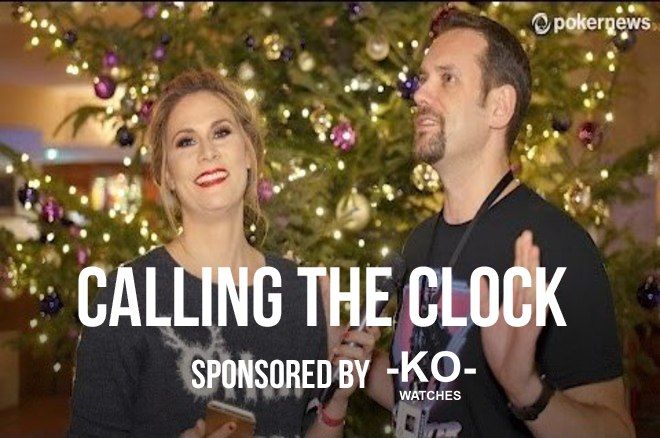 Beginning as a cutting-edge brand active in design, manufacturing and distribution of quality-finish watches from young Mexican entrepreneurs, KNOCK OUT -KO- Watches works to distinguish itself with its quality and clean design, allowing people to use time they have as they wish and without interruption. With our sponsor, KNOCK OUT -KO- Watches in mind, we're now going to "Call the Clock" on Matt Broughton.
PokerNews' Sarah Herring called the clock on EPT Commentator Matt Broughton, giving him two minutes to answer as many questions as he can at the last EPT Prague.
Would you ever bungee jump?
I have done that. Yes.
Where?
In Normandy, off a collapsed viaduct.
Would you do it again?
Yes.
What's your favorite cereal?
Shreddies.
Most memorable career moment?
I don't think I have one because I can't remember anything about my career ever. No! I once got mistaken for Arnold Schwarzenegger in LA.
Oh wow. That's huge! That's top. First poker player that you considered a friend?
Still waiting. Still waiting…
Yeah, a bunch of punks. What's the first thing you notice about people when you first meet them?
Their eyes.
What's the last thing you ate?
Their eyes. Umm…I had a Kit Kat about five minutes ago.
Best thing about being a commentator?
Not having a proper job.
Fair. Last film you watched?
The Founder. Michael Keaton. The McDonald story. Excellent.
He's very hot right now. Michael Keaton. From what I hear. If you were a crayon, what color would you be?
Purple.
What's the worst thing about being a commentator?
Not being a crayon.
Summer or winter?
Winter.
Favorite room in your house?
The kitchen.
Stones or The Beatles?
The Beatles.
Best video game?
Laser Squad.
Best video game player?
Me!
Favorite player to commentate on?
[Daniel] Negreanu. You don't have to say anything for three hours.
So true. Book you've read more than once?
The Light of Other Days by Arthur C. Clarke. It's my favorite book ever.
Sounds great. Have you ever been on TwoPlusTwo?
Yes.
Have you ever searched yourself?
No. No. Never go there.
Snap call. Bull. I don't believe it.
I don't want to know. If they're saying something about me, it's not going to be good. That's the last place I go.
So you don't Google yourself either?
No. Way too scared to ever do that. I would rather guess that people don't like me then know they don't like me.
When the clocks stops, time comes to life. Get your hands on a Knock Out -KO- watch right here.
Have you ever wanted to write your own articles about poker? Maybe you've got some experiences or opinions about poker that you'd like to share. PokerNews is proud to launch The PN Blog where you can have a platform to make your voice heard. Learn more here.