Damon Ferrante Enters Borgata Poker Open with PokerStars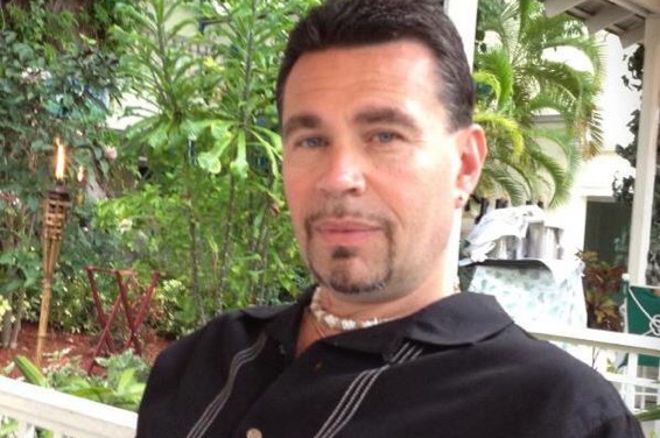 Damon Ferrante may play the Borgata Winter Poker Open with a PokerStars patch, but that's not what he's hoping to walk away with.
The 50-year-old who was diagnosed with chronic lymphocytic leukemia in 2011 will be sponsored by PokerStars for the first time this year (though he almost was sponsored by The Golden Palace, a sister site to Doyle's Room back in 2008). He will donate a portion of his winnings to the T.J. Martell Foundation.
"I gave and things are coming back to me," he said. "It's a karma thing. I'm really, really happy to be in a position to do that. Without PokerStars, I wouldn't be able to do that."
The sponsorship came about in true Ferrante form: playing the Chad Brown Memorial Tournament.
While Ferrante walked in without even the slightest knowledge of what the charity was, he ended up sitting next to Beau Eurell, Chad Brown and Vanessa Rousso's manager, and telling his story.
"It was the strangest thing, I felt like I was supposed to be there for whatever reason," Ferrante said. "Then I found out that it was for what I have [the T.J. Martell Foundation] and I was like, 'You have to be kidding.' I mean, I couldn't – my eyes welled up, honestly."
Ferrante had originally shown up for the Senior's Event and then he got fourth place in the event and realized he should give back.
Ferrante, 50, already plays online at PokerStars New Jersey and continues to play as both a coping mechanism, positivity booster and skill developer for live play.
"There's really no known cure for chronic lymphocytic leukemia at this time," he said. "But they are working on it. Every day they're coming out with new trials and different types of drugs, so to speak, that keep things at bay and keep your symptoms manageable. Basically, that's what my life has become, which is trying to manage this monster inside."
Ferrante sees people out there suffering with cancer or other debilitating diseases, who sit home and say woe is me, and is determined to change that mindset.
"I want to let people know that there is life after a diagnosis, that your destiny is in your own hands," he said. "If you live your life with a positive attitude and you don't sit around and wait for the worst to happen and you're proactive and being stress free and making things happen, good things will come to you."
PokerStars moving away from the 'Player X wins $10 million at this event' toward more feel-good stories about a local person doing well for the poker community made Ferrante a natural choice this year.
The Borgata Winter Poker Open started Jan. 17 and will continue through Feb. 3. Ferrante will play Wednesday's Day 1D of Event #1, the $2 Million Guaranteed Borgata Deepstack Kick-Off No Limit Hold'em.
"I want to let people know that there is life after a diagnosis."
PokerStars will also sponsor him in the Borgata Almighty Stack No Limit Hold'em $500,000 Guaranteed event the following week.
If Ferrante makes it to the final table, he has a promise from PokerStars' Scott Goodall that he'll personally fly out from Isle of Man to be at the tournament with Ferrante.
PokerNews caught up with Ferrante back in 2014 at this very tournament. While his health has largely remained the same – he remains in Stage 0 of the cancer – it's the "watch and wait" stage that gets to him.
"I believe that I was put on this earth for a reason," Ferrante said. "I didn't know what that reason was, but I have a Facebook page that I post really, really positive messages on every day. And when those messages get across to people, I get hundreds of IMs, and notes and emails, saying, 'Hey, thanks for your positive message; it got me through today' and I think I found what my purpose is."
Ferrante works to spread positive influence in a world flooded with negativity.
"It's more rewarding than you'll ever know to be able to give back to people," he said. "Unless you're diagnosed with something, it's hard to comprehend what it does to a person. That day that I was diagnosed, my whole world was flipped upside down and I didn't know what was happening. You go online and look and it says you have a five-year life expectancy. It's already been past five years for me and that's hard to take in at once."
While positivity comes naturally for Ferrante, he has some advice for those who are still struggling.
"What I'm going to say is for people going out there, go out there, be yourself and do what you like and live for today because tomorrow's not guaranteed," he said.
And he'll continue to play poker because he's had success there with a high cash rate, despite only playing six or seven tournaments a year. He's in his ninth year and 18th season of his weekly home game tournaments, which draw 25-30 players.
"I think I found what my purpose is."
He started playing tournaments after the Chris Moneymaker poker explosion in 2003. Prior, Ferrante had only played local home games and cash games. He won a big event at the Trump Taj Mahal in 2004 and that got the ball rolling.
"As I started winning in more tournaments and cashing in more tournaments, I found that this is something that I believe I'm in the upper echelon of, something that I believe I can compete in with the best of the best," he said.
And that, learning that he was on an even playing field regardless of age or disability, is what made poker inspiring for him. When he's playing poker, nothing but the hand at play matters. Everything else he does beyond that keeps him going.
"Putting it down in writing, staying positive every day, helping people when I can, giving back at every possible moment for me, is what keeps me going," he said. "There'll be a time when I can't do that and it's going to be a sad time.
"There are still days when I sit and think to myself at night, I have something not everyone else has, you're not going to last forever, but while you're here, just make the best out of it. I try to keep my state of mind going strong. It's tough. It's not easy. Anybody who's had this, it's not easy. I can tell you that."