First partypoker LIVE Million National to Take Place in Russia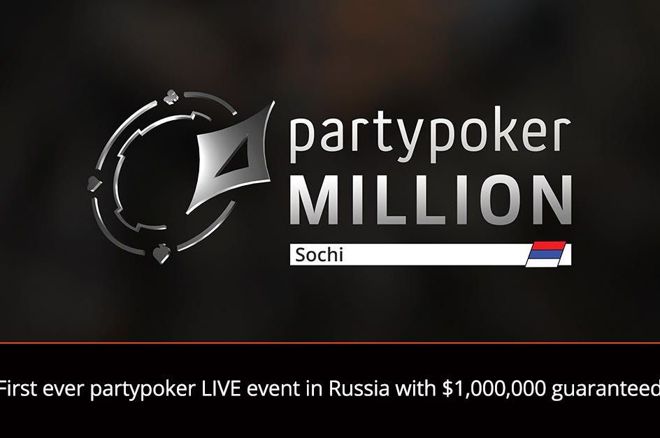 Partypoker announced that its first partypoker Million National event will take place at the Sochi Casino and Resort in association with Poker Club Management in Sochi, Russia. Similar to partypoker unveiling its newly branded tours last week dubbed partypoker LIVE and partypoker LIVE National, the casino itself announced it will be opening its doors to the public earlier on Jan. 20.
The partypoker Million National Sochi features a reasonable $1,100 buy-in and a huge $1 million guaranteed prize pool ($200,000 guaranteed for first place), while combining both online and live elements. The first two of the five opening days take place online at partypoker on March. 12 and 19 with the last three opening days taking place at Sochi Casino and Resort on March 24, 25 and 26.
Players surviving both the online and live opening days will then go on to compete on Day 2 and 3 on March 27 and 28 until the first partypoker Million National champion is crowned.
Players will be able to qualify in for as little as one penny via satellites held at partypoker starting Jan. 22.
Both partypoker and Sochi Casino and Resort are excited about the first partypoker Million National.
"Hosting the first partypoker Million National event in Russia is a truly exciting opportunity for partypoker and our players," Group Head of partypoker Tom Waters said in a press release. "We will be the first global poker operator to offer live poker at the brand new Sochi Casino and Resort, crowning our inaugural partypoker Million National champion."
According to Sochi Casino and Resort, this event has been years in the making for the poker community.
"It is with great pleasure that we welcome partypoker to our five-star location," shared Founder of the Poker Club Management and Sochi Casino and Resort Poker Club Manager Artur Voskanyan. "The city has been magnificently rebuilt and is surrounded by amazing nature including world-class ski slopes and is only 30 minutes from the Black Sea's stylish new hotels, bars and clubs. With a $1,000,000 guarantee on this poker event, it is only the beginning of our partnership with partypoker."
Is Gambling Legal in Russia?
Land-based casinos are prohibited throughout most of Russia with some exceptions after a crackdown in 2009 closed casinos, card clubs and electronic gaming halls throughout the country. The country's gaming legislation first permitted four different gaming zones before later adding Sochi and Crimea as two other zones in 2014. Shortly afterwards, a few casinos opened up in Azoz City including the Oracul, the Shambala and the Nirvana. This was just before Tigre de Cristal became the the largest casino in Russia, operating from the Primorye gambling zone in Russia's Far East near China and North Korea in November 2015.
Casinos in Azoz City are scheduled to close in 2019 after an announcement was made in 2015, shutting down the region as a designated gambling zone. While this was a surprise to many at the time (considering each of the casinos were experiencing growth), it paved the way for a bigger five-star Las Vegas-style resort in Sochi to be built.
It took a couple of years before the Sochi Casino and Resort announced it will be opening its doors on Jan. 20, 2017. While this is far too late to attract the tourists that attended the 2014 Winter Olympics in the region, it should attract some of those attending the 2018 FIFA World Cup and Russian Formula 1 Grand Prix.
The Sochi Casino and Resort can accommodate 2,000 guests and features 70 gaming tables, 569 slot machines, two restaurants, a cabaret theater, nine bars and a variety of boutiques.
"Sochi Casino and Resort is a project with a unique concept for Russia in the spirit of the best casinos of Las Vegas," the casino operators Domain LLC said in a statement.
Despite land-based casinos being permitted in some parts of the country, online gambling, including poker, is currently unregulated in Russia, with all online gaming operators servicing its residents operating in a gray-market environment. In other words, while the live poker tournaments appear to be legal at the Sochi Casino and Resort, the online portion could be operating in a gray market to many, including for players in Russia.