DraftKings and FanDuel Sleepers for NFL Wild Card Round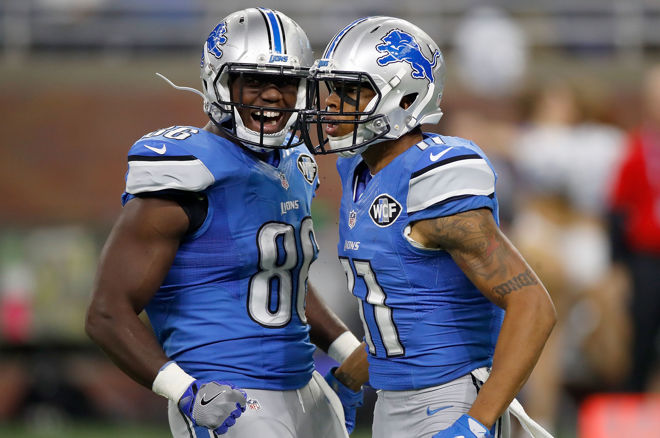 Much like Brock Osweiler, I didn't feel like I'd be around during the NFL playoffs. But alas, here we are!
During the regular season I posted my weekly "1 Percent" sleeper picks for DraftKings and FanDuel over at FantasyWired.com. I scoured each game on the NFL schedule for desperation DFS plays that (almost) no one else would consider, hoping that they would hit.
This approach will be even more important during the playoffs this weekend. On a four-game slate, trying to give you someone with 1% ownership is going to be near impossible. So, we're going to try and find some low ownership spots.
Raiders at Texans
Everyone outside of the defenses and Lamar Miller is in play for the purposes of this column. And I'll be honest, I don't hate the Raiders receiving game here. The Texans do have a good defense but the Broncos had a historically good pass defense and I feel like last week's image will be stuck in people's head when trying to roster the like of Amari Cooper and Michael Crabtree. The fine folks at DraftKings are even trying to entice you with $5,200 and $5,300 prices, respectively. At $6,000 and $6,500 on FanDuel it's a little tougher to stomach. Don't forget Seth Roberts ($3,000 DK/$4,500 FD) either.
Connor Cook really tried to force the ball to Amari Cooper in Week 17. I think he's going to have more success this week against a slightly weaker pass rush. Fire him up and enjoy the low ownership on him this week. Other deep sleepers include anyone in the Oakland running game not named Latavius Murray, so a couple punts to DeAndre Washington (3,300 DK/$4,500 FD) and Jalen Richard ($3,400 DK/$5,200 FD) are worth a look, but I don't love either spot.
The Texans side of the ball is a little better. Lamar Miller ownership (if he's a go) should be significant. DeAndre Hopkins had a nice Week 17 and I think will also see a fair amount of ownership. My favorite part of the Texans to target this year had been the cheap tight end game, but unfortunately C.J. Fiedorowicz and Ryan Griffin have turned into the Dwayne Allen and Jack Doyle of the South. The guy I like for low ownership and high upside here is Will Fuller ($4,400 DK/$5,000 FD). Fuller has the price combination and big play potential that I want when trying to slot in a lineup like this one a small slate. I do think the tight ends are playable here, but just know you have a high potential of getting 4 points if you roster one.
Both defenses are in play here and the Texans will likely be popular. The Raiders could end up being a sneaky play and if my man Brock is involved I think there is some upside, but I'm not paying the same price on FanDuel for the Raiders that I could get the Texans at.
Lions at Seahawks
This is another spot where I feel like I can safely target a big name player and bask in the goodness of low ownership. Seattle's defense is still good, but it's been made significantly more vulnerable since the loss of Earl Thomas. The lazy play if you want a piece of the Lions offense is to go get Eric Ebron, but why am I rostering a tight end that had one touchdown catch all season? Touchdowns mean cash and while I like Anquan Boldin ($4,000 DK/$4,800 FD) as a sneaky play, my focus this week will be rostering Marvin Jones ($4,100 DK/$5,500 FD). Jones should see the majority of his action AWAY from Richard Sherman and the floor and the upside are both there.
I didn't mention the Lions running game above and don't expect me to manage the Seahawks running game much here either. Thomas Rawls week came and went with the Carolina Panthers playoff chances in Week 13. You could convince me to roster Alex Collins ($4,500 DK/$5,800 FD) this week. While the dollar value is higher than I'd like, it also serves as a great deterrent to people forcing that last player into their roster at under $4,000 on DK and $5,000 on FanDuel. It still seems pretty weak.
The passing game is where my favorite Seahawk sleeper resides this week. While everyone is spending a ton of money on Doug Baldwin and Jimmy Graham, I like super saver Paul Richardson ($3,400 DK/$4,700 FD) to replace Tyler Lockett's role in the offense. This play feels like it could give me the double satisfaction of providing a high cash in a tournament along with a stunned Jim Caldwell face as Richardson races down the field for a big touchdown.

Dolphins at Steelers
I spent a lot of time talking about two pretty lousy games above — mostly because I feel like that's where the value and low ownership is going to be in this type of slate. This game here will almost undoubtedly involve you rostering either Antonio Brown and/or Leveon Bell and I can't blame you for that.
I'll be making my rosters this week with the assumption that the Dolphins will be behind most of the game. I don't expect Jay Ajayi to do much this week despite his earlier success versus the Steelers this year. A lot will be talked about how the Steelers defense is much better now (and it kind of is) but the main difference is injuries have taken its toll on the Dolphins offensive line. The chalk play on this offense would seem to be Jarvis Landry and if you want to roster him, I'm not going to stop you. I think both DaVante Parker ($4,200 DK/$6,000 FD) and Kenny Stills ($3,800 DK/$5,000 FD) are fine contrarian plays to Landry. The deep sleeper who really peaks my interest here is Damien Williams ($3,600 DK/$4,900 FD). If we assume that Miami gets down big in this game, I could easily see Williams being more involved since he is their pass catching back. He won't be on every one of my rosters but getting a cheap RB this week will let me devote more of my cap room to the wide receivers on this slate.
On the Pittsburgh side, it's hard to go against the above names. I do think people will somewhat overlook Ladarius Green ($4,500 DK/$5,900 FD) since he's been out with a concussion. I also think an Eli Rogers ($4,000) punt play on DraftKings isn't terrible either, but this is the one spot where I feel like I have to pay up this week.
Giants at Packers
Let's start with the Packers side of the ball this week. I don't like many of the Packers matchups in this game. No one has run the ball on the Giants all year and the Giants' secondary is as formidable as anyone not in Denver. Eli Apple, DRC and Janoris Jenkins are all playing at really high levels. All that being said, I may roster Jared Cook ($3,600 DK/$5,200 FD) in almost every lineup this week. I think his ownership will be high given the Giants' struggles against tight ends but I figured I'd toss that nugget in here.
On the Giants side I'll be targeting Paul Perkins ($4,100 DK/$5,900 FD). I see the Packers doing everything in their power to beg the Giants to run the football and I see Eli Manning checking into a lot of run situations based on the fronts he will be given. I'm pretty bearish on the Giants passing game given how Eli Manning has played this year. I may be in the minority but I expect this to be a low scoring game with high ownership on the players because of the team involved. I'd much rather play wide receiver roulette with the Dolphins or even, GULP, the Lions wideouts than get involved with the Giants receivers.
Enjoy the weekend and see you in the next round!

Everybody needs an account at one of these online poker rooms! They're the biggest, the best, and we get you the best poker bonuses. Check out our online poker section for details on all the online poker rooms around.