Inside Gaming: Starbucks Barista's Win Stirs Talk of "Moneymaker Effect" for Sports Betting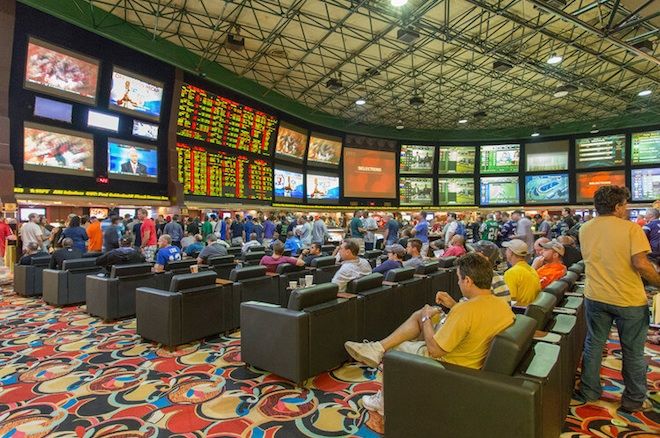 This week's installment of Inside Gaming shares news of a new casino opening in Russia, then turns to some football talk, including discussing how sports bettors are leaning for the NFL playoffs and reporting on the winner of this year's popular Westgate SuperContest.
Sochi Casino Grand Opening Heralds New Era of Gaming in Russia
The first casino in Russia's Sochi designated gambling zone opened its doors yesterday, with the grand opening of the Sochi Casino and Resort on the Black Sea coast, reports GGR Asia.
The complex includes a casino, several restaurants, and a theater. As described by owner and operator Domain LLC, the complex located "on the territory of the year-round mountain resort Gorky Gorod" is intended as "a project with a unique concept for Russia in the spirit of the best casinos of Las Vegas."
The complex is the result of a redevelopment of the 2014 Sochi Winter Olympics media center.
Back in 2009, Russia closed all of its casinos, then in 2010 federal authorities identified four different zones in which to allow gaming, explains GGR Asia. Then in 2014, President Vladimir Putin signed a law allowing two additional zones, the one in Sochi and another in the Crimea.
Last year it was announced one of the original zones (Azov City) would be shut down by 2019. "The reported aim is to concentrate gaming operations in Sochi," with more casinos planned in areas of the former Olympic park.
Jonathan Galaviz of the consultancy firm Global Market Advisors LLC explained to GGR Asia how "the infrastructure built in Sochi due to the recent Winter Olympics held there is significant and would support tourism growth."
Those interested in promoting tourism in Russia are similarly sanguine about the prospects represented by the new Sochi casino.
According to Minister of Resorts and Tourism Evgeniy Kudela, "the demand for holidays in Russia and particularly in Sochi is very high" at present, with assets like casinos helping encourage tourists to visit a resort destination like Sochi even during the off-season.
Learn more about the new Sochi casino and future plans for gaming in Russia at GGR Asia.
New England's the Favorite, But NFL Bettors Like Green Bay
The National Football League playoffs begin tomorrow, and sports bettors are already starting to make their preferences known. With 12 teams still alive and vying for the Super Bowl LI title, the New England Patriots are the odds-on favorite, though most are betting on the red-hot Green Bay Packers reports ESPN.
All Las Vegas sportsbooks list New England as the current favorite, with the Westgate Las Vegas SuperBook having the Pats at 7-5 to win it all, followed by the Dallas Cowboys at 7-2 and the Pittsburgh Steelers and Packers both at 8-1.
The majority of those buying tickets have found Green Bay's odds most attractive thus far, however, as "more bets have been placed on the Packers to win the Super Bowl than any other team at multiple Las Vegas sportsbooks." This despite the fact that unlike the Pats or Cowboys (both top seeds in their respective conferences), the Packers have to play an extra wild-card game this weekend to start their playoff run.
Related: NFL Wild Card Betting Odds, Predictions and Picks
While more bets are being placed on Green Bay (who ended the season on a six-game winning streak), "more money has been bet on New England to win the Super Bowl than any other team at multiple sports books" thanks to numerous larger bets being placed on the Pats, ESPN reports.
Rounding out the Westgate odds, the Kansas City Chiefs and Atlanta Falcons are both 10-1, the Seattle Seahawks are 12-1, and the New York Giants are 20-1. Then come the extreme longshots, with the Houston Texans, Miami Dolphins, and Oakland Raiders each 80-1 and the Detroit Lions 100-1.
For more on how bettors think Aaron Rodgers might "run the table" (again), visit ESPN.
Starbucks Barista Wins $900K in Westgate SuperContest
Speaking of the NFL season coming to a conclusion, last Sunday's final regular season games meant the increasingly popular $1,500 buy-in Westgate SuperContest reached its exciting finish, with the winner of this year's $895,482 first prize being recreational sports bettor Damon Graham, a 32-year-old barista from Las Vegas.
In a column for ESPN about the contest, Dave Tuley likens Graham's win to amateur player Chris Moneymaker's surprising victory in the 2003 World Series of Poker, wondering if perhaps a similar "Moneymaker Effect" may be brewing thanks to the Starbucks employee's victory (pun intended).
The SuperContest has already enjoyed a "boom" of sorts over recent years, expanding from 354 entries in 2010 to a whopping 1,854 this year. The contest requires players to choose five NFL games each week and make selections against the spread. Graham picked all five of his games correctly during the final week, giving him an impressive overall record of 54-28-3 to clinch the win.
Graham actually picked up an extra $10,000 for going 13-2 over the last three weeks to earn an additional bonus prize, pushing his overall winnings over the $900K mark.
As ESPN reports, Graham "enjoys sports betting but doesn't claim to be a big bettor." Meanwhile second-place finisher Mark Jorstad who won $358,193 is also an amateur at sports betting — a 61-year-old farmer who says "he hardly watched any games until late November." That said, Jorstad has done well in the contest before, finishing 13th in 2012 for a $11,175 score.
Even so, this year's SuperContest results also confirmed there is most certainly a skill element to picking NFL winners, as last year's champion, James Salinas, managed to finish tied for third this year. ESPN notes "that's the best finish for a defending champ since the one-name handicapper known as Fezzik won back-to-back titles in 2008 and 2009."
Interestingly, Graham first got into sports betting in part because of Chris Moneymaker's win at the 2003 WSOP, something that inspired him to move to Las Vegas a few years later and try his hand at being a professional poker player. While he found that too great of a challenge, he remained in Las Vegas and eventually got his position at Starbucks.
Now Graham has earned his own big payday in Las Vegas, with his success being likened to Moneymaker's — and the SuperContest being compared to the WSOP Main Event.
"Just like the World Series of Poker," writes Tuley, "the SuperContest allows everyone a chance to compete with the pros."
"That would be great if my win can have the same impact as Moneymaker's," said Graham.
Read more about the SuperContest and the interesting stories of both Graham and Jorstad at ESPN.
Photo: Westgate Las Vegas SuperBook.
Everybody needs an account at one of these online poker rooms! They're the biggest, the best, and we get you the best poker bonuses. Check out our online poker section for details on all the online poker rooms around.