Inside Gaming: Industry Awaits Trump Stance on Online Gambling, Sports Betting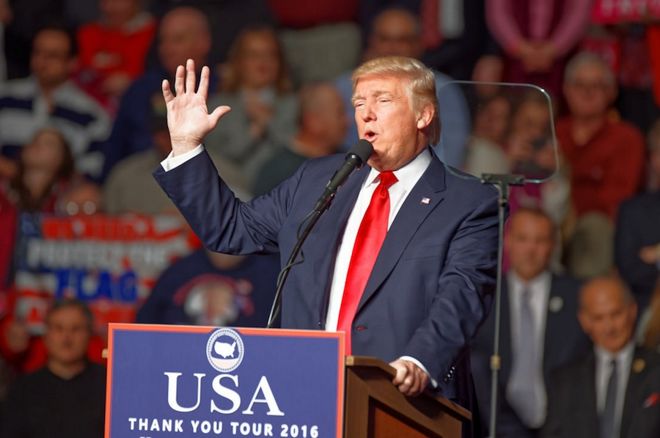 This week's installment of Inside Gaming begins with a report on the industry's speculation about how it will be affected once president-elect Donald Trump takes office, tells of the new owner of an old Trump casino now looking to unload, and shares news regarding a Florida ruling affecting blackjack and other games.
Gambling Industry Ponders President Trump's First Moves
The inauguration of president-elect Donald Trump is less than a month away. Earlier this week Wayne Parry of the Associated Press explored what might be in store for the country's gambling industry once the first U.S. president ever to own a casino enters the White House.
In the past Trump owned three different casinos in Atlantic City. Both the Trump Plaza and Trump Taj Mahal are now closed, while in 2011 he sold the Trump Marina, now operating under the new ownership as the Golden Nugget. Trump also owned another riverboat casino in Gary, Indiana, sold to Majestic Star Casino LLC in 2005.
In particular, those within the industry and other observers are most curious to learn how a Trump administration "will handle three major issues: internet gambling, sports betting and daily fantasy sports."
Where Trump may land regarding internet gambling remains to be seen.
Prior to Trump's victory in November, our Matthew Kredell opined that "The 2016 Presidential Election May Not Affect Online Poker." There Kredell noted Las Vegas Sands Corporation chairman and billionaire Sheldon Adelson's support of Trump, as well as now vice president-elect Mike Pence's previous support of the Adelson-backed Restoration of America's Wire Act that would prohibit online gambling, including online poker.
However Trump's history as a casino owner and a previous statement in support of online gambling from 2011 perhaps might position him differently, should he weigh in on the issue. The AP additionally notes how Trump and his daughter, Ivanka, "formed a company... to explore the possibility of offering internet gambling in New Jersey before the state legalized it in 2013," after which the Trumps never applied for a license.
"I have a lot of friends on both sides of this issue," said Trump to the AP back in September regarding online gambling.
No one from Trump's transition team offered any comment that could tip Trump's hand on the issue. However the AP spoke with Steve Norton, an Indiana-based casino consultant and former casino executive who once worked with Trump back in the 1980s, who "predicted [Trump] will ultimately oppose nationwide approval of internet gambling, due in part to Adelson's opposition, but said he does not think Trump would move to strip it from states that already offer it."
As far as sports betting is concerned, the American Gaming Association has already requested Trump's support for several of its core causes, including the approval of sports betting. In a memo to the transition team — available on the AGA website — the organization highlighted a number of priorities including legalizing sports betting, curbing illegal gambling, reforming current tax laws affecting the industry, and more.
Speaking in November 2015, Trump was less ambiguous about not opposing sports betting or daily fantasy sports, telling Fox Sports 1, "I'm okay with it because it's happening, anyway."
Norton thinks Trump will be more open to sports betting. "I believe the positives of oversight, taxing and ensuring fair odds outweigh any negatives," said Norton. "Hopefully Mr. Trump will support individual states rights, and help overturn [a federal ban]."
Meanwhile Norton didn't believe Trump would bother with daily fantasy sports, describing it as a "non-issue" for him.
For more on the industry's thoughts on Trump's potential influence, visit the AP.
Icahn Reportedly Seeks to Sell Trump Taj Mahal
Speaking of Donald Trump's old casinos, over the past year we reported frequently on the final days of the beleaguered Trump Taj Mahal which officially shut its doors two months ago. Prior to the closing, billionaire business magnate Carl Icahn had helped Trump Entertainment Resorts out of bankruptcy earlier this year after making the company a subsidiary of his Icahn Enterprises, thereby becoming the Trump Taj Mahal's new owner.
Now Icahn is reportedly looking to unload the property, largely because of legislation passed by New Jersey lawmakers preventing Icahn from being able to reopen the casino for the next five years. Citing "a source close to the situation," The New York Post has reported that Icahn is "in talks with fellow casino operators about selling control of the recently shuttered Trump Taj Mahal."
Back in October the New Jersey Senate passed legislation prohibiting anyone closing a casino after the start of 2016 from holding a license to operate it again for the following five years. On Monday the New Jersey Assembly likewise voted 60-17 in favor of the bill, which as written solely applies to Icahn's situation with the Trump Taj Mahal.
The bill still requires Governor Chris Christie's signature to be enacted into law, and while he may veto it there may be enough votes to override a veto.
"If Icahn sells the Taj Mahal outright," explains the Post (citing a second source), "it would seem to sidestep the bill, if enacted, clearing the way for a new owner to reopen the casino with non-union workers."
Icahn offered no comment on whether or not he is pursuing a sale.
For more on the matter, check out The New York Post.
Judge Upholds Florida Ruling Allowing Seminoles to Offer Blackjack
On Tuesday a federal judge refused the Florida's governor's request to reconsider an early November ruling that that state violated an agreement with the Seminole Tribe, reports WGCU.
U.S. District Judge Robert Hinkle issued the order which denied the motion to alter or amend the earlier ruling, his response coming less than a week after attorneys for the Florida Governor Rick Scott and the Department of Business and Professional Regulation had made their request.
At issue is what had been the Seminoles' exclusive right to offer blackjack and other "banked" card games in the state, part of a 2010 agreement which gave that right to the tribe in exchange for a $1 billion payment to the state. That previous agreement had been for five years and expired in 2015, although it existed as part of a larger 20-year compact between the state and the Seminoles. The offering of such games at other state-regulated pari-mutuel facilities was ruled to have violated that agreement, thereby allowing the Seminoles to continue to offer them.
In his early November ruling, Judge Hinkle sided with the tribe's argument that blackjack and other "banked" games "triggered an exception to the five-year agreement," thus prompting his order "that the tribe be allowed to continue to conduct the banked games for the remainder of the overall compact's 20-year term."
Not unrelatedly, a revised compact between the Seminoles and Florida is currently being negotiated, although details of that process haven't been disclosed by either side.
For more on the ruling, see WGCU.
Photo: "Donald Trump at Hershey PA on 12/15/2016 Victory Tour" (adapted), Michael Vadon, CC BY 2.0.