Tweet, Tweet, Bad Beat: Poker's Too Legit to Quit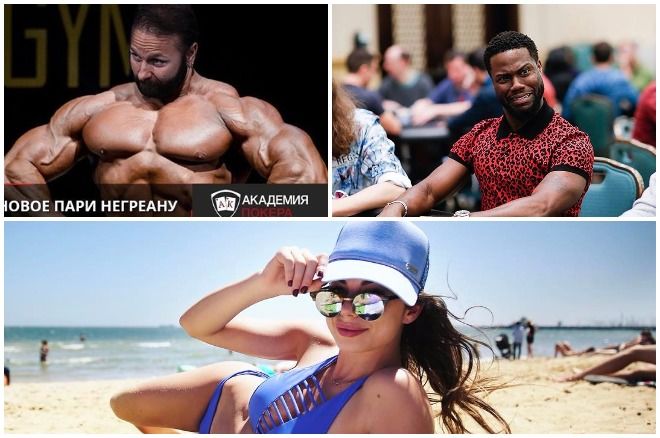 This week, the U.S. had the presidential inauguration and poker had the start of the Aussie Millions. PokerStars Championship Bahamas just wrapped up and everyone on social media still seems to be on cloud nine from their winnings, basking in the sun, traveling or enjoying their company.
Healthy Habits
Planche: A much more difficult plank. No, but seriously, this looks real hard.
Giving myself 3 months to do a planche. Curious of people's opinions of my likelihood to succeed.

— Olivier Busquet (@olivierbusquet)
SWOLL (now everyone has to change their "person they most want to fight in poker" vote)
Well, if Nick Schulman and Rick Salomon playing with puppies isn't just the cutest thing you ever did see...
Stronger, better, faster…baring arms.
Prepping with the judge of her heads-up match for taking on Kassouf?
Giving In to the Lifestyle
Shameless self-promotion.
My tweethearts: Pweez help spread the word about @N1TEL1TE and our release of #KissFace Feb 5th by following @N1TEL1TE and retweeting! ##

— Vanessa Rousso (@VanessaRousso)
Explaining your plush poker lifestyle to your high school reunion buds.
Woah just got invited to 10yr high school reunion later this year ##TimeFlies

— Loni Harwood (@Luscious_Lon)
Sentimental message from me and the Dolce bag.
Travel Happy
Visiting the PokerStars office in Isle of Man never looked so fun!
Drug trip filter.
UNICORN.
The good life…celebrating the spoils.
Candidly thinking about Aussie Millions at the Australian Open?
Celeb Sightings
Windy Mustapha Kanit.
Poker is hard, mmmk?
Stalking after the game is still effective.
Casual. #tripstothemoon
Erik Seidel 2017. #nevertoolate
@PokerNews I don't want to offend those I would leave off, some of whom are my friend. But I can say, @Erik_Seidel would do a great job.

— Brian Koppelman (@briankoppelman)
Lead images courtesy of Daniel Negreanu, Kevin Hart and Samantha Abernathy