Five of the Best Affordable MTTs at 888poker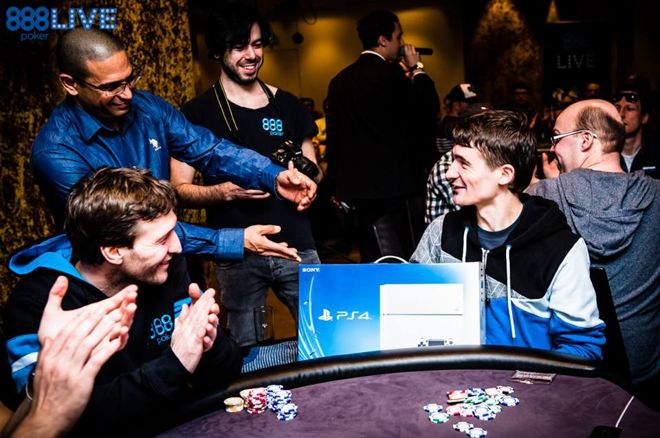 Tournament poker is one of the most popular formats of the game because it gives players the opportunity to turn a relatively small investment into a much more substantial prize.
There are dozens of multi-table tournaments taking place at 888poker every day of the week that have buy-ins as low as $0.99 and as high as $600 so players are spoiled for choice when it comes to playing tournaments at 888poker. As difficult a task as it was, PokerNews has scoured the 888poker tournament schedule and pulled from it some of the biggest and best events that you should try to play at least once during your poker career.
The Monday Twins
The Monday Twins are a pair of tournaments that run alongside each other every Monday at 7:35 p.m. GMT. Costing $22 to enter, the Monday Twins may have an affordable buy-in but the prizes they offer are potentially huge.
There are bonus prizes awarded in addition to the cash in the prize pool and these prizes can be yours if you meet the following criteria:
Finish in the money in both tournaments on the same day to be given seats to the following week's Monday twins.
Reach the final table of both Monday Twins on the same day and receive tickets to ALL the following month's Sunday Challenge tournaments, worth at least $360.
Win one tournament and reach the final table in the other on the same day to win $1,000 cash.
Win one tournament and finish second in the other on the same day to win $2,500 cash.
Win both Monday Twins on the same day and win $10,000 cash.
The Swordfish
The Swordfish is a $30 buy in tournament part of the "Fish 'n' Chips Series." Antes are in play from the moment the cards are first shuffled and dealt, with players sitting down with 5,000 chips and playing to blinds starting at 15/30/3a, which increase every 10 minutes.
$10,000 is usually the guaranteed prize pool of The Swordfish, which runs daily at 6:00 p.m. GMT, but then has $15,000 guaranteed most Sundays.
The Monsoon
The Monsoon runs at 888poker every day at 6:30 p.m. GMT, costs $55 to enter and has a guaranteed prize pool of $15,000. As the event needs 300 players to hit its weekday guarantee, this mid-stakes tournament does not take forever and a day to complete and should be part of any mid-stakes grinder's schedule.
The Sunday Challenge
The Sunday Challenge is one of online poker's more affordable Sunday majors as it only costs $90 to enter. For this $90, players begin their quest for glory with 5,000 tournament chips and play to a 15-minute clock.
One rebuy is allowed during the first 180 minutes of the tournament as long as you have 10,000 chips or fewer in your stack. If this describes you, buy an additional 5,000 chips for $90 and give your chip stack a boost.
The Crocodile
Head to 888poker every day at 5:30 p.m. if you want to play in the snappily named Crocodile tournament. This event is at the higher end of the buy in spectrum as it costs $160, but that makes it a little more exclusive than some of the other tournaments taking place and with $15,000 guaranteed ($50,000 on a Sunday). The prizes on offer can give your bankroll a serious boost should you reach the final table or go on to become the Crocodile's champion.
Claim Your Free $20 Today
Players new to 888poker who sign up for their free account via PokerNews can, until March 31, claim a free $20 when they make a deposit of only $10. Put $10 into your account using the bonus code "POKERNEWS10" before March 31 and 888poker will give you $20 for free. This free cash offer is in addition to the free $88 (a free £20 in the UK) you receive just for creating your 888poker account.