Neuville Wins Bet, Penetrates the GPI's Top 50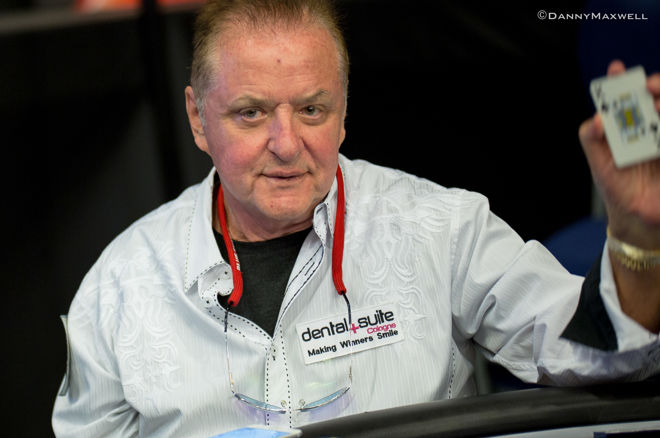 When the 2016 World Series of Poker was just two weeks in, retiree Pierre Neuville made some waves. Not only had he already finished runner-up in the $1,500 Six-Max, he also proposed a bet that made people's heads turn.
Neuville, 73 at the time, sat at No. 119 in the Global Poker Index and wanted to make a bet that he would be in the Top 50 before June 30, 2017. After Neuville proposed the bet at even odds on social media and PokerNews published an interview with the stipulations shortly after, a hefty sum of money was wagered. Neuville had his work cut out for him; he needed to grind a ton of tournaments and do well to even get close.
On Feb. 15, Neuville tweeted he had done it, climbing to No. 46 on the list.
Absolutely thrilled .... #46 Pierre "The SerialPokerstarsQualifier" Neuville. Dental-Suite Poker 2,382.50 pts Side bet @gpi won top 50!

— Pierre Neuville (@pierre_neuville)
| | | | | | |
| --- | --- | --- | --- | --- | --- |
| #46 | ↑ | | Pierre Neuville | Dental-Suite Poker | 2,382.50 pts |
Winning the Bet
Neuville received a total of 12 bets and had no doubt he would come out on top.
"I have always been convinced to win," Neuville said. "However, at one point I stopped taking new bets because I did not want any kind of pressure."
The action really took off after the PokerNews interview with Remko Rinkema.
"Bettors were too excited in my opinion, wanting to increase their bet [since people thought] it would be very difficult for me due to the decline of the influence of the November Nine result after 12 months," Neuville said looking back.
"It's difficult to calculate the influence of the new formula but I don't think it was a great influence."
While some of the bettors thought Neuville's position would drop after his November Nine result, Neuville knew the "influence would be the opposite."
Neuville was convinced he could improve since he hadn't played much for months after making the November Nine. He was busy planning for the Main Event final table of the WSOP.
"So it was easy to do better and progress in the ranking," he said.
The Global Poker Index constantly reviews its formula and announces tweaks to it every year. While the new formula that went into effect last January did help Neuville jump a couple of spots, he didn't believe it was really significant.
"It's difficult to calculate the influence of the new formula but I don't think it was a great influence," Neuville said. "My two big results are one of each side, one runner-up in a large field in a $1,500 at the WSOP and a runner-up in a High Roller EPT."
175 Tournaments in 2017
Neuville was once known as The Serial Qualifier, a nickname he earned after winning seats online to all the EPT Main Events he played for the first part of his poker career. Playing as "Zoutechamp" online, Neuville was a regular in the highest of online qualifiers and regular tournaments before he grew tired of it. After reaching the final table of the World Series of Poker in 2015, Neuville quit online poker altogether to focus on live events.
He played about 150 tournaments in 2016 and cashed in 36 of them. Of all the tournaments he has ever played, he has cashed in about 25 percent of them, with some excellent results to show for all the grinding. Besides his seventh-place finish in the 2015 WSOP Main Event, which netted him over $1.2 million, he's got an unprecedented string of runner-up finishes. He finished in second place in two WSOP events, two EPT Main Events and an EPT High Roller, all worth six-figures each.
While Neuville is getting close to 75 now and has his third grandchild on the way (the first one to have his last name), he's been playing an impressive amount of poker. Neuville is happy with the choice he made to focus more on live poker, or as he calls it, "The deal with Claudine [his wife] to travel more." Neuville has happily accepted invitations to live events all over the world, focusing on going to new poker destinations he hasn't been to before.
"I'm not planning to get back playing online until I feel old and unable to travel."
"I will go on playing more live in 2017," Neuville said, planning on no fewer than 175 tournaments. "I'm not planning to get back playing online until I feel old and unable to travel."
The PokerStars global tours are set for some new destinations, but Neuville isn't planning on visiting many of them. While he did great at the inaugural PokerStars Championship Bahamas last month and plans to attend the PokerStars Festival Rozvadov next month, Neuville had a falling out with the tour that started it all for him.
"I will play less PokerStars festivals where arrogant guys like Thomas Lamatsch think they are the king with no respect for the player," Neuville said.
Neuville has been invited to many new casinos in recent months and prefers places like King's Casino Rozvadov, Merit Poker in Cyprus, the Unibet tournaments and Es Sadi in Marrakesh where he's treated like a celebrity and honored guest.
While all those casinos have invited Neuville in the past and have treated him well, nothing beats Vegas where he's seen some of the best results of his career. He plans to spend six weeks there.
"I cross my fingers [that I can] keep my health in top condition to be able to enjoy another great WSOP," Neuville said.
A New Bet: Neuville in the GPI Top 25?
Neuville is one of the biggest grinders and travelers on the circuit and has mostly concentrated on Main Events and smaller buy in side events.
"I had to protect my bankroll for another 26 years and I always had 90 percent of my myself," Neuville said. "I was not allowing myself into the high rollers in the past."
That might now change and the pensioner might take on some of the biggest events.
"A small group of strong stakers is actually putting together a plan for me to play a series of top high and super high rollers," Neuville said. "Playing high rollers under staking of 60 to 80 percent would be a new experience and absolutely thrilling for me."
There's a whole world of selling and buying pieces among poker players, but Neuville plans to keep the group involved small.
"I will keep it private between a few constant stakers and not open my hand to the complex open world of staking," he said. "I leave that to all the young specialists who seem to be enjoying all kinds of complexity."
"I would probably issue a new bet to reach the top 25 of the GPI."
In fact, if the plan does work out and the group goes ahead with putting Neuville in more high roller and super high roller tournaments, Neuville might consider another bet.
"If I could put together a high roller agenda, I would probably issue a new bet to reach the top 25 of the GPI," he said.
Before that's a reality, Neuville will continue traveling to new venues in new countries. In between tournaments, he relaxes.
"I am enjoying a few days with the grandchildren, like any old retired guy...before a comeback in Brussels for the WPT, flying on Monday to Cyprus Merit and flying directly to Rozvadov for the PokerStars Festival and Rozvadov WSOPC," he said.
For now, Neuville enjoys the record of being the oldest November Niner in the history of the WSOP Main Event and now the oldest player in the Top 50 of the Global Poker Index.
"I presume both will survive my eternity!"