73-Year-Old Pierre Neuville Willing To Bet $50,000 On His GPI Ranking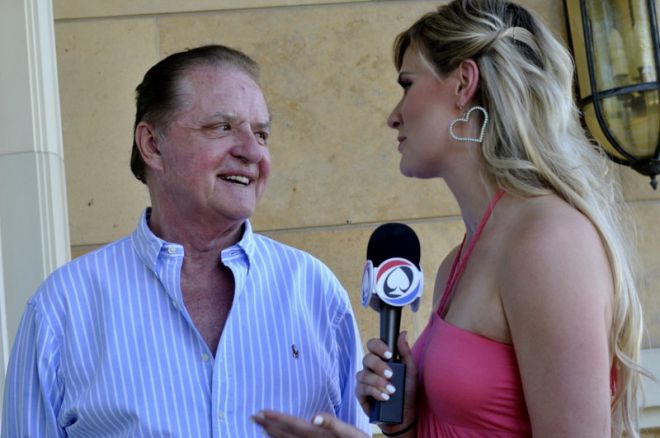 Pierre Neuville is willing to take up to $50,000 worth of prop bets on whether or not he can make the top 50 of the Global Poker Index before June 30, 2017.
Speaking to PokerNews, Neuville, a now 73-year-old that made the World Series of Poker Main Event final table last year, was very serious about this. So much so that he's opened up a bank account to receive bets, and at even-money odds he'll return double what the wagered amount is if he does not manage to make the top 50.
So can he do it?
Neuville's one of the most fascinating characters in the game of poker today. At age 73 he looks and sounds to be more motivated and dedicated than many of his peers in the GPI Top 300 ranking. Neuville (No. 119) has almost two decades on the next oldest on the list, that being Erik Seidel (No. 8) and Govert Metaal (No. 130), Dan Shak (No. 132).
After coming off a big year, which included making the WSOP Main Event final table and finishing in seventh place for $1.2 million, the founder of the new Team Dental Suite found himself ranked No. 120 on the Global Poker Index — nowhere near the top 50, although that's is where he feels he belongs. With Dental Suite, Neuville hopes to help poker players and other interested patrons with serious dental issues, a project he's very passionate about as well.
Since Neuville thinks and wants to be in the top 50, he's willing to be his money where his mouth is, and hopefully get a boost from the extra financial incentive.
"I read that Antonio Esfandiari loves prop betting more than the actual game of poker, and I watched all these other pros partake in prop bets, which is something I don't know anything about," Neuville said. "I told myself that I wanted to try it as well.
"I told a friend of mine that I would reach the top 50 of the Global Poker Index rankings, and he said, 'Don't be too optimistic. You were still only 142nd while you made the November Nine final table. It's too ambitious!'
"I said, 'Okay, let's bet," and we shook hands on it and bet €500 on it. I laughed and said, 'I just made the first prop bet of my entire life!'"
After making the initial bet, Neuville put word on social media and he immediately received a ton of messages from friends that were interested in taking the same bet.
"I got a lot of messages from people saying things like, 'I'm hoping you will make the top 50 of the GPI, but I am betting because I don't think it's possible.' Some people didn't want to bet because they said it was 'stealing money,' but other wanted to bet small amounts like €10 and €25, and I decided to open a special bank account to organize this prop bet. It was going to be a mess without this account, and now that it's all set up I've made lots of bets on myself. If I don't make the top 50 of the GPI Top 300 list by June 30, 2017, I will double the amount of the people that have bet and I will send the money back."
As of right now, Neuville has a few small bets riding on his GPI ranking, plus a few dinner bets with close friends, but he's welcoming more action.
"I'm willing to take up to $10,000 for a single bet, and a total of $50,000 in bets on myself," Neuville stated.
After dropping back one spot on the GPI rankings last week, Neuville made a run in a WSOP event and finished second in the $1,500 Six-Max No-Limit Hold'em, but this made it even more clear how much effort and how many results it's going to take to get there. Neuville currently sits in No. 119 place on the GPI Top 300, and once his points for this second place are updated on the ranking he'll only jump to the Top 90 on the list.
With his November Nine score losing value at the end of July, he'll have to keep up a large volume to get there.
"I made the challenge to myself, even without the bets, because I feel like I shouldn't have won the lifetime achievement award from the Global Poker Index," Neuville said. "I feel like I'm only halfway there. Everybody had in mind that I was near the end, but I said, 'No, I'm just halfway there.' I've cashed in 100 live tournaments currently and I want to cash in another 100 tournaments. I focus on looking for progress, and it took me eight years to get those 100 cashes. Going forward, I want the next 100 to only take four years.
"The best thing of the prop bet is that it provides an additional stimulus. If I reach $50,000 for the prop bet, I will be a warrior at the table. You can't get me out of any tournament then!"
The stipulation of the bet is that Neuville has to reach the Top 50 of the GPI rankings between now and June 30, 2017, and if he does so at any point he'll win the bet.
Neuville's schedule won't be as big as the younger generation of players takes on nowadays, but he does have a bunch of tournaments lined up.
"I'll play all the EPT tournaments, and some WPTs in Europe," Neuville said. "Maybe I'll make one trip to Macau because I've never been there, but I won't go all over the world."
At over 70 years old, Neuville's still highly motivated. But, he also realizes that he needs more rest, which is one of the reasons his schedule is a little less than it has been in past years.
"I get tired after each festival," Neuville said. "I can't do it like the young ones anymore. I play about 50 percent of the time, and I need a lot of rest in my life as well."
Are you ready for the 2016 UEFA European Championship this summer? BookieSmash has an extensive Euro 2016 preview and betting guide, as well as a list of the best sports books to bet on for the event.
Want to stay atop all the latest in the poker world? If so, make sure to get PokerNews updates on your social media outlets. Follow us on Twitter and find us on both Facebook and Google+!