2013 WSOP Asia-Pacific Main Event Day 3: Thomas Leads; Negreanu and Esfandiari Lurking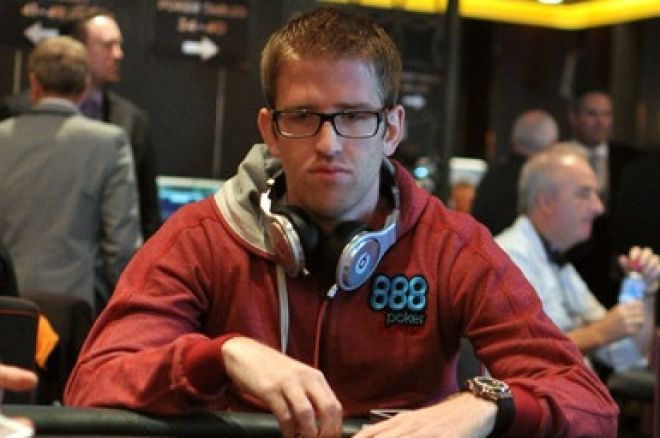 Day 3 of the World Series of Poker Asia-Pacific Main Event began with 94 players looking to advance through the money and make their way toward the first Main Event final table held in Australia. After seven levels of play, only 15 had survived with 2012 Octo-Niner Russell Thomas leading the way with 1.677 million in chips. Several big names are still in contention for the AUD$1,038,825 top prize and the gold bracelet, including Daniel Negreanu, Antonio Esfandiari and Benny Spindler.
WSOP APAC Main Event End-of-Day 3 Chip Counts
| Place | Player | Chips |
| --- | --- | --- |
| 1 | Russell Thomas | 1,677,000 |
| 2 | Benny Spindler | 1,505,000 |
| 3 | Kahle Burns | 1,469,000 |
| 4 | Daniel Marton | 1,325,000 |
| 5 | George Tsatsis | 1,161,000 |
| 6 | Antonio Esfandiari | 1,050,000 |
| 7 | Daniel Negreanu | 827,000 |
| 8 | Tino Lechich | 654,000 |
| 9 | Raj Ramakrishnan | 644,000 |
| 10 | Mikel Habb | 439,000 |
| 11 | Yasar Gueden | 385,000 |
| 12 | Winfred Yu | 354,000 |
| 13 | Jordan Westmorland | 321,000 |
| 14 | Michael Pedley | 310,000 |
| 15 | Joel Feldman | 187,000 |
With the top 40 spots receiving money, the money bubble was the focal point of most players on Day 3. Among the notables who fell short of cashing were Jim Collopy, Steve Gee, Jonathan Duhamel, Dan Shak, Sam Holden, Mel Judah, Barry Greenstein and Tony Hachem.
Antonio Esfandiari was all in twice on the money bubble, but managed to survive both times, becoming one of the larger stacks in the room as a result. On the first hand, Esfandiari and Yasar Gueden were facing a board of 9♥7♣K♠5♣, and Gueden check-called a bet of 38,000. Gueden checked again on the J♦ river, and Esfandiari committed the rest of his stack (64,000). Gueden looked him up with the Q♣9♠, but Esfandiari's A♦K♦ was best, giving the two-time bracelet leader a much-needed double.
A few minutes later, Esfandiari found himself on the better end of a blind-versus-blind cooler against Rupert Elder. After action folded to Elder in the small blind, he raised to 13,500. Esfandiari peeked down at his cards and responded with a re-raise to 32,000. Elder fired back with a four-bet to 68,000, and Esfandiari clicked it back with a five-bet to 126,000. Elder's six-bet shove was quickly met with a call from Antonio, and the cards were turned up.
Elder: Q♥Q♦
Esfandiari: K♦K♠
A large crowd gathered at the feature table to watch the board roll out 6♦J♦5♣2♣A♦. That left Elder with just 24,000 in chips, and he was eliminated by Esfandiari on the very next hand. Elder shoved from the button with the K♣10♠, and Esfandiari called with pocket threes. The 6♥2♠J♥7♦A♠ board came up dry for Elder, and he was sent to the rail directly on the money bubble, guaranteeing a payday of at least AUD$20,392 for the 40 remaining players. Meanwhile, Esfandiari was suddenly sitting with more than 600,000 in chips after a highly-productive bubble.
From there, several short stacks met their demise including Erik Seidel (39th - AUD$20,392), Jeff Lisandro (35th - AUD$20,392) and Joseph Cheong (32nd - AUD$22,316). Cheong missed out on a chance at history when he four-bet shoved with the A♣Q♣ and lost a flip to the pocket tens of Russell Thomas. If he had reached the final table, Cheong would've become the first player to do so in all three WSOP Main Events around the world (U.S., Europe and Australia).
As the night came to a close, Thomas emerged as the biggest stack in the room and was on top of the leader board when the players bagged their chips for the day. Thomas picked up the chip lead when he eliminated Balleur Gaetan in 26th place. Gaetan five-bet all in with the A♥Q♣, and Thomas snap-called with the K♦K♣. The 7♣8♣4♥3♠K♠ board ran out and vaulted Thomas into the lead with nearly 1.8 million.
Daniel Negreanu also continued his upward trend on Day 3. Negreanu, who finished each of the first two days among the leaders, put himself in excellent shape to make his second final table of the series.
In one of the biggest pots of the day for Kid Poker, he and Kahle Burns saw a flop of 9♣9♦5♦, and Negreanu checked. Burns bet 10,000 and then called Negreanu's check-raise to 27,000. Both players checked the Q♣ turn, and the K♣ landed on the river. Negreanu led out for 44,000, and Burns went over the top with a raise to 116,000. Negreanu stood up from his seat and contemplated his decision for a minute before deciding to call. Burns flipped over the A♥5♥ for two pair, and a relieved Negreanu showed 9♠7♦ for trip nines. That pushed him close to 600,000 in chips, and he ended the day with 827,000.
Day 4 will commence at 3 p.m. on Sunday and the plan is to play until a final table is reached. We'll be providing a full recap at the conclusion of play, so stay tuned to PokerNews.com for all the highlights of the inaugural WSOP APAC Main Event from Crown Casino in Melbourne.
Get all the latest PokerNews updates on your social media outlets. Follow us on Twitter and find us both Facebook and Google+!