Aria Poker Classic & WPT500 Schedule 2017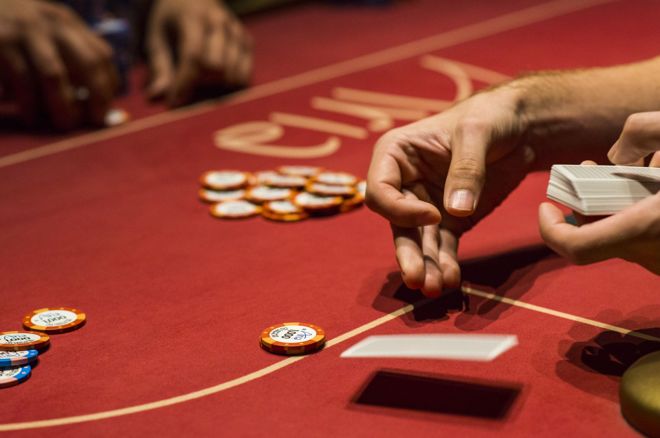 The 2017 ARIA Poker Classic will be held from June 2 thought July 9 at the ARIA Resort & Casino in Las Vegas. The series is one of many around Sin City that offers a lower buy-in alternative to the World Series of Poker at the Rio.
The Aria Poker Classic schedule is structured around a daily $400 no-limit hold'em morning tournament and a $240 no-limit hold'em evening tournament on most days, with an occasional special tournament mixed in. Some of the other games on the schedule include pot-limit Omaha, Omaha 8-or-Better, H.O.R.S.E., and triple draw.
The daily $400 tournaments will feature 20K starting stacks, while the $240 events will start with 15K chips. Both will have 30 minute levels.
The "Featured Event" on the schedule is the WPT500, a $565 buy-in behemoth tournament that features nine starting flights. The event runs from June 26 through July 5 and boasts a $1 million guaranteed prize pool.
All events on the schedule, with the exception of the $1,000 No-Limit Hold'em and the WPT500, are one-day tournaments.
Here's a look at the full ARIA Poker Classic schedule for the summer.
ARIA Poker Classic Schedule
| Date | Time | Event | Buy-In |
| --- | --- | --- | --- |
| 6/2 | 11 a.m. | $400 No-Limit Hold'em | $340+60 |
| | 7 p.m. | $240 No-Limit Hold'em | $195+45 |
| 6/3 | 11 a.m. | $400 No-Limit Hold'em | $340+60 |
| | 7 p.m. | $240 No-Limit Hold'em | $195+45 |
| 6/4 | 11 a.m. | $400 No-Limit Hold'em | $340+60 |
| | 7 p.m. | $240 No-Limit Hold'em | $195+45 |
| 6/5 | 11 a.m. | $400 No-Limit Hold'em | $340+60 |
| | 7 p.m. | $240 No-Limit Hold'em | $195+45 |
| 6/6 | 11 a.m. | $465 Limit H.O.R.S.E. | $400+65 |
| | 7 p.m. | $240 No-Limit Hold'em | $195+45 |
| 6/7 | 11 a.m. | $400 No-Limit Hold'em | $340+60 |
| | 7 p.m. | $240 No-Limit Hold'em | $195+45 |
| 6/8 | 11 a.m. | $465 Pot-Limit Omaha | $400+65 |
| | 7 p.m. | $240 No-Limit Hold'em | $195+45 |
| 6/9 | 11 a.m. | $400 No-Limit Hold'em | $340+60 |
| | 7 p.m. | $240 No-Limit Hold'em | $195+45 |
| 6/10 | 11 a.m. | $400 No-Limit Hold'em | $340+60 |
| | 7 p.m. | $240 No-Limit Hold'em | $195+45 |
| 6/11 | 11 a.m. | $400 No-Limit Hold'em | $340+60 |
| | 7 p.m. | $240 No-Limit Hold'em | $195+45 |
| 6/12 | 11 a.m. | $465 Pot-Limit Omaha | $400+65 |
| | 7 p.m. | $240 No-Limit Hold'em | $195+45 |
| 6/13 | 11 a.m. | $400 No-Limit Hold'em | $340+60 |
| | 7 p.m. | $240 No-Limit Hold'em | $195+45 |
| 6/14 | 11 a.m. | $400 No-Limit Hold'em | $340+60 |
| | 7 p.m. | $240 No-Limit Hold'em | $195+45 |
| 6/15 | 11 a.m. | $465 SENIORS No-Limit Hold'em (50+) | $400+65 |
| | 7 p.m. | $240 No-Limit Hold'em | $195+45 |
| 6/16 | 11 a.m. | $400 No-Limit Hold'em | $340+60 |
| | 7 p.m. | $240 No-Limit Hold'em | $195+45 |
| 6/17 | 11 a.m. | $400 No-Limit Hold'em | $340+60 |
| | 7 p.m. | $240 No-Limit Hold'em | $195+45 |
| 6/18 | 11 a.m. | $400 No-Limit Hold'em | $340+60 |
| | 7 p.m. | $240 No-Limit Hold'em | $195+45 |
| 6/19 | 11 a.m. | $465 SENIORS No-Limit Hold'em (50+) | $400+65 |
| | 7 p.m. | $240 No-Limit Hold'em | $195+45 |
| 6/20 | 11 a.m. | $400 No-Limit Hold'em | $340+60 |
| | 7 p.m. | $240 No-Limit Hold'em | $195+45 |
| 6/21 | 11 a.m. | $400 No-Limit Hold'em | $340+60 |
| | 7 p.m. | $240 No-Limit Hold'em | $195+45 |
| 6/22 | 11 a.m. | $465 Pot-Limit Omaha 8/B | $400+65 |
| 6/23 | 1 p.m. | $1,000 No-Limit Hold'em* | $910+90 |
| 6/24 | 11 a.m. | $240 No-Limit Hold'em Double Stack Turbo | $195+45 |
| 6/25 | 11 a.m. | $465 Limit Omaha 8/B | $400+65 |
| 6/26 | 11 a.m. | WPT500 Day 1A* | $500+65 |
| | 7 p.m. | $240 No-Limit Hold'em | $195+45 |
| 6/27 | 11 a.m. | WPT500 Day 1B* | $500+65 |
| | 7 p.m. | $240 No-Limit Hold'em | $195+45 |
| 6/28 | 11 a.m. | WPT500 Day 1C* | $500+65 |
| | 7 p.m. | $240 No-Limit Hold'em | $195+45 |
| 6/29 | 11 a.m. | WPT500 Day 1D* | $500+65 |
| | 7 p.m. | $240 No-Limit Hold'em | $195+45 |
| 6/30 | 11 a.m. | WPT500 Day 1E* | $500+65 |
| 7/1 | 11 a.m. | WPT500 Day 1F* | $500+65 |
| 7/2 | 11 a.m. | WPT500 Day 1G* | $500+65 |
| 7/3 | 11 a.m. | WPT500 Day 1H (Turbo)* | $500+65 |
| 7/3 | 7 p.m. | WPT500 Day 1I (Turbo)* | $500+65 |
| 7/5 | 11 a.m. | $465 TD Mix (2-7, A-5, Badugi) | $400+65 |
| 7/6 | 11 a.m. | $400 No-Limit Hold'em | $340+60 |
| | 7 p.m. | $240 No-Limit Hold'em | $195+45 |
| 7/7 | 11 a.m. | $400 No-Limit Hold'em | $340+60 |
| | 7 p.m. | $240 No-Limit Hold'em | $195+45 |
| 7/8 | 11 a.m. | $300 Ladies NLHE | $250+50 |
| | 7 p.m. | $240 No-Limit Hold'em | $195+45 |
| 7/9 | 11 a.m. | $400 No-Limit Hold'em | $340+60 |
| | 7 p.m. | $160 Twitter Choice | TBD |
*Multi-day event