BetStars Sports Jackpots Offer $1 Million Grand Prize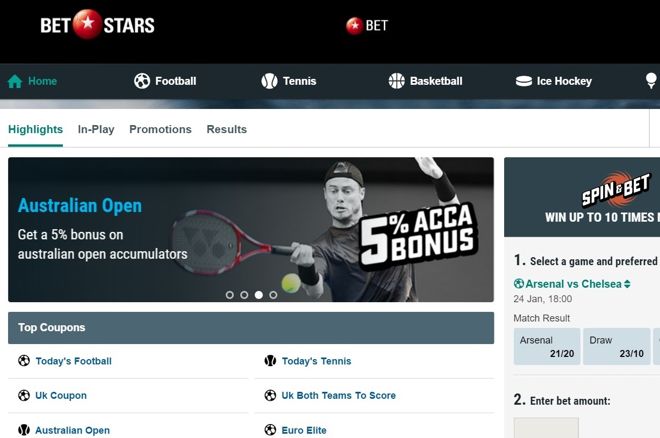 BetStars, the sports betting brand from the world-renowned Amaya stable, has joined forces with the company's daily fantasy sports arm, StarsDraft, to form an exciting new game for English Premier League fans.
BetStars Sports Jackpots combines elements of traditional sports betting and the increasingly-popular daily fantasy sports gaming variant that recently premiered in Europe with DFS giants DraftKings and FanDuel.
The difference between those games, which require players to choose teams based on predicted points scores in the following round of matches, and BetStars Sports Jackpots, is that the new game brings in a wider audience, including those people who love football, but perhaps feel daunted by the thought of picking a whole team and following the whole league in detail.
As part of this promotion, BetStars players will select footballers who they believe will score the most points, for particular match-changing actions, on a certain day. There is also a "smart pick" tool, which according to BetStars allows for players to set a series of criteria which they would like their team to meet, and in return the application will give them a team selected by algorithm. It's this method, which gives everyone a chance to win, that makes BetStars Sports Jackpots such an enticing option for players.
The jackpot prize is up to $1 million, making the prizepool far bigger than is the case in most large-scale DFS contests.
Better Odds to Win
The more traditional DFS games have come under scrutiny in the United States because of the perception that recreational players are at a disadvantage. This is, it is claimed, because many of the hardcore regular DFS players use self-made databases and algorithms to win competitions. The practice is of course entirely legal, but it is also seen as disheartening to the less mathematically-inclined. Team-building applications helped to narrow the field somewhat, but BetStars has taken the radical approach of ensuring that a fairweather player will have, arguably, just as much chance of winning a large cash prize as a more committed fellow player.
BetStars Sports Jackpots fits in nicely as part of a new series of games introduced by Amaya for BetStars, alongside the Spin & Bet feature, which allows for a bettor to place an extra wager alongside his or her main bet, at enhanced odds, but with a payout only if the original bet was also successful. The company claims that market research shows players are gravitating toward shorter games that require less in the way of application and commitment, and BetStars Sports Jackpots brings a new, fun approach to daily fantasy sports.
Learn more about this new sports-betting variant at BetStars today!
Finding a trustworthy room to play online poker can be a monumental burden. That's all the more true if you're just looking for a place to play poker for free. We've listed five of the best play-money poker sites to enjoy and help hone your skills.