Charity Check: Poker Writer 'Running Well' for Kids Kicking Cancer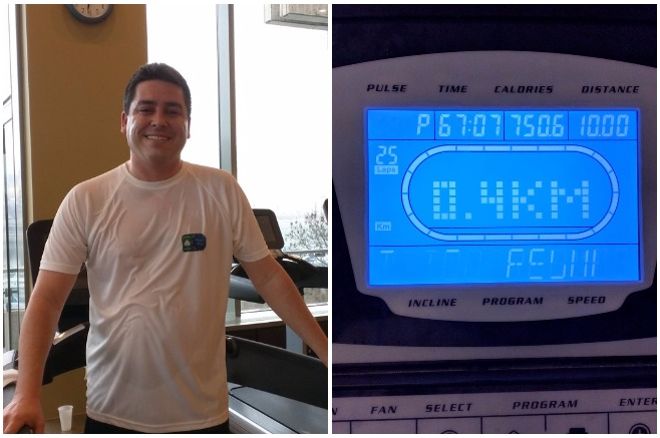 Charity Check is a new segment from PokerNews that will feature the charitable giving in the poker industry monthly.
Robbie Strazynski, founder of Cardplayer Lifestyle, is calling out poker pros while making his own loops around the track for charity.
His campaign, the Running Well campaign, was started in 2015, initially pledging $1 per kilometer run.
This year's campaign is kicking off with a new idea: a 1,000 kilometer charity poker challenge where he will run 1,000 kilometers and donate $1,000 to Kids Kicking Cancer by the end of the year.
"There's a lot of value in having the discipline to work hard all year long toward a charity fundraising goal," Strazynski said. "$1,000 isn't a small sum for nonprofessional poker players like me, but I want to prove something to myself and I hope that my efforts motivate others to take action as well."
Knowing that Antonio Esfandiari, Daniel Negrenau and Bill Perkins are fans of a good prop bet, he launched the challenge with a video in the hopes that these players would see it and match his donation. He's waiting for the first response.
In the first campaign, Strazynski raised over $140, with Linda Johnson and Jan Fisher donating almost $350 to the cause.
By 2015, the campaign transitioned and temporarily changed its name to "Running Aces," this time donating $5 every time Strazynski played tennis. Thus, 31 tennis matches and over 250 kilometers later, Strazynski got his donations up to $400.
This year's task is no small feat. Strazynski updated readers on his campaign in February, reporting that a total of $1,880 had been raised from himself and five other pledges. Strazynski has completed 167 kilometers as of Feb. 20. He's got 833 kilometers to go.
Strazynski said that running this challenge has been "extra challenging" because he has three kids, a full-time job, holidays like the Jewish Sabbath (removing 60 days from the calendar), and a personal best of 250 kilometers in a year (or 10k at a time) prior to 2017.
Any player who'd like to step up and make the pledge is welcome to, he said, stating that every pledge match and every bit of money riding on this charity motivates him to stay on the track or the treadmill.
The real aim is self-motivation. He knows that dreaming big and working hard can result in big things, but he also wants to motivate the poker media and recreational players who see sums raised in charity poker tournaments but feel like it's impossible to achieve sums of the same scale as "regular people."
That doesn't mean smaller donations or more humble fundraising efforts aren't important, he said.
Those interested in supporting this challenge can do so by reaching out to Strazynski by email at robbie@cardplayerlifestyle.com.
Those who pledge can make their donation straight to Kids Kicking Cancer, an organization that provides classes and clinical interventions for inpatient and outpatient children by teaching them mind-body techniques found in martial arts.
This organization has a personal relevance to Strazynski, who knows the founder, Rabbi Elimelech Goldberg through his son, a personal friend.
Goldberg was called one of CNN's Top 10 Heroes of 2014. The organization has a branch in Israel, where Strazynski lives, and the U.S., where he was born and raised. Goldberg spoke at Strazynski's charity poker night in 2016.
Follow the charity on Twitter at #charitypoker1000km.
Please contact Katie Callahan on Twitter @katiecallawho to recommend future segments.
Finding a trustworthy room to play online poker can be a monumental burden. That's all the more true if you're just looking for a place to play poker for free. We've listed five of the best play-money poker sites to enjoy and help hone your skills.