Marrakech Poker Open Kicks Off March 18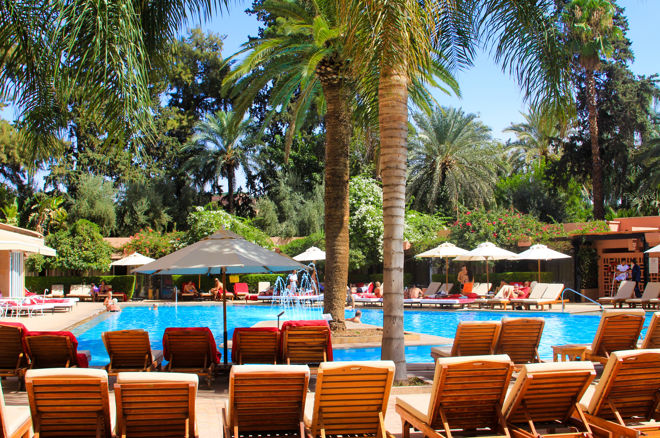 The Marrakech Poker Open returns to the Casino de Marrakech Es Saadi March 18-26 with 23 action-packed events.
Aside from the action at the tables, the festival promises players relaxation at the resort's huge pools and epic parties.
The PokerNews live reporting team will be on hand to cover the two biggest events of the festival, including the final table of the two-day €1,350 Marrakech Poker Open High Roller on March 23 and all of the action in the three-day €900 Marrakech Poker Open Main Event March 24-26. Check out the PokerNews live reporting blog for all the biggest hands and action.
Last year, Portuguese poker pro Henrique Pinho won the 2016 Marrakech Poker Open Main Event for €35,800 after agreeing to a heads-up deal with France's Patrick Groppi (second - €32,100). This represented his largest live score of his poker career.
Some of the other big events on the schedule include the €365 Marrakech Poker Open Opening event on March 18-19, the €450 Marrakech Poker Open Deepstack event on March 21-22 and the €550 Marrakech Poker Open Monster Stack event on March 25-26.
Players can enter for a fraction of the cost to any of the aforementioned events in satellites running at the casino. Additionally, players entering any of these highlighted events will be treated to free dinner and free soft drinks.
Marrakech Poker Open Schedule
| Date | Time (GMT) | Event # | Event | Buy-in | Starting Stack | Blinds (minutes) |
| --- | --- | --- | --- | --- | --- | --- |
| March 16 | 18:00 | 0 | Satellite Opening - 5 Tickets Added | | 2,000 | 20 |
| March 17 | 18:00 | 1 | Freeroll Satellite Opening - 5 Tickets Added | | 2,000 | 20 |
| March 18 | 18:00 | 2 | Marrakech Poker Opening Day 1 | €365 | 35,000 | 40 |
| March 19 | 18:00 | 2 | Marrakech Poker Opening Day 2 | | | 40 |
| | 21:00 | 3 | Classic NLHE | €135 | 10,000 | 20 |
| March 20 | 17:00 | 4 | Turbo Deepstack | €275 | 17,000 | 15 |
| | 22:00 | 5 | Satellite Deepstack | €45 | 6,000 | 20 |
| March 21 | 18:00 | 6 | Marrakech Deepstack Day 1 | €450 | 25,000 | 30 |
| | 21:00 | 7 | Satellite High Roller | €135 | 7,000 | 20 |
| March 22 | 14:00 | 6 | Marrakech Deepstack Day 2 | | | 30 |
| | 15:00 | 8 | Satellite High Roller | €135 | 7,000 | 20 |
| | 16:00 | 9 | Premium High Roller Day 1 | €1,350 | 35,000 | 40 |
| | 21:00 | 10 | Speed Stack | €275 | 21,000 | 15 |
| March 23 | 14:00 | 11 | Last Chance High Roller | €90 | 3,000 | 10 |
| | 17:00 | 9 | Premium High Roller Day 2 | | | 10 |
| | 17:00 | 12 | Progressive Bounty | €180 | 10,000 | 20 |
| | 21:00 | 13 | Satellites Last Seats MPO | €75 | 6,000 | 20 |
| March 24 | 13:00 | 14 | Marrakech Poker Open Main Event Day 1 | €900 | 30,000 | 45 |
| | 14:00 | 15 | Turbo Satellite MPO | €90 | 5,000 | 10 |
| | 21:00 | 16 | Classic NLHE | €225 | 10,000 | 20 |
| March 25 | 13:00 | 14 | Marrakech Poker Open Main Event Day 2 | | | 45 |
| | 14:00 | 17 | Turbo Satellite MPO | €90 | 5,000 | 10 |
| | 15:00 | 18 | Monster Stack Day 1 | €550 | 45,000 | 30 |
| | 20:00 | 19 | The Big O - Omaha 5 | €180 | 15,000 | 20 |
| March 26 | 13:00 | 18 | Monster Stack Day 2 | | | 30 |
| | 14:00 | 14 | Marrakech Poker Open Main Event Day 3 | | | 45 |
| | 14:00 | 20 | Short Handed | €360 | 15,000 | 25 |
| | 17:00 | 21 | Chinese Poker | €135 | 15,000 | 20 |
| | 20:00 | 22 | Turbo NLHE | €135 | 10,000 | 15 |