READ: Poker Was Made for L.A., A Brief History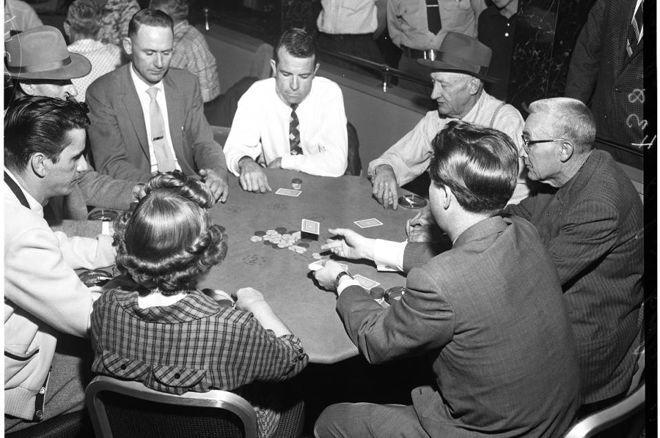 Draw poker, an omission from the 1879 California constitution, which outlawed all forms of gambling, paved the way for poker players in the state into the present.
In over 140 cities, poker players from New Orleans over in the 1800s tested their luck, spreading west via riverboat gamblers and infiltrating the Gold Rush camps in California, according to a brief history cataloged by KCET.
Draw poker, conveniently left out of a later outlaw of all forms of gambling, made it so players could continue to play, much supported by the state through the 1920s. The game was even given a particular status as a "game of skill," protecting cardrooms where gamblers play against each other and not against the house, KCET reported.
In 1938, Long Beach maintained 40 permitted cardrooms. Dozens were present in L.A. and even more were just outside city limits in Hawthorne, El Monte and unincorporated L.A. county.
The seedy underground gambling scene did have the corruption portrayed in many a Hollywood film with city hall payoffs and police bribes. Cardrooms began to shut down, with only a few left in Gardena, with Ernie Primm the most successful cardroom operator of the six in the area.
The cardrooms would maintain their ties to crime; however, these Gardena operators kept control and monopolized legal poker in L.A. Weaving gambling into the social fabric through city council licensing deals while also donating to local charities and favored council members, left the game alive and well.
When Bell became the second city to permit poker, everything changed, including legalization of seven-card stud, the introduction of Texas hold'em and pai gow poker. The other clubs in Gardena would close between 1980 and 1996 with more scrutiny and attempts at regulation.
According to KCET, cardrooms today are still successful, generating money for the cardroom and the city it's located in. In L.A., there are many: Bicycle Casino, Commerce Casino, Crystal Park Casino, Gardens Casino, Hollywood Park Casino, Hustler Casino and Lady Luck.
Read the full story here on KCET.
Lead image courtesy of Los Angeles Examiner Collection, USC Libraries
Finding a trustworthy room to play online poker can be a monumental burden. That's all the more true if you're just looking for a place to play poker for free. We've listed five of the best play-money poker sites to enjoy and help hone your skills.