The 2017 Poker King Cup Heads to Macau May 18-26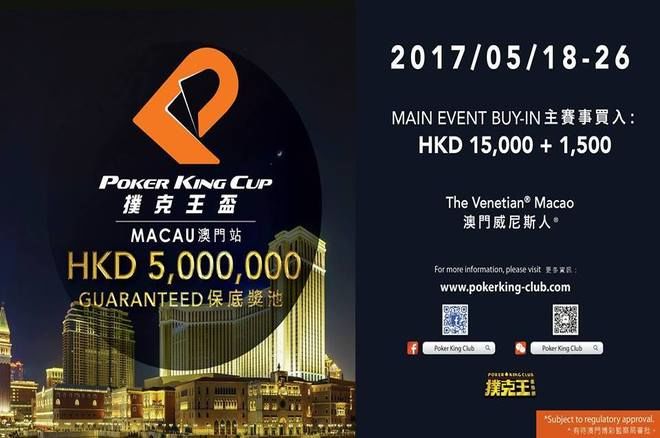 The 2017 Poker King Cup Macau at the Poker King Club at the Venetian Macao features 12 action-packed events May 18-26.
The highlight of the poker festival is the HK$16,500 Poker King Cup Macau Main Event, which features a huge HK$5 million guaranteed prize pool.
The tournament begins with three opening days on May 21-23. Players bagging chips will continue for three more days on May 24-26 until a winner is crowned.
Last year, when the tournament was at the Poker King Club Manila, it featured a smaller HK$4 million guaranteed prize pool and a reduced HK$15,000 buy-in. Team PKR Member Jason Lo outlasted a field of 279 players to win the top prize of ₱857,100.
Players can qualify into this year's Main Event for as low as HK$2,000 through any of the eight satellite tournaments running at the casino May 18-22.
Also on the schedule is the HK$8,000 Poker King Cup Warm-Up, which features a HK$1 million guaranteed prize pool. Players will begin action on two opening days on May 19 and May 20. Surviving players will compete for the title on May 21.
Running at the same time as the Warm-Up will be the two-day HKD 80,000 Poker King Cup High Roller on May 19-20. There are a pair of HK$11,000 satellite tournaments feeding into this event on May 18 and 19.
Other events on the schedule include the one-day HK$3,000 Poker King Cup Queens Event on May 23 and the two-day HKD 20,000 Poker King Cup King Size Stack on May 25-26.
The PokerNews Live Reporting Team will report the biggest hands from start to finish for both the Poker King Cup Main Event and the Poker King Cup High Roller.
Have you ever wanted to write your own articles about poker? Maybe you've got some experiences or opinions about poker that you'd like to share. PokerNews is proud to launch The PN Blog where you can have a platform to make your voice heard. Learn more here.