The Muck: Doug Polk Answers the Haters Following Bracelet Win
There's an extra benefit to winning one of the most prestigious bracelets of the summer: you silence your haters. Recently, there has been some verbal sparring between Luke Schwartz and Doug Polk that has some people talking about a grudge match after Schwartz challenged Polk to a heads up duel.
"I beat him for a bunch of money and then he quit me," Polk told PokerNews' Sarah Herring on Sunday. "Now, a year and a half later he's coming out of the shadows. We both remember, I crushed you and you quit."
Check out the video above in which Polk responds to Schwartz, talks about his bankroll challenge and discusses his giveaway which is currently worth around $30,000.
I think it's fair to say that Polk gets the last word. At least for now.
Uncle Ron & His Lucky Watermelon
For the fifth straight year, the "ultimate railbird" Uncle Ron took his place in the stands of the Brasilia room where his ... shall we say ... unique style of showing support was on full display.
On Sunday, Uncle Ron was rooting for John Dallaire, a fellow Kansas Citian, at the final table of Event #18: $565 Pot-Limit Omaha. And he brought reinforcements, the lucky watermelon which Dallaire rubbed for good luck the day before.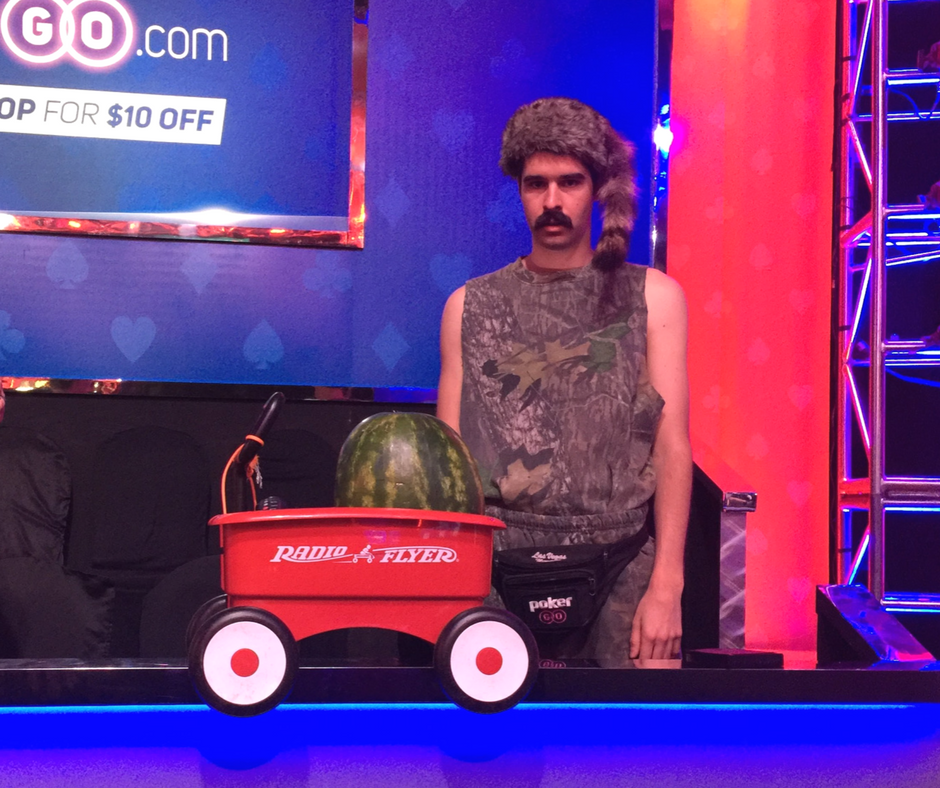 Uncle Ron is worthy of being the star of this story, but Dallaire stole the limelight by final tabling his first PLO tournament after googling "what hands to play in PLO" and consulting his rail as the final table bubble was approaching on Saturday night.
Dallaire and his friends, Travis Birch, Carter Clond, and Ben Lehman, came to Vegas on a reward trip for being a stellar sales team with plans of drinking by the pool and other shenanigans that happen when a bunch of guys head to Sin City.
Once they got here, however, they decided to play some poker. When asked if he wanted to play a no-limit hold 'em or PLO tournament, Dallaire simply responded, "the one that was the most fun."
It didn't matter that the highest tournament buy-in for Dallaire to this point was $180, that his regular game is a 3-6 limit game, or that he never played a PLO tournament before, the guys just wanted to have fun.
It's pretty obvious that final tabling anything is pretty fun, but his wife wasn't thrilled he spent so much on one poker tournament. Until she learned he was already guaranteed a little over $17,000, that is.
Uncle Ron assured us John rubbed the lucky watermelon, which along with his rail and Google, helped propel him to a seventh place and $32,432. It's a safe bet his wife will forgive him for buying in above his bankroll. Not to mention that now there's a whole lot more shenanigan money to make the fun last.
As Dallaire's rail was breaking up, Uncle Ron and his watermelon met up with Sarah Herring for a little game of What's In Your Sack? Let's just say, Uncle Ron is prepared for pretty much anything.
What Lodden Thinks ...
What's the best way to pass the time at a poker table? Johnny Lodden probably thinks it's playing Lodden Thinks.
A favorite game of poker players everywhere, Lodden Thinks is almost certain to make an appearance at the end of a long day of tournament poker. Players are tired and are intent to keep things interesting so they can keep their patience in check.
From the PokerNews Blog:
It was only a matter of time before Lodden thinks made an appearance in proceedings here in the $1,500 8-Game Mix, and it was at the table of Shaun Deeb, Randy Ohel and Natasha Mercier where it was in full swing.
Previous questions have included how much cash was on the persons of the seven people (six players, plus the dealer) at the table, and how many hands a single 1,000-denomination chip will go through over the course of the 2017 World Series of Poker.
The latest question? How much money would it take for Randy Ohel to change his name permanently to Allen Kessler?
As the amount went higher and higher, surpassing the $500k mark, Mercier mentioned that she would probably take $500k to change her name to that of Allen Kessler.
"I bet you $100 that Jason won't allow it," said Deeb as he headed over to find him. When he returned, with Jason remaining unconvinced, the game continued. Eventually, they had to find out how much Ohel would take.
He motioned upwards with his thumb. "Way more," he said, "$7.5 million! I like my name!"
At this point, the dealer raised an interesting point: "Do you have to include Chainsaw in the name?"
If you've read this far and don't know What Lodden Thinks is, what rock have you been hiding under? It even has its own Wikipedia entry and Daniel Negreanu wants to make a tournament out of it.
Is the Millionaire Maker a Good Spot?
Day 1b of the Millionaire Maker started today and when registration closed, the tournament logged 7,761 entries for a total prize pool of $10,477,350.
With a field littered with pros including world champions Carlos Mortensen, Joe Cada, Jamie Gold, Greg Raymer, Joe McKeehen, Ryan Riess. But it was Matt Smith who asked the question of the day:
With so many pros, a lower buy-in, and such a large field, it almost feels as if you're playing the lottery. James Woods had this to say: "Well, I know I'm soft because I knocked myself out once by playing a hand badly."
And then you see something like this in your twitter feed:
In 5 hands at my milly table there have been 2 called all ins involving 95o and T5o

— Randy Ohel (@randyohel)
So maybe there is still some value to be had and DJ MacKinnon agrees. He thinks entering big field no-limit tournaments where you can re-enter is one of the best ways to get the most value for your money.
Before the World Series of Poker began MacKinnon offered to optimize the schedules for his friends based on their bankroll and the amount of time they would be Vegas.
If any friends want me to try to optimize their WSOP schedule based on bankroll/time in Vegas/etc, you can DM or email me.

— DJ MacKinnon (@djmacjr)
We caught up with MacKinnon to see if he had any takers on his offer.
"I had a few people take me up on it a few weeks before the summer. I seem to be pretty knowledgeable and know what's going on. So, I just offered my opinion on what would be the most optimal throughout the series."
MacKinnon says its hard to give blanket advice because there are so many options out there and the decisions are bankroll dependent.
But in general, when you are trying to optimize your schedule, he advises focusing on winning as much money as possible.
While that may seem like a no-brainer, MacKinnon says he sees a lot of players taking a small bankroll and playing a lot of small buy-ins.
"Why not just maximize your money for earning potential? If you have $1,500 to buy-in, why not put your money in the Millionaire Maker where there's a million up top instead of a bunch of smaller ones where you can't win as much?"
And Mackinnon is taking his own advice.
Bagged 19.6k/1200bb in the $1500 WSOP Milly Maker. Saving three bullets & getting an unexpected day off is clutch. Restart Monday at 11am

— DJ MacKinnon (@djmacjr)
Finding a trustworthy room to play online poker can be a monumental burden. That's all the more true if you're just looking for a place to play poker for free. We've listed five of the best play-money poker sites to enjoy and help hone your skills.