The Muck: WSOP Responds to Player Complaints About Cards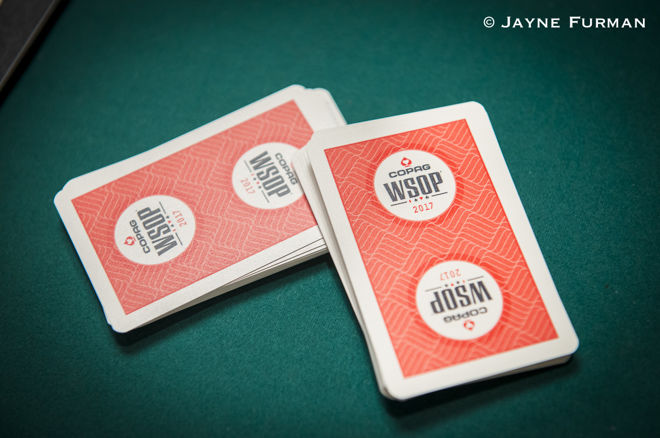 As we covered in The Muck a few days ago, players have been venting their frustrations with the quality of cards in the Twitterverse for all to see.
@themouthmatusow Taking 10% out of each prize pool also...they made 1,170,000+ on the colossus. The playing cards s… https://t.co/ijn0FGNcjo

— John Racener (@racener)
Have had 3 marked cards in 1st 45 mins @WSOP. Seems clear it's unintentional. The floor warning the table to pls stop it is a weak solution.

— matt berkey (@berkey11)
Every other hand at this table is a marked card. @wsop this is miserable. Can we get some adequate cards please

— Daniel Strelitz (@dDeoxyribo)
Fausto Valdez posed this very valid question, one that has crossed the minds of many poker players aware of the situation:
PokerNews contacted the WSOP on Wednesday, and a spokesperson made it clear that the staff is aware of the issue and taking the concerns of the player community seriously.
The WSOP assured us that they verified with the manufacturer that these were the same cards used last year. Sometimes drying of the cards happens under slightly different elements, but the weight, size, stock, and manufacturing procedures are all the same. It's important to note that there were very few complaints about the cards in play last year.
A new batch of cards arrived on site from the manufacturer this week. After an internal inspection of the new shipment, the WSOP plans to put the new decks into play earlier than planned, if necessary.
Allen Kessler weighed in on the card controversy in our weekly series, The Chainsaw Report.
Where's the line between confidence and arrogance?
Phil Hellmuth: "If I'm playing my AAA game, I'd probably have 30-40 bracelets instead of 14."
Mike Matusow: "I'm the best O8 player there is. I knew I'd win if I didn't get unlucky. I got unlucky."
Daniel Negreanu: "My intention for the summer is to cash for over $1.5 million and win three WSOP bracelets along the way. My intention is to win the WSOP Player of the Year award for the third time."
Poker players tend to talk a good game as part of the game. But do they believe what they are saying? The good ones do. Hellmuth, Matusow, and Negreanu absolutely believe what they say to be true.
But what about Maurice Hawkins, who predicted a $7 million summer?
With his best live cash at $279,722 and his total live earnings over the past twelve years equaling $2,610,083, what makes him think $7 million achievable?
"You've just got to claim it, and then it happens."
Hawkins believes what he says:
Off the Felt: @mauricehawkins wants to win $7 million this summer. Realistic? "You've just got to claim it and then… https://t.co/3lJ4LEhfRX

— PokerNews (@PokerNews)
Over $2 million in live earnings and 10 WSOP circuit rings is nothing to sneeze at, but it was over a period of twelve years and doesn't include a bracelet. When Negreanu is setting a goal of $1.5 million, $7 million in one summer just seems a bit of a stretch.
So, what's the line between confidence and arrogance?
Confidence is a trust in your ability to perform after constant evaluation and adjustments.
Arrogance, on the other hand, is more of an attitude of an internal belief based on an unrealistic perception of what is possible.
So you tell us, who's confident and who's arrogant?
Paul Giamatti, Damian Lewis, and Andy Frankenberger?
Andy Frankenberger tells PokerNews about shooting a scene for the hit Showtime show Billions.