Uber Driver to Poker Gladiator: Ben Keeline's Trip to Poker Glory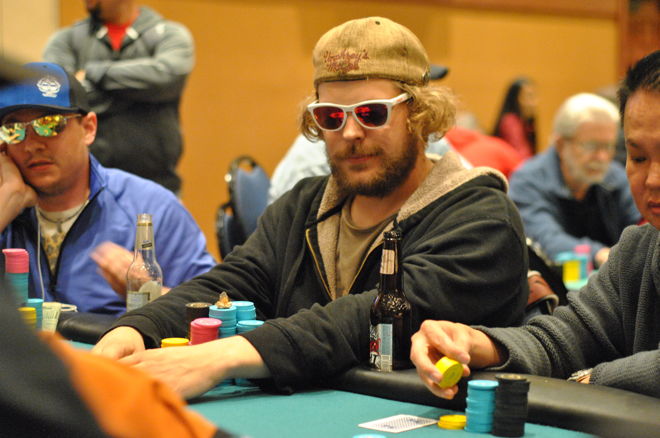 The third installment of the WSOP Colossus kicks off on Friday. A year ago, for Ben Keeline, a WSOP Colossus II bracelet seemed unlikely for the 31-year-old rounder. The ups and downs of trying to scratch out a living playing cards had taken its toll and he rolled into Vegas with a small bankroll, but big dreams.
Only days later, his future changed forever. Just before midnight on June 7, 2016, Keeline was locked in heads-up battle in one of the biggest tournaments in history. He went on to take down the title and topped a field with a staggering number of entries, 21,613. He earned a million bucks for first prize as well as a gold bracelet. His unlikely rise to the height of poker success was the result of plenty of hard work, desire, and a little bit of luck certainly helped too.
The Poker Itch
Growing up in the Chicago area, Keeline wasn't super competitive like many players. He played some soccer growing up, but was a bit of a class clown. It was during this time he discovered something that changed his life – poker. Each Tuesday night he and several friends gathered to watch the action on ESPN while organizing their own low-stakes home games.
After high school, Keeline wasn't interested in college and continued running and dealing home and charity games.
"I remember after dealing some home games bringing home like $700 or $800," he says. "I felt like I had made it, this was the life. But I was still living at home with my parents a lot of the time."
When bills entered the picture, he realized making a living involving poker would be much more difficult than anticipated. Needing a more secure source of income, Keeline began working as a line cook in the Chicago area and then in Colorado after moving there a few years ago.
"Then I basically got into poker as a profession after leaving my job," he says. "The restaurant I was working at just closed up shop without announcing it. I was supposed to be taking over the chef's position, and I was super excited about that. And then he just shut down without any warning. I was stuck in a position where I had bills to pay and I had been living in a Colorado mountain town [Glenwood Springs] in the offseason when there was no tourism so no one was hiring."
Down on his luck a bit, poker always seemed natural for Keeline and offered a pick-me-up at just the right time. Low on funds, he was scheduled to begin a job at McDonald's in October 2013. As he was literally walking out the door, his cell phone rang. A friend headed to a WSOP-Circuit stop in Hammond, Ind., and offered to back him in a few events.
Keeline ditched Happy Meals for Hammond Horseshoe, where his luck certainly changed
. Keeline ditched Happy Meals for Hammond Horseshoe, where his luck certainly changed. On that first night, he won a $150 buy-in daily tournament for $14,000. Three days later, he won a $580 event for $41,246. He added a fifth-place finish later for another $4,776 and tied for "Player of the Series." The Horseshoe certainly proved to be good luck.
Poker Wanderer to Poker Champ
For the next three years, Keeline bounced around the country on the poker tour with some nice five-figure scores, but the big swings and endless hours at the tables can be tough for even the most talented and determined. When some his cashes waned a bit, Keeline was dropped by his backer in January 2015. Without the financial help, he didn't have enough bankroll to sustain a traveling poker schedule.
And then came Uber. Keeline began driving to help pay the bills, first in Denver and then in his hometown of Westminster. College students in Boulder then became some of his best customers – and it beat working 60 hours in a hot kitchen.
"I picked up college kids who didn't want to walk five blocks, a lot of real nice short trips," he says. "It was easy work. Aside from the wear and tear on my vehicle, it was pretty good."
The job allowed him to stay afloat and scrape together some funds to give it a shot at the WSOP. But his bankroll was thin and the odds stacked against him. After getting eliminated in the first flight, he fired a second bullet. The next flight started immediately, so he decided to go for it.
"I jumped in and had a good day," he says. "It was a bit of a roller coaster, but I got a nice stack going."
At one point, Keeline was down to a single chip. His fortunes turned and he won several hands in a row. The rest would be poker history. The timing couldn't have been better. With bills to pay and not much in the bank, the win certainly set this former cook up.
"It's been a big change from where I was a few weeks ago," he said after his $1 million victory. "I'm certainly going to play poker, but my desire is not to play full time."
The Mojo Continues
That night at the Rio was life changing. Keeline still lives in the Boulder area and loves living, and snowboarding, in the mountains – with no plans to move. He has left Uber behind and is now engaged to his longtime girlfriend Corrine, with plans to marry in October.
"Life's been good," he says. "I've done a fair amount of traveling and we're looking for a house and planning a wedding."
And his finishes at the poker tables have not been too bad either. He followed up his Colossus win with fourth and seventh place finishes on the WSOP-Circuit for $47,796 and $54,740. In November, he took 10th at the $3,500 Seminole Rock 'n' Roll Poker Open for $30,400 and in February notched a sixth-place on the Heartland Poker Tour for $39,103.
"I've had a bunch of pretty nice finishes," Keeline says. "I was very close a few times and left a lot of money on the table."
His feelings of wanting to seek another form of income has continued, and he is still looking over his options.
"I'd like for poker to be more a passive income," he says while driving through Utah heading to Sin City. "I'd love to take a step back and make poker more of a fun side thing again. Playing poker full time can kind of gets to be a grind, it gets old."
Is he ready to try and defend his title? "Yes, certainly" he says with a chuckle, knowing the infinitesimal odds against it.
When the Colossus begins on Friday, this poker gladiator will be motivated and ready. Win or lose, he'll play some more events this summer, hoping for that second bracelet. Whatever happens – he'll just sit back and enjoy the ride.
Everybody needs an account at one of these online poker rooms! They're the biggest, the best, and we get you the best poker bonuses. Check out our online poker section for details on all the online poker rooms around.