Poker Super Fan Bruno Malavazzi Lives Out a Dream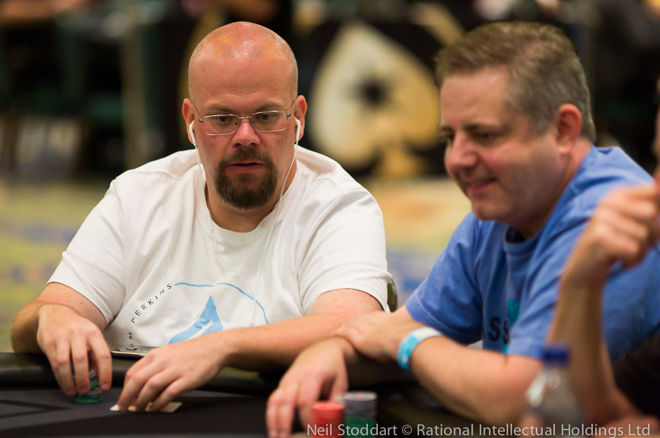 Bruno Malavazzi couldn't suppress a wide smile.
The 39-year-old Brazilian strode through Lynden Pindling International Airport in Nassau, the Bahamas. The bespectacled man with the shaved head didn't know he had a massive grin stretching his thick brown goatee to its limits, but those around him certainly took notice.
One passerby working at the airport told him good morning and Malavazzi replied, "Good morning, I'm awesome, how are you?"
While in line waiting to clear customs, he noticed a woman working in one of the booths kept an eye on him and she called him over to her booth when he reached the front of the line.
"Am I flagged for something?" Malavazzi asked.
"I saw you smiling from way back there," the agent said. "I wanted to ask you why you're smiling so much."
"I'm just happy to be here," Malavazzi responded. "I'm just really, really happy to be here."
That's because Malavazzi had arrived in the island nation to attend PokerStars Championship Bahamas. The longtime poker super fan was fulfilling a dream and attending a major poker event, thanks to the generosity of high roller Bill Perkins.
Such a "dream come true" scenario would be enough to make even the most downtrodden person happy. Malavazzi prides himself on being relentlessly positive, so he beamed enough to light up an entire airport and maybe even an entire island.
Poker's Biggest Fan
Open up any high-stakes online poker table back in the halcyon days of the game and you'd likely see a constantly rolling scroll in the chat. Railbirds cheered, jeered, skewered and praised the icons of the game as they battled for ungodly sums of money.
Many begged for spare change. Nearly all dreamed of the day it would be them clicking on an open seat and going blow-for-blow with the likes of Prahlad Friedman, Tom Dwan, Phil Ivey or Isaac Haxton.
Malavazzi did not harbor such dreams. Rather, the Sao Paulo native was a different sort of fan, realistic and content with his place in the poker hierarchy.
"I never hide it – I'm a big fish," he said with a laugh after he busted a small side event in Atlantis. "I just like the game. I like the thrill."
Poker reached out and grabbed hold of Malavazzi, like countless others, shortly after Chris Moneymaker won the 2003 World Series of Poker Main Event.
The Brazilian rode the wave of the Moneymaker effect and became fully engrossed. He had always had a love for games, previously focusing on chess and backgammon, so a seat on the poker bandwagon proved a natural fit.
Malavazzi deposited on PokerStars and began playing for small stakes and he consumed every piece of poker content he could find. He downloaded episodes and entire seasons of poker shows and began reading PokerNews religiously.
In fact, when PokerNews descended upon Brazil to cover a Latin American Poker Tour event, Malavazzi made it his mission to meet the team.
"I'm just really, really happy to be here."
Malavazzi fondly recalls meeting former PokerNews Editor-in-Chief Donnie Peters and other contributors like Lynn Gilmartin, Kristy Moreno and Will Thomas.
The explosion of poker multimedia content has made it even easier and more fulfilling for Malavazzi to follow the game, especially the high-stakes action he loves.
The near-ubiquity of live reporting means he can get play-by-play of almost any nosebleed event in the world, following favorites like Dan Colman, Sam Greenwood and Stephen Chidwick. Events such as the Super High Roller Bowl have streamed using RFID technology showing everyone's hole cards, allowing fans more of a window into poker minds than ever before.
Engaging personalities like Perkins and pros like Joe Ingram crank out content on mediums like Twitch and YouTube that fans like Malavazzi can't get enough of.
"I'm addicted to that guy," Malavazzi said of Ingram's podcasts. "He's in the top five best guys in poker I've met for sure. He's always high energy, showing a lot of love and respect towards me."
Winning the Package
Like any modern poker fan, Malavazzi loves that he can now watch top players play online poker practically in real time via Twitch. The channels popularized by the likes of Jason Somerville have introduced thousands to the game and re-engaged established fans with first-hand looks at high-level poker.
Though he can't even speak Dutch, Malavazzi often watched streams hosted by Dutch players Lex Velduis and Joep van den Bijgaart. Malavazzi says he now counts both as close friends with whom he chats regularly and says both were thrilled to learn of his lucky break.
That break came while watching Perkins' Twitch channel, The Thirst Lounge.
Malavazzi didn't know it, but Perkins had already announced he was about to give away the first of what would eventually be more than 20 packages to attend the PokerStars Championship Bahamas.
A loyal subscriber, Malavazzi simply logged in when he saw the stream running and saw there was a giveaway.
"Hey, panda, panda, panda..."
Fans were told to type in "thirst lounge" and they'd be eligible for a drawing. Malavazzi did so, although he didn't know what the drawing was for.
His name was the first one drawn.
"Hey, panda, panda, panda," Perkins announced, referencing Malavazzi's online handle "brunopanda." "Panda won!"
"OK, what did I win?" a pleased Malavazzi typed into the chat.
The other fans posting in the chat laughed at Malavazzi and told him he was heading to the Bahamas. He had won airfare, a room, $1,500 in tournament buy-ins and a private poker lesson from a yet-to-be-determined pro.
Malavazzi, recovering from heart surgery, had been ordered by his doctor to keep his emotions in check. That simply wasn't going to happen, though.
"I went ballistic," he said. "I was jumping at home, alone and laughing. My heart was pounding."
A Trip of a Lifetime
Those health complications almost scuttled Malavazzi's trip before it even got off the ground. Doctors were hesitant to clear him for the plane ride to the Bahamas and he ended up showing up a couple of days later than planned.
Priding himself on being the type of person who focuses on only the positive aspects of life, Malavazzi staunchly refused to go into detail about the complications that delayed him. For a man who has already fought off cancer, it was a mere speed bump en route to his dream trip.
After beaming his way through the airport, Malavazzi made his way to Atlantis and met Perkins. Malavazzi sees the popular, charismatic high-stakes player as a kindred spirit of sorts.
"I would say I'm a low-stakes Bill Perkins," Malavazzi mused. "He likes the game but he has the money. I just like the game, but I don't have that kind of money."
With $1,500 at his disposal, Malavazzi had a slew of options among nearly 100 tournaments on the schedule at PokerStars Championship Bahamas. He had limited live experience – just one cash for $255 in a Brazil Poker Tour event back in 2011 – and his career highlights were limited to a couple of deep runs in small-stakes PokerStars series Spring Championship of Online Poker and MicroMillions.
So he planned to spread the money out at much as possible and soak in the experience of playing a bunch of events.
"I think I have more chances of getting something if I play a lot of smaller events," Malavazzi said. "Just vomiting it up in a $1K event, that's not for me."
Malavazzi may describe himself as a fish, but at least for this trip, the fish had enough bite to turn a small profit at the tables. He logged two scores, cashing in a $330 Turbo Survivor for $1,787 and getting third in a $230 Flipout for $700.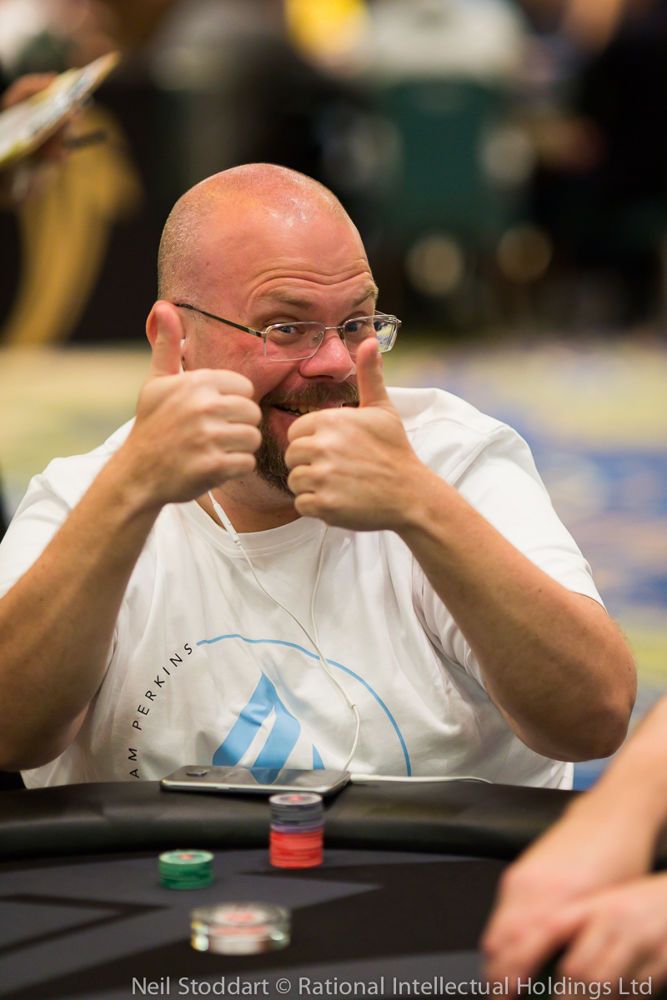 He got to play with Moneymaker, the man whose epic feat led to Malavazzi's immersion in the game, in the latter event. Playing with the gregarious former world champ proved to be a highlight.
"We had a blast," Malavazzi said with a smile.
But, true to form for one of poker's biggest fans, the experience of playing in a major festival ranked second to just being there. Malavazzi admits he would trade the chance to play in a $1K for the opportunity to be a tableside railbird in a $100K, so some of his experiences at PokerStars Championship Bahamas were fan nirvana.
For instance, he got a coaching session with Daniel Negreanu and Liv Boeree.
"They were very, very nice," the Brazilian said. "To pick their brains, that was pretty cool."
And after talking to Perkins, the affluent amateur agreed to introduce him to Isaac Haxton, whom Malavazzi rates one of his top three players to watch.
Add it all up and Malavazzi says he's officially hooked on the poker travel experience.
"Being here is the No. 1 highlight of my poker life so far," he said.
Health permitting, he plans to head to his first WSOP this summer.
He admits he'll have to be feeling better than he is now in order to undertake such a long journey. But the way Malavazzi looks at life, it's not an "if" he's feeling better but a "when." And he'll spend the intervening months spreading his usual positive vibes, the ones that made him stand out amid a sea of tourists in the Nassau airport.
"Just enjoy life," he said of his everyday philosophy. "Leave people smiling."